Top Secret Tree Skiing Stashes at Bridger Bowl and Big Sky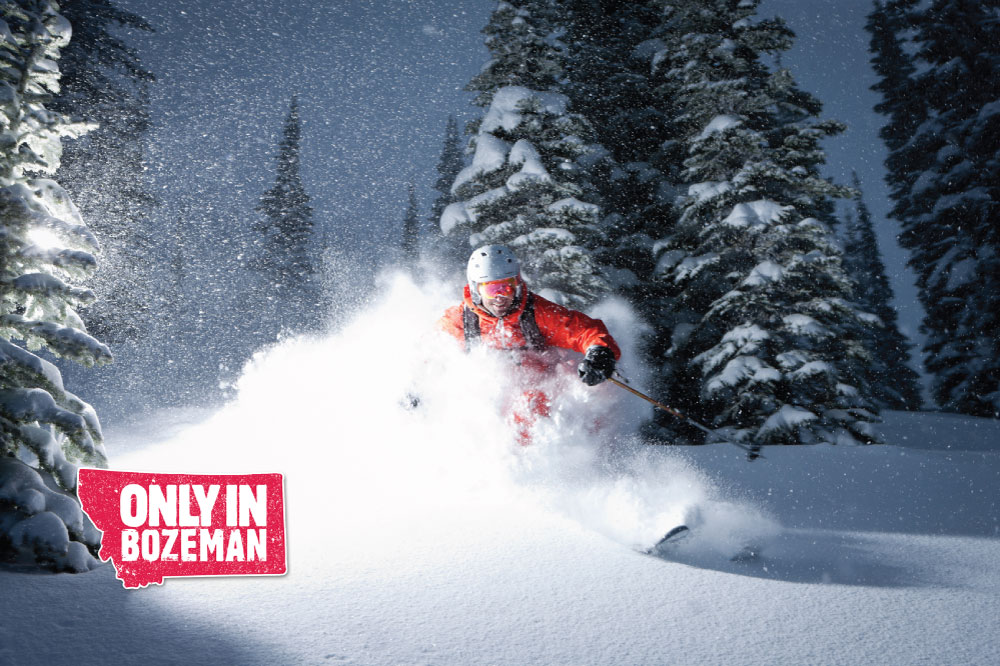 Great tree skiing runs can be hard to find, especially if you are only exploring a mountain for a few days. Tree spacing, steepness, and snow depth are a few factors that make some tree runs better than others. If the trees are too close together then you have to keep your speed down to be able to make your turns. If the slope is too steep it makes it difficult to control your speed or if it isn't steep enough you find yourself sinking in deeper snow. Riding with someone who is familiar with the mountain is always preferred to help you find your way around, but if you are on vacation, that it can be difficult to find locals to show you around. So we've put together a list of some of our favorite tree runs at Bridger Bowl and Big Sky. Next time you are spending a day at either ski area, be sure to check these runs out. We hope we aren't giving away too many secrets so leave some powder for us.
Big Sky Resort
There's no denying that Big Sky Resort is huge! With over 5,800 skiable acres it's easy to spend your entire visit looking for the best runs. You also have to take into account the snow conditions on different parts of the mountain. The South Face gets a lot of sun and doesn't hold snow as well, so if it hasn't snowed in a few days and/or it has been sunny, your chances of finding good snow aren't great. The Moonlight Basin side is north facing and holds snow well and is a good spot to find untracked snow. Here are a few tree skiing runs to explore on you visit to Big Sky.
Bavarian Forest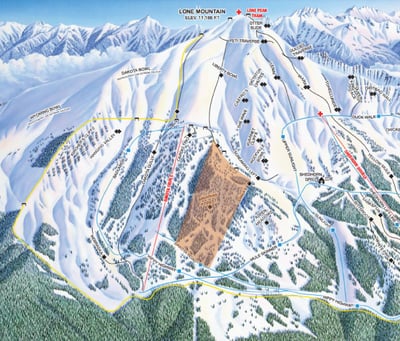 The Bavarian Forest is located on the South Face just off the top of the Dakota lift. This run is pretty far out there and doesn't get as much action as the easier to access areas of the mountain and takes a few cat tracks to get back to the base area, but can deliver some great skiing. Since it is on the South Face, watch for thinner snowpack and exposed rocks from the sun beating down on this south facing slope. The Bavarian Forest can be epic on powder days but can get a little thin on sunny days or when it hasn't snowed in a while. To get there take a right off the top of the Dakota lift and head skiers left off the top. The trees have been thinned out so there is great spacing and a good pitch to maintain a good speed and find a good rhythm. To get back you will need to take the Hippy Highway back to the Shedhorn lift and then the Duck Walk road from the top of Shedhorn around to the front of the mountain.
Lone Creek Gully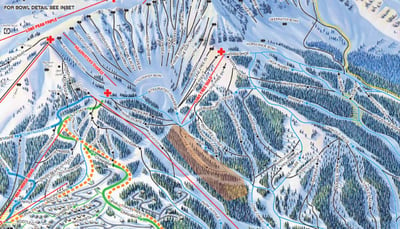 Lone Creek Gully is little less steep and follows a creek bed through the trees. Turns can get a little tight with a few small drops here and there but this run can be a lot of fun. Avoid this run in the early season to allow the snow to get packed down over the rocks in the creek. Your skis will thank you. But from late December through mid March you should be good to go. This run isn't too long but you might find yourself skiing laps through here weaving back and forth through the trees. To get there take the Six Shooter to the top and follow the Meriwether to the bottom of the Lone Tree lift. The entrance to Lone Creek Gully is just past the lift on the skiers right. Your first couple times through here take it easy as the terrain is uneven and ungroomed so make sure you are comfortable. This run can be a lot of fun on a powder day when things are soft and fluffy.
Related Article: 2016-2017 Winter Forecast for Bozeman, Montana
Bridger Bowl
Bridger is a great skiers mountain. There isn't a lot of amenities that you would find at major ski resorts like Vail, Park City, or even Big Sky, but the terrain is unmatched. In fact Bridger Bowl was the launching ground for extreme skiing movement from guys like Scot Schmidt and Tom Jungst. The skiable lines off the top of The Ridge are epic but you need to have an avalanche transceiver to access that terrain. We are going to focus on some of the less extreme terrain where the pitch is a little less aggressive and easier to access.
Southern Drawl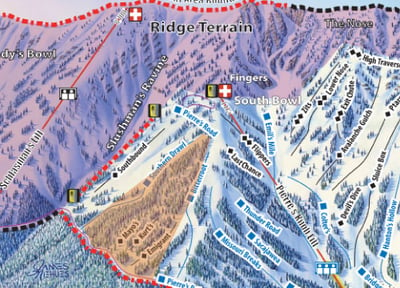 There is a swath of trees between Southern Drawl and Bitterroot that are a lot of fun to explore on a powder day. The top of this section isn't too steep and has a mix of thinned out trees and tighter trees. As it flows down to to Mayo's and Kurt's things get a little steeper and tighter before dumping out onto Pierre's Return. The best way to get there is to take Pierre's Road from the top of the Pierre's Knob lift past South Boundary to Southern Drawl. You cut into the trees from Southern Drawl or you can drop in from Bitterroot. If you can hit this on a powder day you will have a blast. If you are a few days late you will struggle to find fresh snow as this usually gets tracked out pretty quick. It's a locals favorite at Bridger.
North Boundary Trees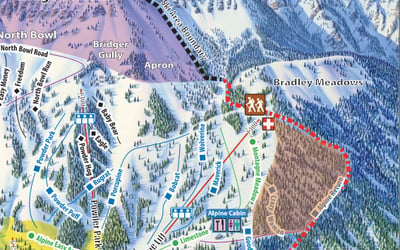 Another spot that doesn't get as much attention are the trees along the north boundary of the ski area just off the top of the Alpine lift. This area isn't as steep so it doesn't draw as many of the high level skiers but you can find some good stashes in here a few days after a snowfall. Take a few laps in here and start by entering the trees higher up and working your way down each run. Everything funnels out to the Alpine Return cat track so you won't get lost. If you want to extend the run you can hit Good Clean Fun just below where Alpine Return dumps you into the Alpine Cabin. If you take that route you will have to head all the way down to the base area.
Tree skiing is a lot of fun, but as with all types of skiing there are inherent risks and tree skiing isn't for all skiing abilities. Tree skiing can require tight turns and a strong ability to control your speed. Be careful and wear a helmet. If you are feeling uncomfortable in your abilities traverse across the run and get out of the trees. We want you to have as much fun as possible at Bridger Bowl and Big Sky but ski safe. Now get out there and explore all the Big Sky Resort and Bridger Bowl have to offer.
If you enjoyed this blog, take a look at some of our other related articles: