Snowboarding Around Bozeman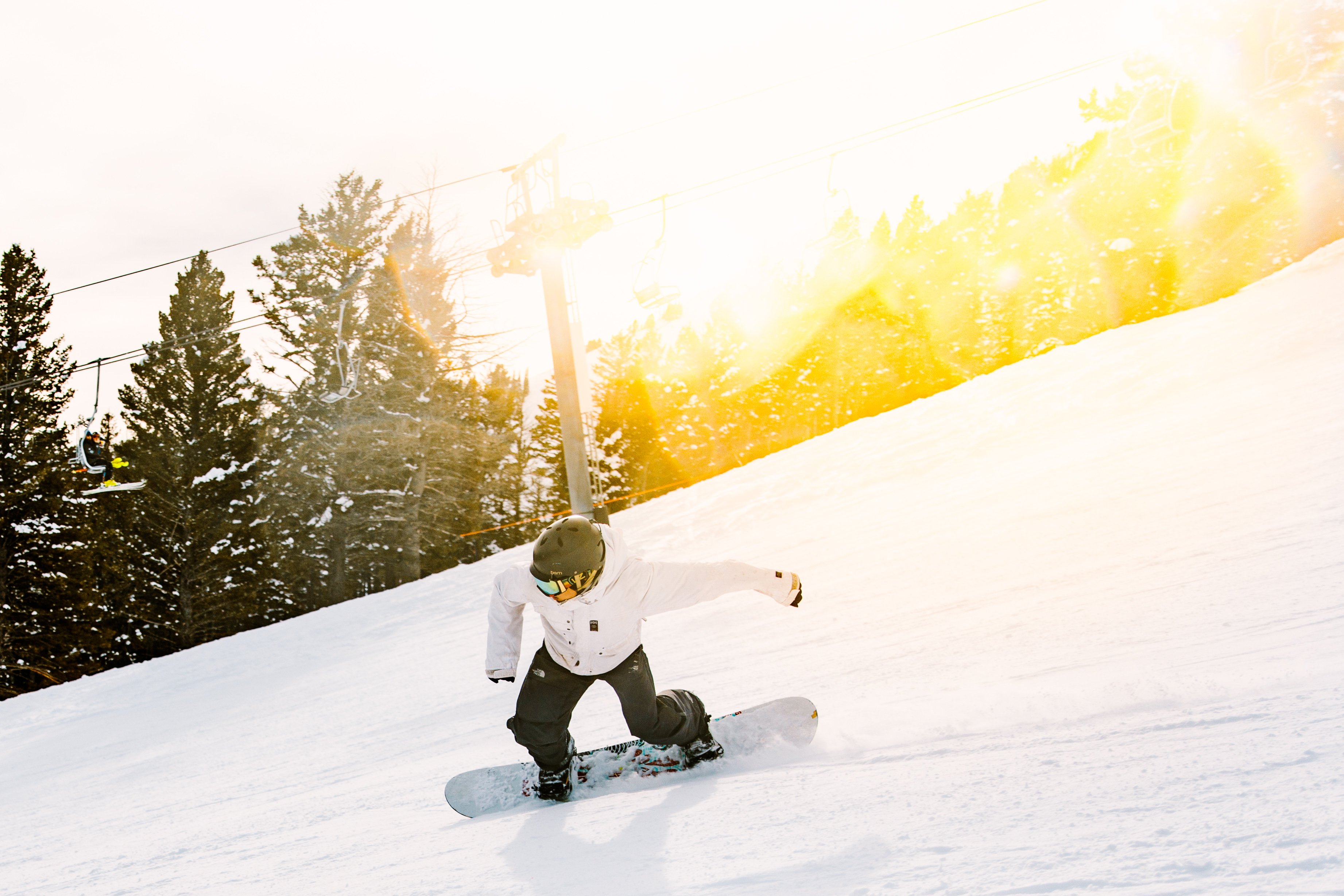 If there is one thing that all snowboarders have in common, it's the love of a good carve. Whether it's deep powder and wide open terrain, or technical tree runs, the feeling of digging that board in is what distinguishes snowboarders from skiers. Fortunately, there are plenty of spectacular turns around Bozeman and it takes no time at all to earn them.
Bridger Bowl is located just sixteen miles from Bozeman up Bridger Canyon, and Big Sky Resort is just an hour from town. Both are renown ski areas with terrain that is both exhilarating and humbling. While the areas are very different from one another, both will leave you wanting to come back for more!
The Mountain:
2,700 vertical feet
2,000 skiable acres
350" average annual snowfall
11 lifts
Bridger Bowl earned its reputation for having some of the best in-bounds extreme skiing in the country. The Ridge area, accessed either by hiking or via the Schlasman's chairlift, is exciting and challenging terrain with a variety of landscapes including wide-open slopes, long glades, chutes and gullies. Bridger recently expanded their beginner terrain which now has 7 acres of gently rolling hills— perfect if you're just getting started.
There are two terrain parks at Bridger, accessed off of the Sunnyside chairlift. The upper park on Sunnyside run has more challenging features and larger jumps, while the lower park has a smaller series of rails, boxes and jumps.
The local's favorite:
On a powder day, there are two trains of thought. You can either start with the lower mountain before it gets skied out, hitting the North Bowl or High Traverse, or head right to the Ridge and scope out fresh tracks. (Often times the line to the Ridge is the determining factor.) For technical tree skiing, anything off of Three Bears is great.
The place to go for gear:
World Boards is the place to get outfitted. In business since 1993, this snowboard shop has remained true to the sport. You'll find the latest in boards and gear, excellent service and lively conversation.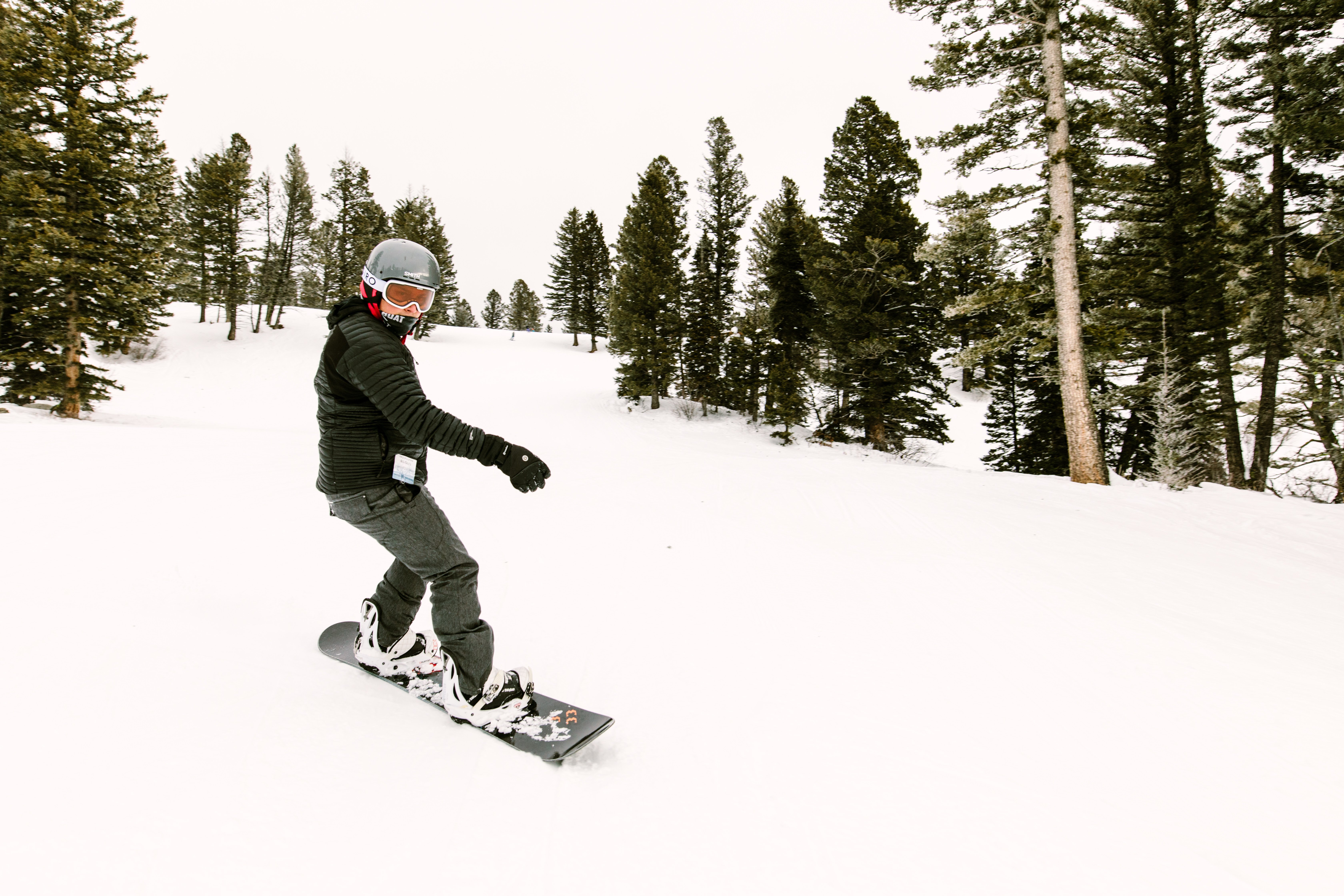 The Mountain:
4,350 vertical feet
5,580 skiable acres
400" average annual snowfall
36 lifts
From the top of Lone Mountain, you can see three states, two national parks and numerous mountain ranges. This view puts the "big" in Big Sky. As for the shredding? That's big too. You'll be hard pressed to make your way around the whole mountain in a day, nor would you want to! Take time to explore the nooks and crannies of this impressive mountain. The terrain varies from wide open bowls and powder fields to steep chutes and tricky trees.
Eight terrain parks scatter the mountain, home to over 100 features. If you're just starting out, cut your teeth in the Maverick park off of Derringer chair. Advanced riders will love Peacemaker and Swifty parks, and for something truly unique, check out The Cache - a large, themed, 'natural' park tucked away just to the left of Swifty chairlift.
The local's favorite:
On a powder day, you can't go wrong with anything off the tram; the powder fields are endless. Aggressive riders will love the A to Z chutes and for the grand daddy of the mountain, don't miss the Big Couloir. For some great tree runs, skirt around to the Moonlight side and check out Marshall. There are a number of lines in this area, so poke around a bit and you'll likely find some powder stashes.
The place to go for gear:
Since 1973, Lone Mountain Sports has been the local favorite for both their quality products and their technical experience. Accessible from Big Sky's Ram Charger chairlift, you'll love the ski in, ski out service.
As for après-ski, you won't have to look far for a good time in either area. On a sunny day, the patio at the Headwaters Grille on the Moonlight side of Big Sky is a great place to soak up some vitamin D. Or grab a burger at Montana Jacks located in the mountain mall. The Saddle Peak Lodge at Bridger has a large deck, perfect for a cold brew at the end of a great day.
If you enjoyed this blog, take a look at some of our other related articles at Bozemancvb.com: