Experience Yellowstone Tours in the Winter
Two words; winter wonderland.
If you have yet to experience nature in its winter coat, Yellowstone National Park is a sight to behold. Imagine miles of mountains covered in twinkling white snow, steamy geysers, bison, elk, and if you're really diligent (or lucky), an occasional wolf. To give you perspective, the average snowfall is 150 inches per year, however, that number can double at higher elevations. Whether you are visiting during the summer or the winter, Yellowstone tours are always a great way to experience the park.
It's a vast landscape, deserving of exploration. If you're new to winter adventure, the best way to get the most out of your trip is to hire a guide. Whether it's snowmobiling, snowshoeing, Nordic skiing or snowcoach rides, you'll see the park in all its glory.

The two entrances closest to Bozeman are the north entrance at Gardiner and the west entrance at West Yellowstone, MT; it takes roughly an hour and a half to get to either one. The North Entrance is open to vehicles year round, however in winter, you can only access the park from the West Entrance via over-snow vehicles.

Tours are available at either entrance, and are conducted by authorized snowmobile and snowcoach tour providers. These guides know the park inside and out, which makes for a rich experience. Lunch is generally included, but you'll want to bring water, snacks and warm clothing.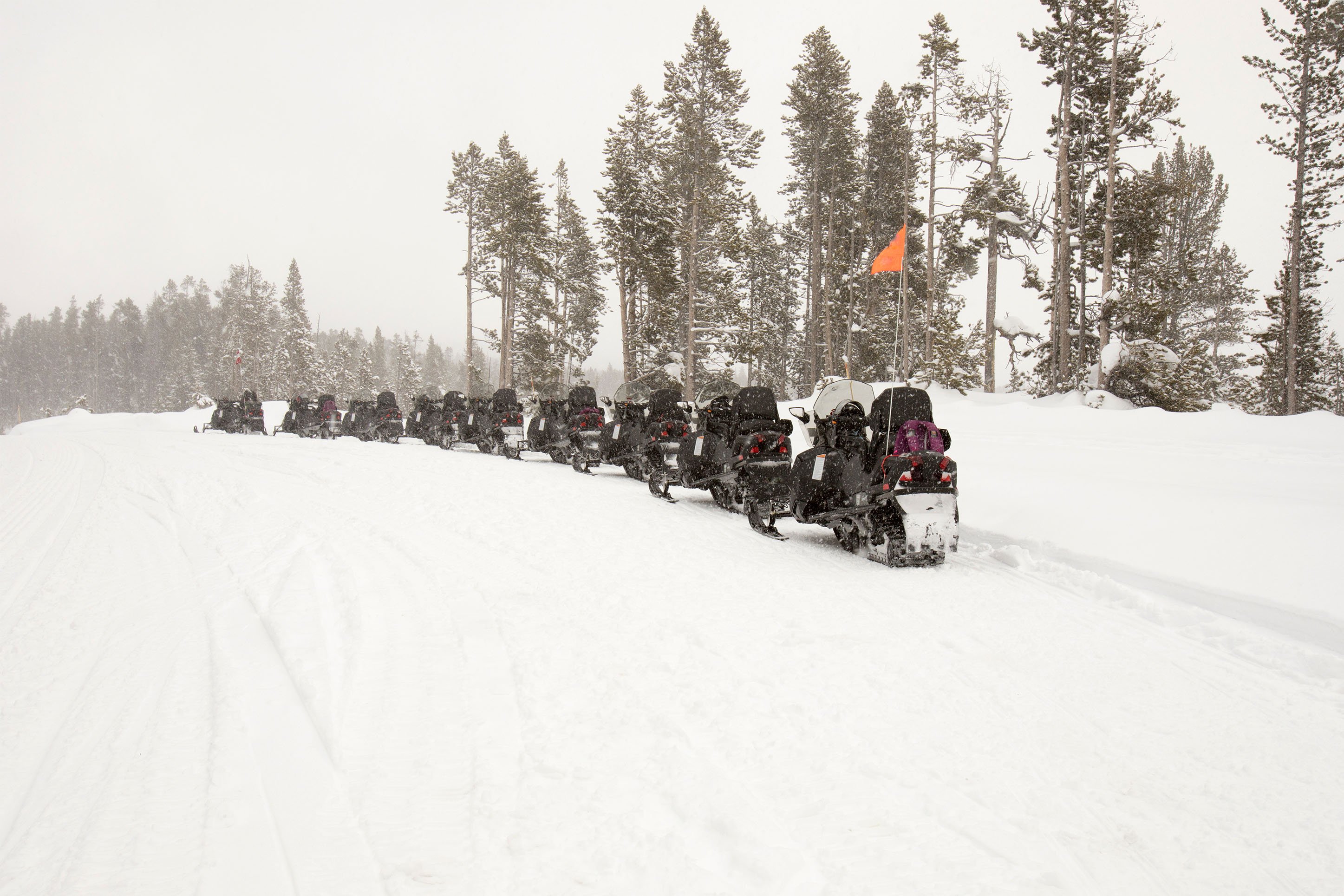 Snowmobile
Snowmobile tours are popular with those who want to cover a lot of ground. You can see the Grand Canyon of the Yellowstone or make a trip to Old Faithful Lodge. Guides will stop along the way giving you time to peruse the hot pots, catch a geyser eruption or simply watch the beauty of wildlife. Snowmobiles are equipped with heated seats and handles so don't worry about getting cold!
Snowshoeing
Snowshoeing is akin to hiking in the winter. What was once a standard mode of transportation, you'll be surprised at how easy it is; the snowshoes keep you on top of the snow so you can move quickly yet gently. Plan to bring insulated, waterproof boots with thick soles and rubber or upper leathers. Leather hiking boots will work well as long as they are waterproof. Wear socks with wicking liners to keep your feet warm and dry. Gaiters keep the snow out of your boots; for deep powder, knee-high styles are best.

Nordic Skiing
Nordic Skiing takes the intensity level up a notch. Similar to snowshoeing, you'll be up close and personal with the landscape, but with added speed to get you farther into the terrain. For those looking to combine a workout with sightseeing, this is the option for you. Get ready for some cardio and leg work!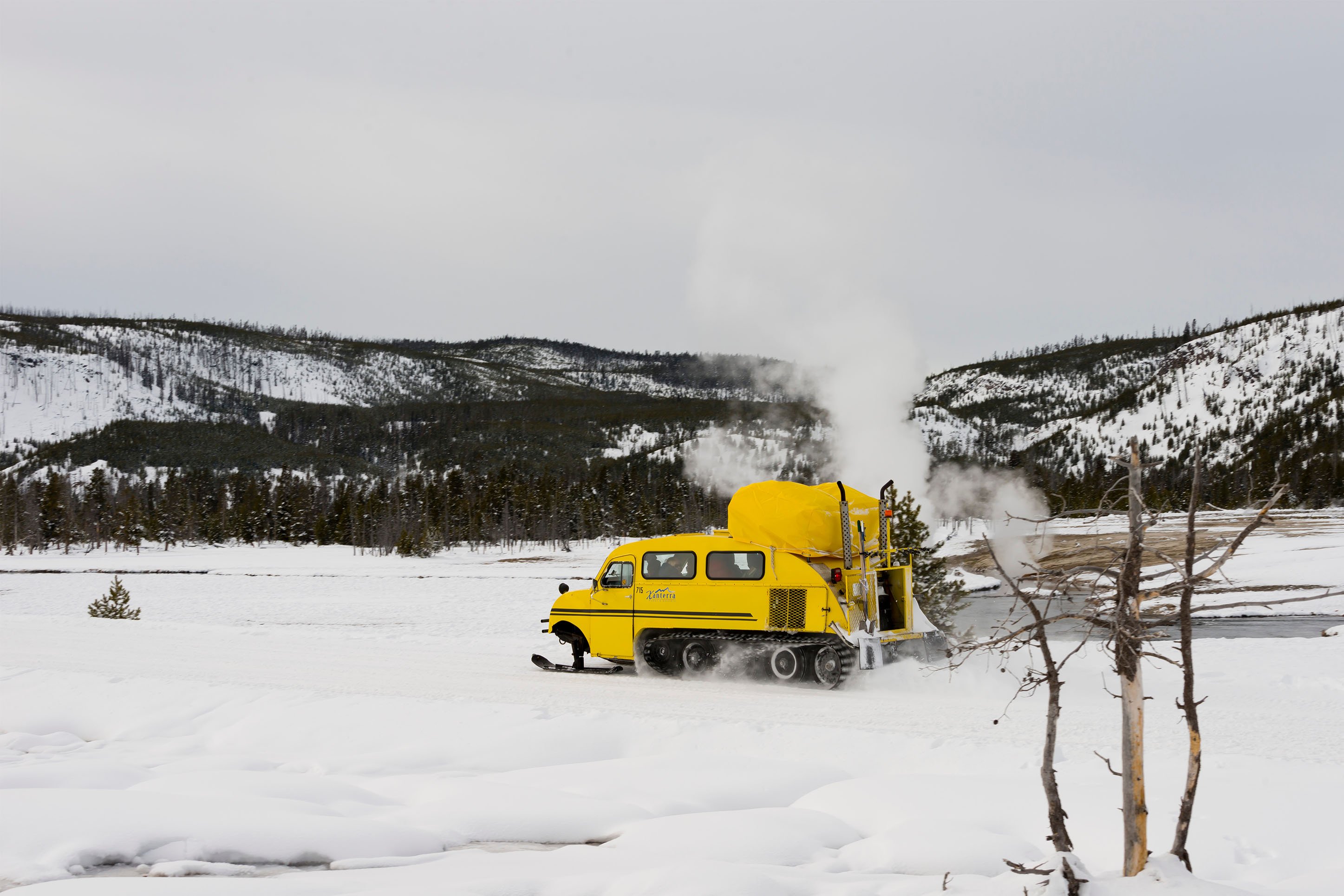 Snowcoach
Snowcoach tours are great for sightseeing. These fully heated over-snow vehicles can hold large groups so everyone can enjoy the experience together. As with snowmobile tours, you'll have plenty of stops along the way, perfect for photo opportunities. Snowcoaches have been running in the park since 1955 and are one of the most popular tour options.

For a truly unique experience, stay the night at the Old Faithful Snow Lodge or Mammoth Hot Springs Hotel & Cabins, and add some snowshoeing, skiing or ice skating to your adventure.
Whatever type of tour you take, keep in mind that temperatures in the park can turn from sunny to stormy in a matter of minutes, so always bring layers of clothing including a waterproof outer layer. Be sure to have waterproof boots, hats, scarves or neck gators and gloves. If your hands get really cold, mittens are the best option!

For local information, go to visitgardinermt.com or destinationyellowstone.com.

If you enjoyed this blog, take a look at our Bozeman Cold Weather Guide and some of our other related articles:
In our never-ending quest to keep up with all things new in Bozeman, we have been producing content for years and can't possibly update every blog when new businesses open or existing businesses close. Please reference the publish date and do your own due diligence when making plans.