Bozeman's Coziest Hangouts
During the dark days of winter, it's easy to want to curl up in a blanket at home and stay snuggled up in your warm retreat. But it's also a good idea to get out of the house and be social during these chilly months, so we've gathered a list of some of Bozeman's coziest hangouts that will recreate that feeling in the outside world.
Photo above courtesy of Opal and Ox
These comfy spots fall into three main categories - bars, breweries, or coffee shops, which is how we've categorized them below!
Bars
Sky Shed
Perched atop the Kimpton Armory Hotel in Downtown Bozeman, Sky Shed is the rooftop bar of your dreams. Inside the bar, you'll find 360-degree views of Bozeman, plus a cozy fireplace to keep you nice and warm. During the winter, Sky Shed adds an outdoor rooftop experience called a Snow Shed. These intimate Snow Sheds can be reserved online and include either a Bento Box Tasting or Family Style 3-course Menu or four to ten guests.
Ponderosa Social Club
Montana's first-of-its-kind, Ponderosa Social Club, is a unique experience for guests with various activities available. Enjoy a specialty cocktail alongside pool tables in their tasting lounge, snuggle up on the couches or big chairs, set yourself up for a strike at their bowling lanes, or spend your time gambling the day away in their gaming parlor.
Bacchus Pub
Tucked inside the historic Baxter Hotel on Main Street, the Bacchus Pub has been warming visitors with its fireplace and friendly atmosphere since the 1960s. Good times are always on tap at the Bacchus, as well as local brews and a variety of cocktails. Check out their happy hour for a great deal as well!
Devil's Toboggan
With an atmosphere akin to the speakeasies of old, Devil's Toboggan is practically hidden on the second floor of a restored factory in the Cannery District of Bozeman. You won't be disappointed by this trip to the golden age of cocktails and international fare on their menu.
Local Craft Brews
MAP Brewing
Consistently voted one of the best views in Bozeman, MAP Brewing features a picturesque view of the Bridger Mountain Range alongside a gorgeous fireplace. Their crispy chicken sandwich is among the best in the area, and their rotating stable of locally crafted beers has an option for even the pickiest of beer snobs.
Lockhorn Cider House
Bozeman's only local independent cidery, Lockhorn Cider House, is a small family-owned cidery tucked on a side street in downtown Bozeman. Their outdoor fireplace is a great spot to gather for warmth and bring the pups in the winter. They feature some delectable rotating taps throughout the year, but their flagship ciders don't disappoint.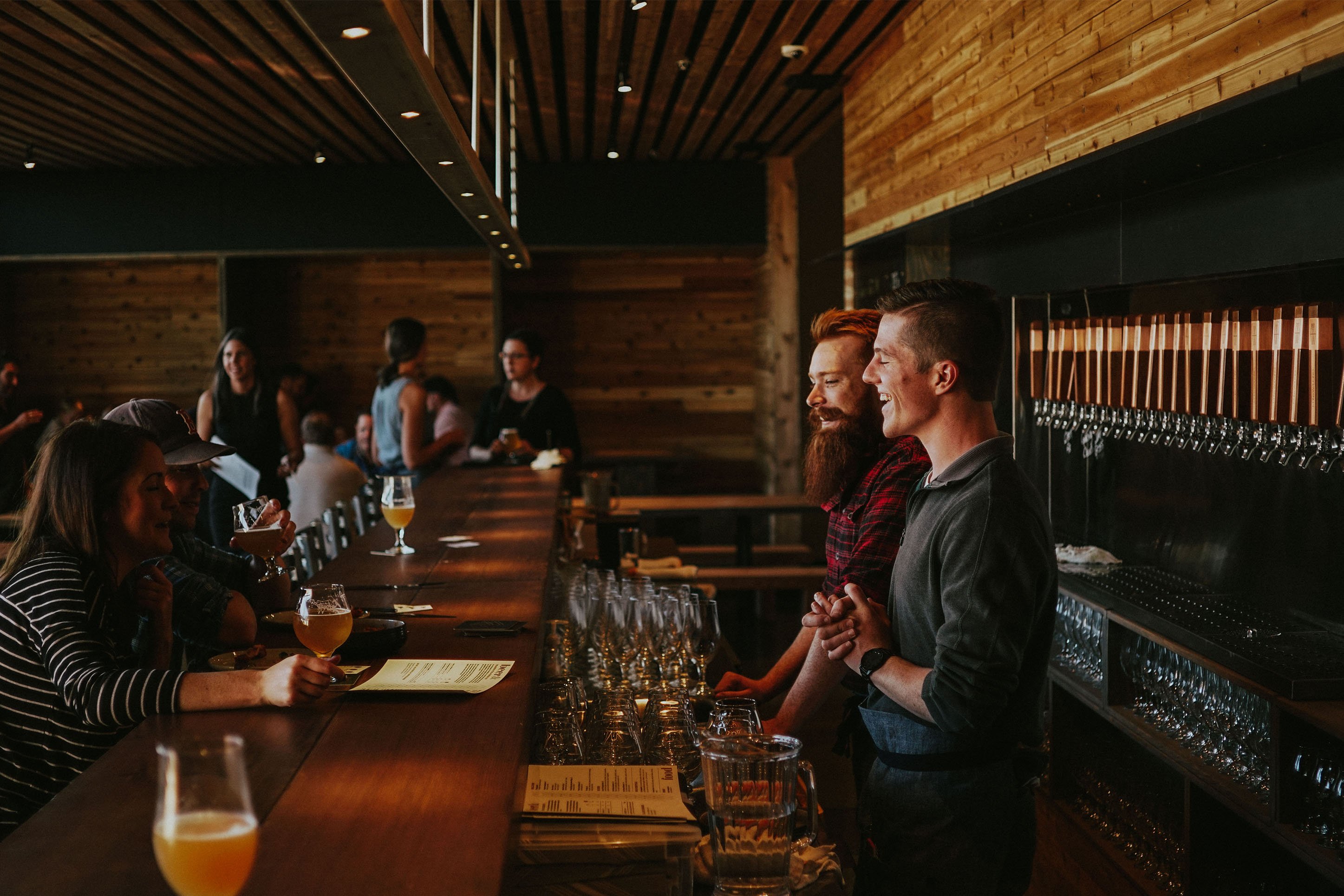 Photo above courtesy of Justine Jane Photography
Mountains Walking Brewery & Pub
Located on Bozeman's north side, Mountains Walking is home to some of Bozeman's coziest booths for an intimate date night. Their locally-brewed beers are packed with a flavorful punch and constantly rotate through new seasonal ingredients. Their pub food and pizzas are also delicious!
Outlaw Brewing
Branded as your friendly neighborhood brewery, Outlaw Brewing, is stacked with 16 tap handles, pool and foosball tables, and free popcorn for patrons. They also have a rotating, seasonal selection of local food trucks serving delicious food. Check their website for the latest on what trucks to expect!

Blend
The local winery nestled in downtown Bozeman, Blend only serves its own uniquely crafted local wines alongside small plates, cheese & charcuterie boards, and unique sweets. With white, red, and rosé available on taps and a plethora of options by the bottle or the glass, Blend is an ideal spot for your favorite wine drinker.
Coffee Shops
Rockford Coffee
Proudly roasting coffee in downtown Bozeman since 2004, Rockford Coffee's vibe feels like a warm hug. In addition to their locally roasted coffee, they also have fresh baked goods made in-house daily and breakfast biscuit sandwiches to start your day off right.
Zocalo Coffee House
With brick walls adorned with local art and a staff of friendly baristas, Zocalo Coffee House in downtown Bozeman is a cozy spot to catch up with friends or work on your screenplay while staying caffeinated. Their five chai latte options are some of the best in the Gallatin Valley.
Wild Joe*s Coffee Spot
Wild Joe*s brand of "More. Than. Coffee." is a philosophy they take seriously, with the widest selection of coffee, espresso, tea, and more in Bozeman. Their kitchen also prepares an assortment of breakfast burritos, sandwiches, soups, and baked goods to keep you fueled. They claim to be #BozemansLivingRoom, and we agree that their atmosphere feels as warm as home.
Ghost Town Coffee Roasters
Ghost Town Coffee Roasters' main cafe on the northeast side of town is a welcoming space where patrons can enjoy a specialty coffee while kicking back. The second location, on the corner of Black and Olive streets in downtown Bozeman, is a smaller but still inviting space. Both cafes have plenty of quality coffee and baked goods available.
The next time you're looking for a cozy spot to warm up in the often frigid Montana winter, check out one of these spots for an inviting vibe.
If you enjoyed this blog, take a look at some of our other related articles:
In our never-ending quest to keep up with all things new in Bozeman, we have been producing content for years and can't possibly update every blog when new businesses open or existing businesses close. Please reference the publish date and do your own due diligence when making plans.