Bozeman's Craft Alcohol Scene
For those who enjoy a good cocktail, you'll be impressed with the caliber of libations found in Bozeman, Montana. Distilleries produce a variety of spirits, using locally grown grains whenever possible, while bartenders across town use the freshest ingredients, taking great care in crafting their cocktails. From tasting rooms to rooftop bars, the ambiance, quality and camaraderie you'll find in these establishments are well worth an evening (or two) out on the town!
Local Distilleries in Bozeman
Located on Main Street in Downtown Bozeman, Bozeman Spirits distills whiskey, vodka, gin and rum. The huckleberry flavored vodka is a favorite among visitors— stop in the tasting room for a Montana Huckleberry Mule.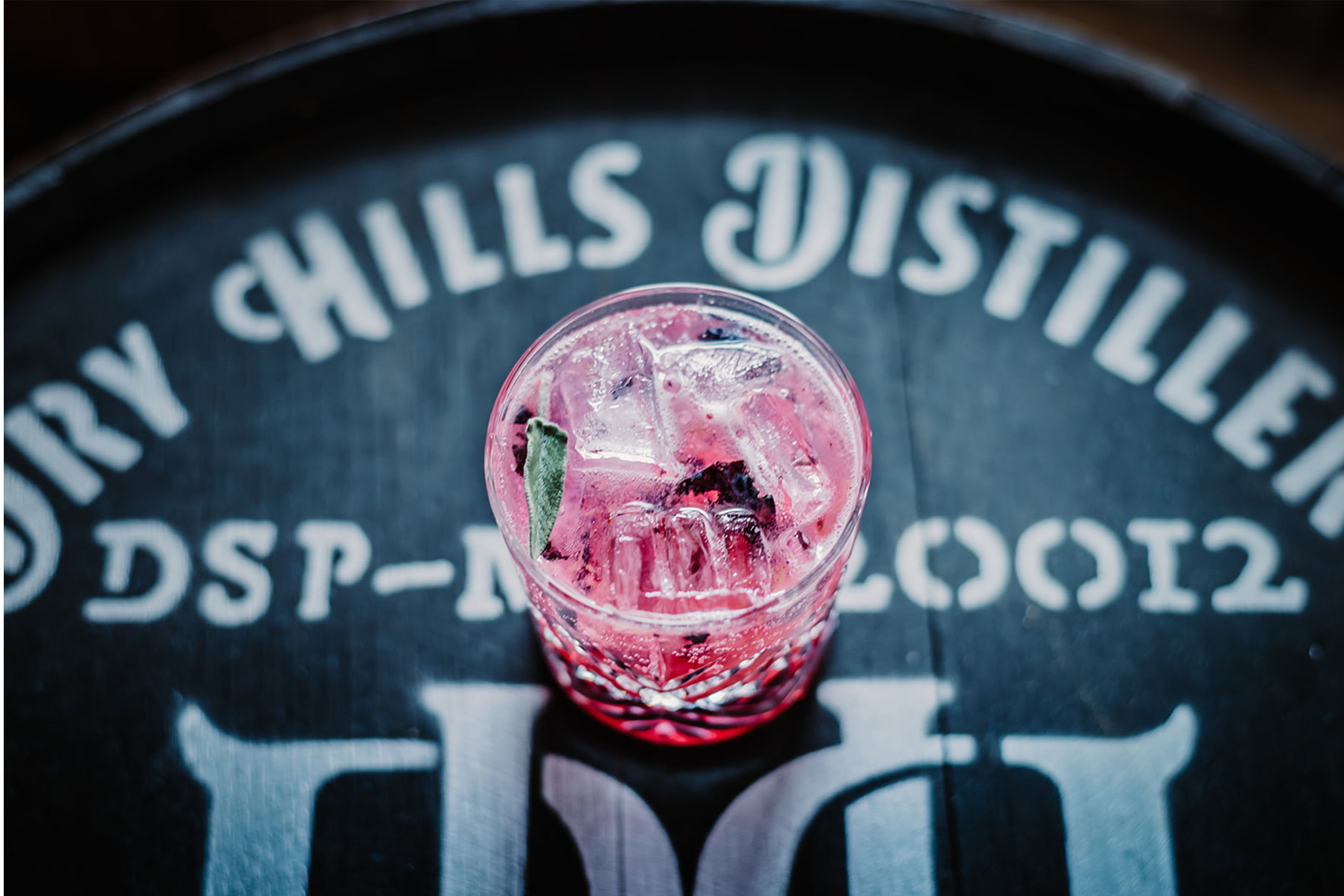 Photo by Misa-Rae Photography
Owned by a 5th generation family farm, Dry Hills Distillery raises their potatoes and cereal grains for potato vodka, wheat vodka, wild raspberry vodka, gin and a specially crafted whiskey. The spacious tasting room in Four Corners is family-friendly, including a corner for the kiddos to play while mom and dad relax.
Located in the historic and newly renovated Cannery District, Wildrye's uniquely distilled spirits use time-honored production methods. Their Five Drops Bourbon Whiskey is made from sweetcorn, grown and harvested from their family farm in Corvallis, Montana. The cocktails on this menu are one-of-a-kind!
Craft Cocktails in Bozeman

Sky Shed sits atop the new Kimpton Armory Hotel, the five-star hotel which adapted the historic Armory building into the design. This rooftop bar features signature cocktails that rotate by season, such as Grandma Laird's Hot Laird, with apple brandy, Grand Marnier, lemon, and honey. Or try Nelson's Old Fashioned with bourbon, hickory-smoked demerara angostura bitters, and orange bitters.
Also located at the Kimpton Armory Hotel, the Tune Up Basement Bar has a spirits list that will make your head spin. Whiskey, bourbon and rye drinkers will especially love the selection. In addition, the intimate setting and live music every Friday and Saturday evening make this a great spot for date night!
Open Range in Downtown Bozeman not only has excellent cocktails, but they are also known for their signature steaks, great seafood and decadent side dishes. The cocktail menu ranges from classic drinks such as Last Word to original concoctions like Party Dress, with vodka, St. Germain, rosemary, grapefruit and honey.
Ted Turner and George W. McKerrow co-founded Ted's Montana Grill, which features natural bison on the menu: steaks, brisket, short ribs, burgers, and meatloaf. And their classic cocktails pair nicely with all of them. Try one of their signature margaritas, or if martinis are your more your style, they offer four different types.
A Bozeman icon, the Rocking R is a favorite place to watch sports; with 20 TVs, four pool tables, dart boards, and food from Hail Mary's, entertainment is always within reach. Their drinks are delicious, ranging from classics to their unique creations, many of which could double as dessert! For example, their Boozy Milkshakes feature locally-made Wilcoxin's ice cream and come in eight different flavors!
You'll love stepping back in time to this 1920s influenced design. Everything from the decor to the glasses screams classy. The drinks are delicious, the noshes tasty, and the whole vibe makes you want to dress up and go dancing. It's located in the Cannery District, but don't look for the sign on the door; it's discreet.
Another speakeasy type of bar, you'll have to do a bit of digging to find this social club, 20 steps below Main Street. They're proud of being tricky to find, but once you do, you'll enjoy some delicious cocktails such as Thai One On, with ginger liqueur, lemongrass-infused vodka, basil, grapefruit simple, and ginger beer!
If you enjoyed this blog, take a look at some of our other related articles:
In our never-ending quest to keep up with all things new in Bozeman, we have been producing content for years and can't possibly update every blog when new businesses open or existing businesses close. Please reference the publish date and do your own due diligence when making plans.