Guide To Ice Skating In Bozeman, Montana
A long-beloved sport, ice skating began with sharp fragments of animal bone fitted to the bottoms of boots that glided over the ice. In 1572, the first iron skates were made, a game-changer, to say the least! Today, ice skating remains a favorite winter activity for all ages.
Bozemanites love their rinks, and for a good reason, they are well maintained, easy to access, full of laughter, and surrounded by mountains. There is something both relaxing and exhilarating about the sound of skates on the ice. Taking a few turns around the skating rink isn't just for picture-perfect postcards. In Bozeman it's a favorite winter pastime. Don't worry if you're new to skating, with a few baby steps, a little grace, and a lot of humor, you'll take right off!

But where should you go for the best skating? Bozeman is full of options, including indoor rinks. You'll also find some open air rinks in local parks, perfect for stargazing. Grab your skates and a hot cocoa for the road, here are our top recommendations for skating fun.
Groomed and Good to Go
Gallatin Ice, located at Haynes Pavillion, at the Gallatin County Fairgrounds, has two indoor rinks with public skating hours and rental gear available.

The City of Bozeman maintains three outdoor rinks, free to the public and resurfaced with a Zamboni to keep the ice clean and smooth. You can find these seasonal, outdoor rinks at Beall Park, Southside Park, and Bogert Park. They don't have set dates for the season because outdoor ice rinks are so weather dependent, but you can generally start looking for these to open around Christmas, and to close the first week of March to let the grass grow back for spring.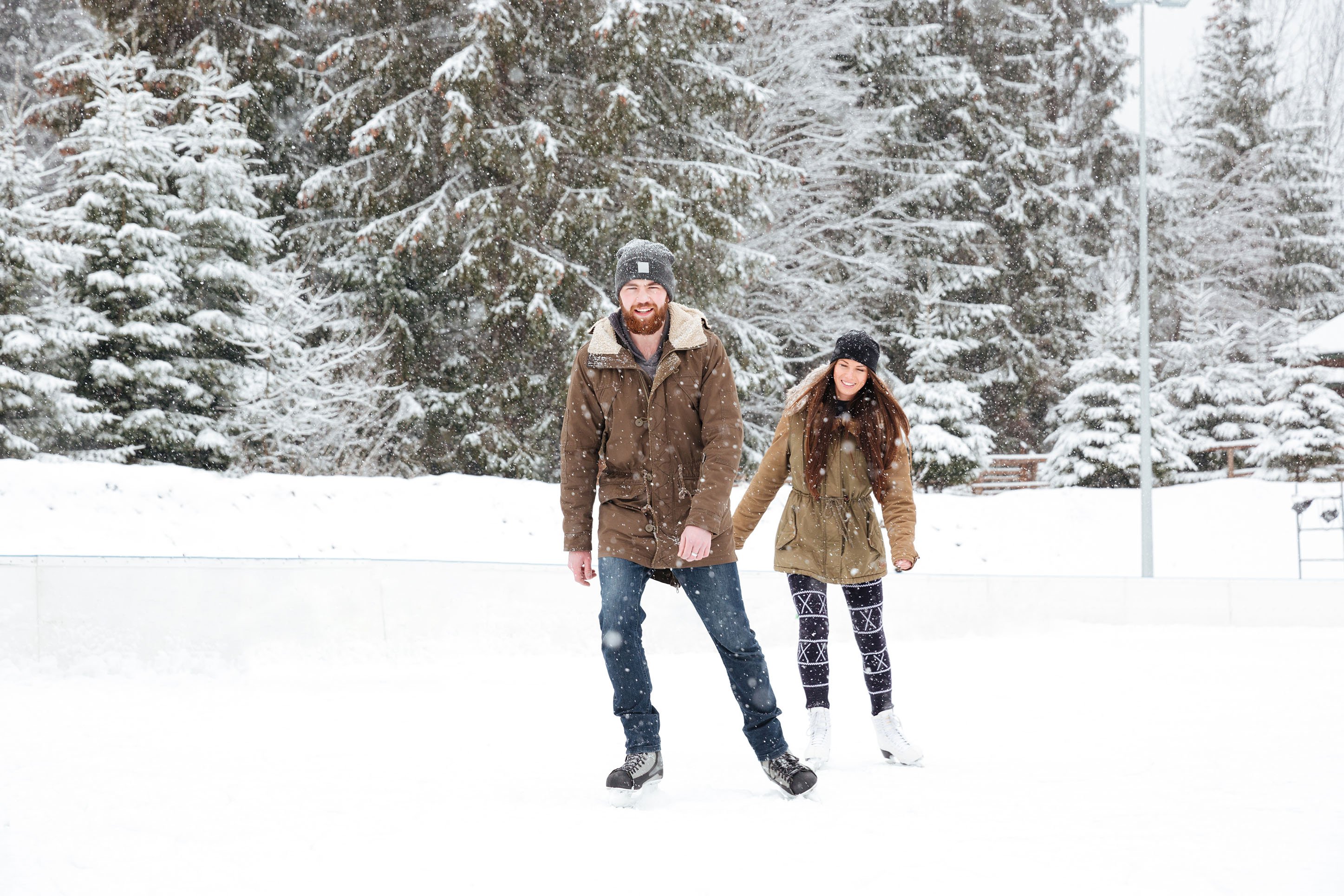 Wild Ice
Most people come to Montana to celebrate the wilderness, and skating is no exception. That's where wild ice comes in. Just keep these safety tips in mind when you head out onto the wild ice of ponds and lakes.
Safety Basics
Hey, if it's frozen water, it could be a skating rink. But Outside Bozeman reminds us that "you cannot judge the strength of ice just by looking at it. Generally, a thickness of at least five inches is considered safe for skating, and you'll need to drill through the ice to measure this most accurately. Remember to always look for cracks, holes, and debris on the ice surface. Quite often, lakes and rivers do not freeze uniformly, so always use extreme caution and never skate alone."
It's also a good idea to pick a shallow spot to test the waters, so to speak, so if you do breakthrough, you're within an easy—if chilly—walk to the shore.

Tips For Beginners
Learn how to fall. To reduce injury, fall to the side, never forward or backward. Don't catch yourself with your hands; you'll risk breaking a finger or a wrist. Instead, bend your knees, tuck your chin, and try to fall to the side.
Take baby steps. Start by taking tiny steps across the ice. Keep your arms out, and you'll naturally transition to gliding.
Know how to stop. To stop, bend your knees, turn your toes in, point your heels out, and push on your heels.
Practice the crossover. Once you are comfortable gliding, try picking up one foot and crossing it over the other, which makes it easier to skate in circular form.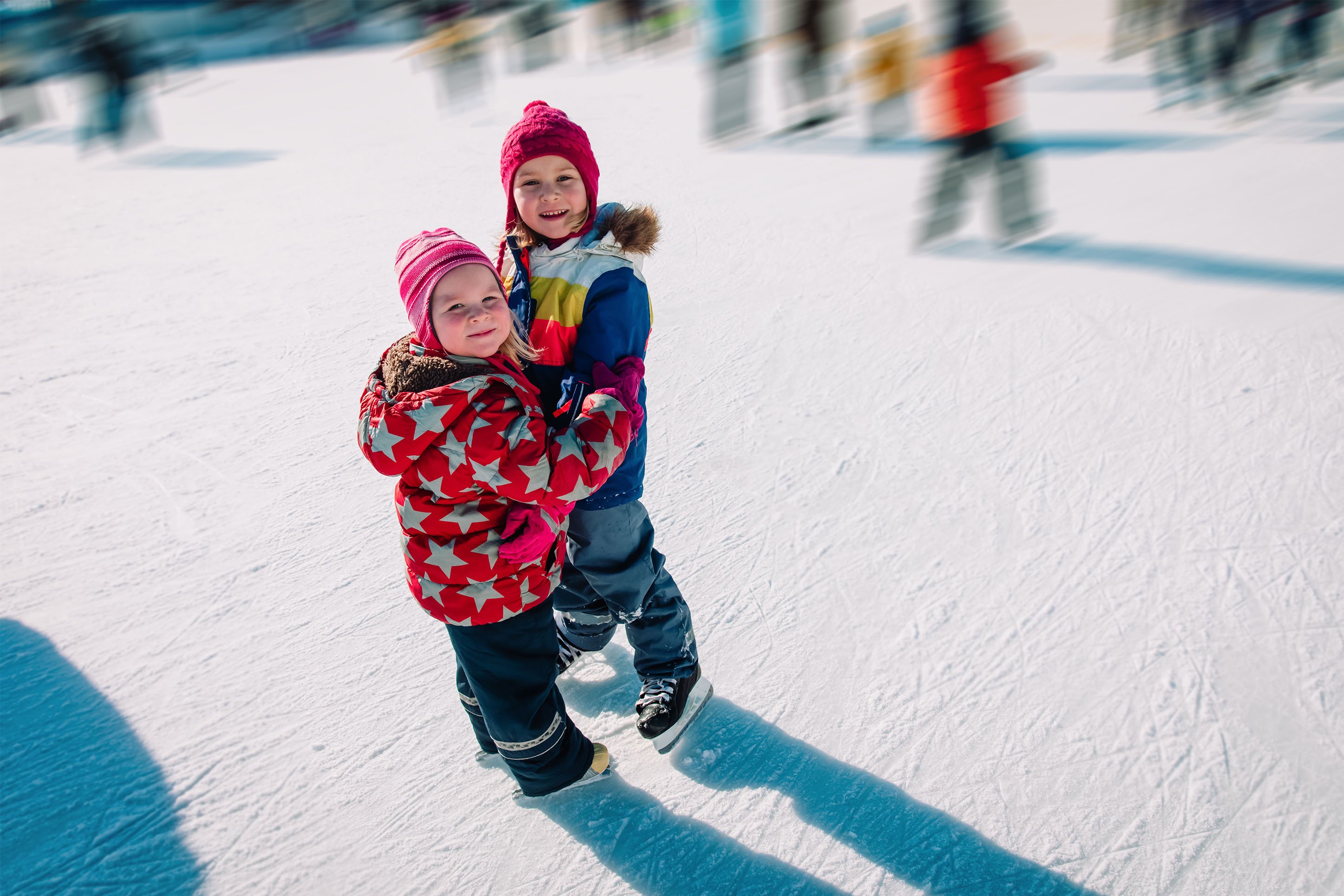 Ice Skate Rentals and Sales
If you're visiting Bozeman, you can rent skates, pick up used ones or treat yourself to a brand new pair! Looking for a good pair of used skates? Try Second Wind Sports, or Play It Again Sports for both new and used. For a rental pair, check out these shops:
Where to Skate:
Beall Park
415 North Bozeman
The Beall Park rink is located just a few blocks from downtown, perfect for a cup of cocoa or coffee at the end of your skate. Celebrating something special? Check out the pavilion located on-site and available to rent.
Southside Park
South 5th Avenue and West College
A local favorite, this lighted rink also has a warming hut. The tennis courts are set aside for hockey, join in a local game, or simply skate around and hone your skills.
Bogert Park
South Church Avenue and Bogert Place
Inclement weather? Not a problem. The Bogert rink is covered and lit, for comfortable skating no matter the weather!
Haynes Pavillion
901 North Black, Gallatin County Fairgrounds
Are you looking for an indoor rink? Haynes Pavilion, home to the Bozeman Ice Dogs hockey team, holds two indoor rinks and offers public skating times. Hockey fans, check out the Ice Dog schedule and catch a game while you're in town! Here is the Public Skating Schedule to make it even easier.
Bozeman Pond
700 S Fowler Ave, Bozeman, MT 59718
Bozeman Pond, just over by Gallatin Valley Mall, is a reliable spot for some frozen wild water. This small pond has been known to freeze over early, but of course, you'll want to be sure you check the conditions before you set out. It's perfect for a few quick laps to get in the skating spirit!
Canyon Ferry
21 miles east of Helena, Montana on US 12-287
If you head up to Helena for a day trip, large and shallow Canyon Ferry is a prime spot for ice fishing and ice skating alike. You'll generally see plenty of people out enjoying winter once the ice is strong enough to handle it. Just be sure to test it out for yourself before you head out.
Whether you go wild or prefer city rinks, Bozeman is the place to be in winter. Click here for more help planning your trip.
If you enjoyed this blog, take a look at some of our other related articles:
Ranking the 14 Best Hot Springs in Montana
Bozeman Winter Vacation Ideas
Snowshoeing Around Bozeman, A Beginner's Guide
Scenic Winter Drives Around Bozeman
In our never-ending quest to keep up with all things new in Bozeman, we have been producing content for years and can't possibly update every blog when new businesses open or existing businesses close. Please reference the publish date and do your own due diligence when making plans.