Iconic Bozeman: Bridger Bowl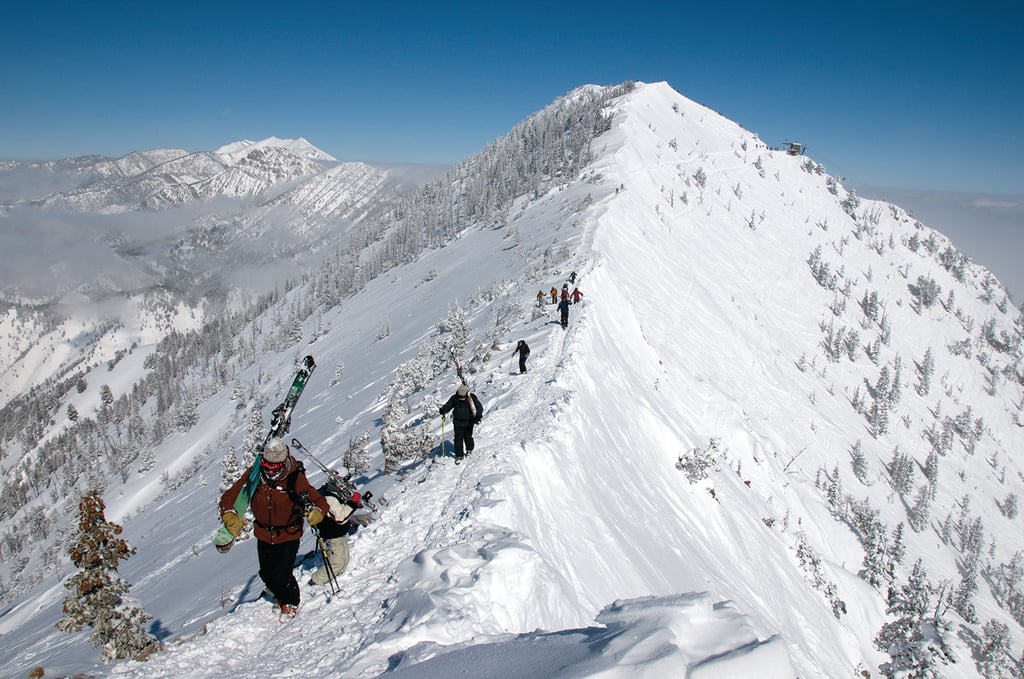 The reasons I moved to Bozeman after college were simple: big mountains, deep snow, blue skies and cute boys.

What I found were big mountains, deep snow, blue skies and some bad ass women skiers who are still some of my closest friends.

I had saved enough money to work part-time and ski part-time. Bridger Bowl had an allure; it was known for its hard-core skiers and steep terrain. I wasn't a daring skier, but I certainly wanted to be.
Bridger did not disappoint. It pushed my limits, jump-started my adrenaline and made me feel alive…really alive.
So how did Bridger Bowl develop such a distinct reputation? I sat down with Doug Wales, the long-time Director of Marketing, to learn about the evolution of one of the most unique ski areas in the country.
A HUMBLE BEGINNING
"The first local ski area with a surface lift and significant vertical was Bear Canyon, just a few miles east of town. It had one rope tow that gained about 550 feet of elevation," Wales says, "this was the main center of alpine skiing until the 1950's."
Eventually, local skiers realized Bear Canyon wasn't an ideal location for a ski area since the lower elevation only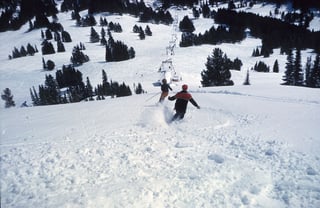 Courtesy of Bridger Bowl

allowed for a limited season and not much vertical. They began scouting another spot in the Bridger Mountain Range taking notice of the copious amounts of snow they witnessed higher up in Bridger Canyon. After scouting the area, even by air, they found the perfect spot to plant their roots, just 16 miles from town.


The ski area operations started out very loosely, as part Montana's State Park system in 1950 under the name of Bridger State Park. It was a very modest operation with one employee, about 20 acres and a rope tow that used an old car to power it. This ski hill had a pretty humble beginning, but eventually, a Bozeman group of skiers formed the Bridger Bowl Association, and the first t-bar was installed and opened to the public in January 1955. The Bridger Bowl Association was organized as a not-for-profit which was governed by a nine-member volunteer board of directors and still operates this way today. "What I've always appreciated about Bridger Bowl," Wales says, "is that all of the net profit since day one went back into the mountain. They added chairlifts and lodges as they could afford them and grew the area on merit. It's truly an organically grown ski area."
THE RED CHAIRS
Speaking of chairs, Bridger is known for their original iconic red chairs. They were double chairlifts, with a single pole up the middle between the two seats. You had to be careful when loading or risk having the chair hit you in the head. It was just this past year that the last red chair lift came down. "When we first started replacing the old Riblet lifts, we gave away many of the red chairs," Wales laughs. "Today they are highly coveted memorabilia going for top dollar."
SKIING THE COLD SMOKE
Many things make Bridger an exceptional mountain, the quality of snow being one of the biggest. Why do they call it "Cold Smoke," you wonder? "Being on the east side of the continental divide we get the benefit of the prevailing winds hitting the mountains, which forces the air to rise. This rising motion helps the air cool rapidly, and moisture condenses into snow. This motion is called the orographic lift, and we benefit from it at Bridger Bowl," Wales explains. This phenomenon occurs with the formation of a low hanging cloud cap over the Bridgers, affectionately known as the BBC, Bridger Bowl Cloud. "By the time we receive this moisture on our side of the Bridgers, there is very little water in the snow. These events often produce super dry snow with only 3-4% water content, sometimes less. It's virtually air in the form of a snowflake…and it's really fun to blow through on skis!" Wales says.

(It's true. A big powder day at Bridger is like no other. When the snow gets deep enough, people literally ski with snorkels.)

One of the most defining features of the ski hill is the "Ridge"; the narrow path at the top of the mountain giving skiers access to some seriously steep terrain. For years, the only way to access it was to hike to the top. "In the early 70's, nobody stopped you from hiking the Ridge," Wales explained, "but not many people did it unless they were experienced mountaineers. The equipment wasn't as sophisticated as it is today; skis were long, narrow and heavy."

(Let me tell you, hiking the Ridge is not for the faint of heart, especially 25 years ago. It was a steep climb up "stairs" created by whoever was first to bust the trail. There was one section, in particular, dubbed "The Pearly Gates," which was a straight-up vertical stretch through a band of rocks; making getting through even trickier with skis hoisted over your shoulder.)

As the popularity grew, boundaries were established, and in the mid-1970's avalanche transceivers became required equipment to access Ridge terrain. Ridge skiing soon became the focal point for the steady stream of Montana State University students. Bridger became an engine of growth for out-of-state students coming to Bozeman; it had a word of mouth reputation for being an accessible and affordable community ski area.

When Bridger first opened in the mid-1950's, Bozeman was steeped in agriculture, both as an economic driver and as the main curriculum at MSU. It was a good 20 years before the mountain culture began to spread across the West, but once it did, Bozeman was ideal. "Instead of going into the corporate world after college, young people were drawn to the rivers and mountains: fishing, hunting, hiking and skiing," Wales says. Artists and writers began to show up, inspired by the beauty. Bakeries, specialty restaurants, and other entrepreneurial ventures started popping up. Skiing attracted people who loved the mountains, and the university town added to the allure. "People came for the lifestyle first, and figured out how to support themselves after that," explains Wales. "Bozeman was one of the western birthplaces of mountain culture. We still have the original blue light on top of the Baxter Hotel notifying the locals that Bridger received new snow."
ENTER EXTREME SKIING
It was during this time athletes began moving to Bozeman to race on Montana State University's ski team. They loved Bridger's broad palette of terrain and great powder. Famous skiers like Doug Coombs and Tom Jungst were a few of the pioneers, seeking out the steep terrain and great snow stashes.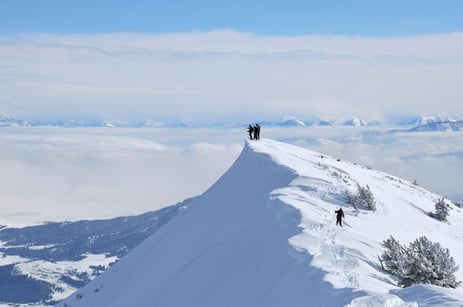 "They really started pushing the envelope in terms of what was commonly done," Wales said, "it wasn't done for commercial appeal, people were just doing it for the love of skiing and adventure. They had a true mountaineering spirit and wanted to develop the technical skills needed for the extreme terrain." Eventually, Scot Schmidt, a young kid from Helena, saw what Coombs, Jungst and friends were doing and started skiing at Bridger. "These skiers did a lot for the reputation of Bridger Bowl," Wales explained. "Bridger was an enigma in the ski industry; it had its own thing going on which gave it a certain panache in the world of skiing."

By the time the 80's rolled around, more and more skiers were attracted to Bridger. Powder, Ski and Skiing Magazines were giving the area a lot of press. Warren Miller and Greg Stump were frequently featuring Bridger in films that began catching people's attention. The extreme ski movement was getting big, and people in-the-know were coming to Bozeman to ski.
THE NEXT GENERATION
Eventually, the same pioneering skiers began having families of their own, and they started their kids' skiing early. "Our ski school quickly grew in popularity," Wales explains. "Many families began enrolling their kids into our multi-week programs. Tons of kids started when they were four years old (or less), so by the time they were 10 or 11 years old, they were very competent skiers."

Bridger soon became a mountain with a reputation for excellent skiers. These kids were raised to follow in their parent's footsteps, not just as skiers, but in other outdoor sports like biking, hiking and kayaking— recreation the whole family can do. "There are now three and four generations of Bridger Bowl skiers which have ingrained a culture of skiing and outdoor recreation in this community," Wales says.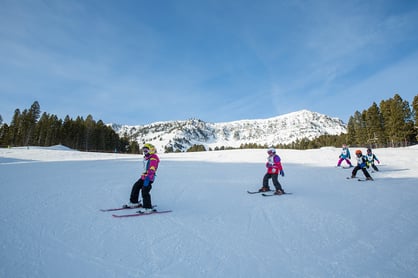 Courtesy of Bridger Bowl
I can attest to this. My son's grandfather was on the original board of directors, and his dad started skiing when he was two, and my son wasn't much older than that.)

With so many high-end skiers and snowboarders at Bridger Bowl, the focus during the 90's and early 2,000's was expanding terrain and catering to the expert level of skiers and riders at Bridger. Old center pole Riblet chairs (the coveted red ones), were being replaced by newer and bigger lifts to accommodate the growing local skier base and interest from destination visitors.

By the early 2000's, the Ridge was getting a tremendous amount of pressure. In the year before the Schlasman lift in 2008, the Ridge was seeing over 1,200 visits in a single day.

Finally, after almost 12 years of trying to get approval on expansion, Bridger was able to expand in 2008 and opened up 311 acres to the south, including Mundy's Bowl in the Slushman's area. With the installation of a recycled lift from Alta, the Schlasman (original correct spelling of PJ Schlasman) finally gave Bridger skiers direct in-bounds lift access to the ridge. This move took Bridger Bowl to a whole new level of service with chairlift access to some of the most advanced terrain in America. Access to US Forest Service land outside of Bridger's boundaries was also granted giving the public backcountry ski access to Saddle Peak, Bradley Meadows and beyond.
NOW WHAT?
With Bozeman's rapidly growing community, there is a need for improved lift service and additional terrain access on the easier slopes. The board and management are focusing on the needs of beginner and intermediate skiers and riders. They have added more triple chairs, which provides better lift access and accommodates a wide range of skier abilities. "The new Alpine and Powder Park chairs have loading conveyors which have really rounded out the ski experience and made Bridger more "family friendly"," Wales says.

This summer, Bridger finished another significant phase which greatly improved the beginner ski experience. Two new covered conveyor lifts were installed, along with the relocated Snowflake Lift in a 7-acre base area that will give beginners significantly more terrain to learn on. The new Snowflake Warming Hut is a perfect area to warm up or view youngsters learning to ski or snowboard.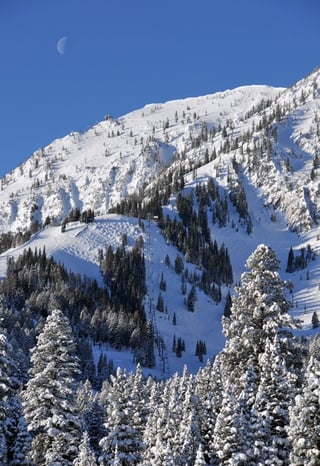 "The challenge now, more than anything, is to keep up with the growth of the community while maintaining a quality ski experience. We've never been motivated to grow bigger," says Wales. "Skiing is an expensive sport which is challenging for a not-for-profit ski area. We want to be affordable and accessible. We also want to keep employees at a livable wage, and we've worked hard to do that."

Bridger's business model is what separates them from most ski areas. "We aren't focused on selling real estate around our ski runs, or growth for just growth's sake. Our mission is to provide a quality ski experience at an affordable price and meeting the needs of our ski community. We're very dedicated to meeting that objective— it's a priority, " Wales says. "For over a half-century, we've had really good board members and staff who are committed to doing just that."

Arguably, Bridger is the most successful not-for-profit ski area in the country.

I asked Wales his favorite thing about Bridger. "To see a place that brings so much joy to people. There are so many factors to skiing that are challenging, diverse and extremely fun. When you go up the mountain on a great powder day and hear people hooting and hollering, it's so gratifying. There's not that many places where one sees or hears a bunch of people having that much fun."

(He's right. My first big powder day at Bridger was unlike anything I've experienced. Almost three feet of snow and a bluebird sky. As I was riding the lift, the first skiers of the day started down the untracked mountain with perfect turns, huge smiles and a cheering audience from the ski lift. It doesn't get much better than that.)
If you enjoyed this blog, take a look at some of our other related articles:
In our never-ending quest to keep up with all things new in Bozeman, we have been producing content for years and can't possibly update every blog when new businesses open or existing businesses close. Please reference the publish date and do your own due diligence when making plans.