Cactus Records: A Local Music Icon in Bozeman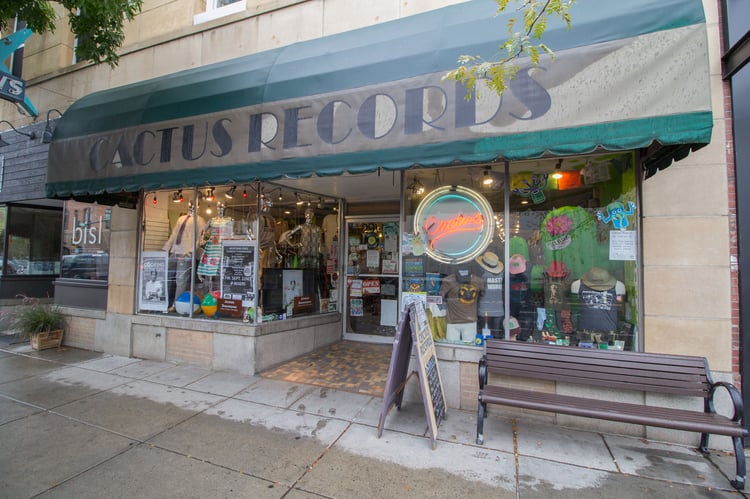 A husband and wife are walking down the street passing by a local record shop when the husband leans in and whispers rather loudly, "That place is a weirdo store." Little did they know that the owner of Cactus Records was walking right behind them. That the comment would then become the store's tag line.
Bozeman has a lot of icons, but Cactus Records is one of the local favorites. Started in the 1970's, Cactus has made a name for themselves as being one of the few remaining local music stores; a feat in and of itself in today's music environment.

Mike "Bueno" Good, the store's purveyor, bought the business on September 5, 2001, just six days before 9/11. "I became a business owner right when the whole world changed," Bueno recalls. That didn't stop him. A Montana native, Bueno was living in San Francisco working for a record distribution company but found himself spending all of his vacations in Bozeman. "This felt like home," he said. A friend who worked for Cactus mentioned that the owners lived out of town and might be open to selling. At the time, Napster had shut down and iTunes was less than a year old so local music stores were still going strong. Bueno spent a few months putting a proposal together and after a few negotiations, he hit the ground running.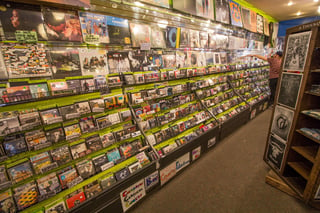 The store has prospered despite the ups and downs of the economy and the surge in digital music. "A few years ago, 70% of music stores went under," Bueno explains, "I definitely thought I was going to be one of them." But enthusiastic employees and a loyal customer based rallied to keep the store going. Bueno laughs, "It's two steps forward and one step back. But Bozeman supports local, independent businesses and nobody could stand the thought of it disappearing." He goes on to say, "I didn't want to be the person that shut down Cactus Records."

What's the secret to his success? "Knowing your customer base and making decisions based on that," Bueno replied. "Ours (inventory) is based on what customers like."

He explains further, "The way the industry is going, local record shops are going to dominate the market instead of retail chains. It's a really tough business, in order to succeed you really have to be a niche buyer and know your customers. You can't buy based on top 40." Bueno looks for small, independent labels, "Things that don't get much radio play," he says, "the sales of Top 10 songs are mostly digital downloads."

So what music is popular these days? "The past several years, Americana was the biggest seller, but I'm seeing a little downward trend with that. When I bought the store, bluegrass was more popular. I'm also seeing increasing sales in harder rock, a resurgence from older people. Classic punk from the late 70's and 80's is also coming back," he says, "that might have something to do with the political climate." Another interesting trend? Vinyl is back, outpacing CD sales.

But Cactus is more than just music. "Gifts have always been a part of Cactus, but at first I didn't recognize the potential. When digital music appeared and it seemed it was going to be the death of physical music, I turned my focus on it," Bueno explains. "Now it's one of the most popular things in the store. People have a blast shopping; there are lots of laughs."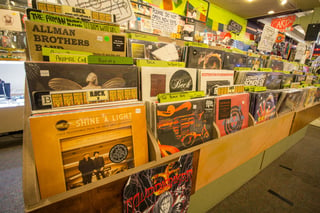 While Bueno contributes much of his success to the support of the local community, he is humble about how much he supports the community in return; selling CDs of local musicians, locally made jewelry, concert tickets and supporting local festivals such as S.L.A.M. Fest. (Support Local Artists and Musicians.) "Some things are sold on consignment, but I will try anything," he says. "Some sell well and some don't, but as a musician, you really have to promote it and give people a reason to check it out." Cactus provides a great venue for aspiring musicians with the popularity of Bozeman as a vacation destination. "For many people, music is the gift they buy for themselves, they want to get a feel for the music being made in the community."

Cactus is also the go-to place to purchase concert tickets. "We like to support music by selling tickets to almost all events, most of them local. Promoters are able to have them in one place, and people know this is where you can get tickets. It's a nice service," he says.

But local music isn't his only jam. Cactus works hard keeping abreast of new releases. "There are around 7000 new releases every month," Bueno says. "A local store may have less than 10% of those; some international, some self-released with minimal distribution. Every week we're looking at what's coming next."

While the majority of the music is new, Cactus has a used selection that can rival the best. "People approach me with their collections," he says, "I recently purchased one that was over 6000 records, it was the biggest collection I've ever purchased." One of the most exciting scores was a collection of several thousand comic books; most hadn't been read, were still in their plastic sleeves and had been in storage for 20 years. "We had one employee who is a huge comic book nerd— he knows everything you can know," Bueno says. "It really made a difference in bringing in new clientele.

What's his favorite part of the business? "Receiving the orders," he says, "it's like Christmas a couple of days a week." He goes on, "I really love almost every aspect of it. Everyone I've ever worked with has been great. For example, Doc Wiley, a Grammy winning studio engineer, works here a couple of days a week. He has worked in record stores all his life and has a huge knowledge base."

When asked if there were anything else he would want people to know, Bueno offers his support for another local retail store, "There's another business in the basement, Justus, a clothing store owned by a former MSU football player. The store carries urban styles; it has its own personality separate from Cactus."

At the end of the interview, I asked the burning question, "How big is your own collection?" "Not that big," he replies, "about 1,000 records. I have sold more than I have bought."

Cactus Records sells new and used vinyl & CDs, gifts & novelties, oddities & hilarities, traditional & body jewelry, aromatics & apparel, cards & posters, concert tickets, & more. Check them out at cactusrecords.net.
If you enjoyed this blog, take a look at some of our other related articles:
In our never-ending quest to keep up with all things new in Bozeman, we have been producing content for years and can't possibly update every blog when new businesses open or existing businesses close. Please reference the publish date and do your own due diligence when making plans.