What Makes Bozeman a Great Art Community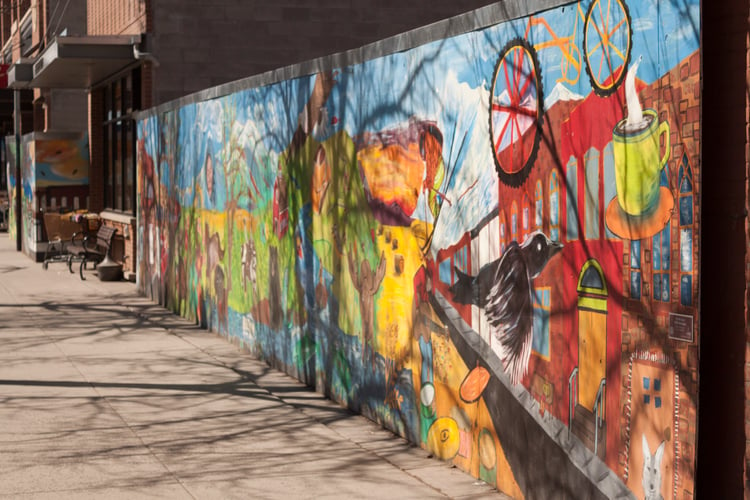 Art is a (very) big deal in Bozeman. The area alone is inspiring with big skies and mountain vistas in every direction. The culture of the town also play a huge part of the thriving art community in Bozeman. Art begets art, and in this town, people love it.
Whether you are a collector, an admirer or an aspiring artist yourself, you'll find an outlet to satisfy your creative side.
Galleries

Downtown Bozeman is home to over 20 galleries, each with a distinct flair. Old Main Gallery and Framing is one of the original galleries to start the art community and it features original paintings, vintage maps and impeccable framing for your own pieces or photography. The restored nineteenth century building is beautiful in and of itself. Or visit Tart, located in the iconic red barn, has an eclectic collection of locally made jewelry, clothing, gifts, paintings, drawings and ceramics, with a focus on unusual and light-hearted pieces.
Outdoor Art

You don't have to look far to see art adorning the town. Outdoor pieces pepper the sidewalks, buildings and even the traffic control boxes! Gallatin Art Crossing places sustainable art throughout the downtown. Check out the sculpture park at the Bozeman Public Library, or the lawn of the Emerson Center for Arts and Culture. And the traffic control boxes? They are wrapped with original artwork to add vibrant public art to the streetscape and decrease the instances of graffiti, poster and sticker vandalism.
Art Walks

The second Friday of the month from June through September marks the Downtown Bozeman Art Walk. Friends, neighbors, and visitors stroll along Main Street where the galleries host opening receptions, artists are on hand to talk about their work, appetizers and libations are offered, and the conversations are always interesting. Most make an evening of it, staying for dinner at one of the many restaurants in Bozeman.
Classes

You don't have to be a professional to create art; everyone starts somewhere! If you're visiting the art community, you might want to check out some of the classes or workshops offered and plan to include one in your stay. Who knows, you may end up wanting to pursue an art degree at Montana State University School of Art. For short-term stints, try Art Splot, Painted Buddha or Classes at the Emerson.
Festivals

Summer and festivals go hand in hand in art communities, and Bozeman has some great ones. For 40 years, the Sweet Pea Festival has been the prominent leader in cultivating and promoting art. The art and craft show alone is worth a visit, but you'll also love the music, food, theater, and dance. At the same time, another art festival, SLAM Festival (Support Local Artists and Musicians) features all local artists, musicians, and craft beer. Set aside the weekend, there is plenty to keep you busy!
Unexpected

As you can see, art is everywhere in the community, even in unexpected places. Many restaurants, coffee houses, and retail stores adorn their walls with local artwork, which rotates frequently and is often for sale. Keep your eye out, the piece you didn't know you were looking for may be right in front of you.
If you enjoyed this blog, take a look at some of our other related articles:
In our never-ending quest to keep up with all things new in Bozeman, we have been producing content for years and can't possibly update every blog when new businesses open or existing businesses close. Please reference the publish date and do your own due diligence when making plans.