Altitude Gallery in Bozeman: Art for Everybody
"Just like everybody else, on March 28, the rug was ripped out from under us," says Amy Kirkland, owner of Altitude Gallery. COVID-19 had reached Montana along with a Shelter in Place order. But that didn't stop Kirkland, who has owned the gallery since 2004.
Having watched other brands such as The North Face implement social media takeovers with their athletes, she quickly went to work to implement a new strategy — artist takeovers. Each week, Kirkland had a new artist take the reins on her social media accounts, giving her followers a sneak-peak into artists' studios and processes. It was fascinating to watch, and her sales flourished.
"Looking back," she says, "It's easy to see how things worked out. People were in their homes, working from home, and looking at their walls. They were not going to Europe, and, all of a sudden, they had a few extra thousand dollars that they had maybe saved for a trip.
"It wasn't just paintings that sold," she explained. "Smaller items such as handmade coffee mugs were big, as well as jewelry. I sold a lot of earrings for people on Zoom. It feels good to be surrounded by handmade things and to support an independent artist who just lost a year's worth of shows. There was an altruistic part of it. I think it felt good for people to spend money they earned to support somebody else in what they do."
The Evolution of Altitude Gallery
The evolution of Altitude Gallery is a great story. Kirkland, who grew up in Seattle, moved to Jackson Hole, WY, right after college to enjoy the mountain life and be a ski bum for a while. She spent five or six years working in restaurants at night and skiing during the day. Eventually, during the off-seasons, she would head to California and sell pumpkins. That turned into selling pumpkins and Christmas trees, which turned into living in a camper van and selling pumpkins and Christmas trees and fireworks for three months of the year, then spending the rest of the year traveling around kayaking and skiing.
"I had no responsibilities," Kirkland says, "It was a total freedom lifestyle, which was awesome. I was in my mid-twenties, and one day I realized, 'this is cool, but I don't think this is sustainable forever.'"
Her father was a photographer, and Kirkland suggested selling his photography at art shows. She started taking his photos to farmer's markets and art festivals, following the river runoff so that she could kayak.
"I would start in California in the spring, and then head to Colorado in the summer and just travel around. I really didn't have a home base," she said. "Then I would take a couple thousand bucks I had made and go hang out in Canada for the winter and ski. I would come back, totally broke, ready to do the next art festival." Kirkland did that for a few years, eventually building up to thirty art festivals a year.
"Which is a lot," she says, "most people don't do that many, it's exhausting."
At this point, Kirkland began feeling she should do something more with her life.
"I wanted a ski town with a cool whitewater river that was affordable," she said, "I found myself in Big Sky. This was twenty years ago." Having just had a full summer of art shows, she had developed friendships with numerous artists.
"The festivals were full of like-minded people," she said. "I was getting good at selling art; I had an eye for it. There were a handful of artists whose work I really loved. I had made some trades with them, and had their art hanging in my home. I thought to myself, 'I wonder if I could open an art gallery?'" So, she did.
Opening up shop
Kirkland found a space that was 400 square feet for $500 per month. The gallery was next to a popular restaurant, so Kirkland opened her doors from 2:00 p.m. until the restaurant closed, leaving her mornings free for skiing and kayaking. She found her groove. But she knew she needed to find a spot with more foot traffic, that was more year-round. That led her to her current location in downtown Bozeman.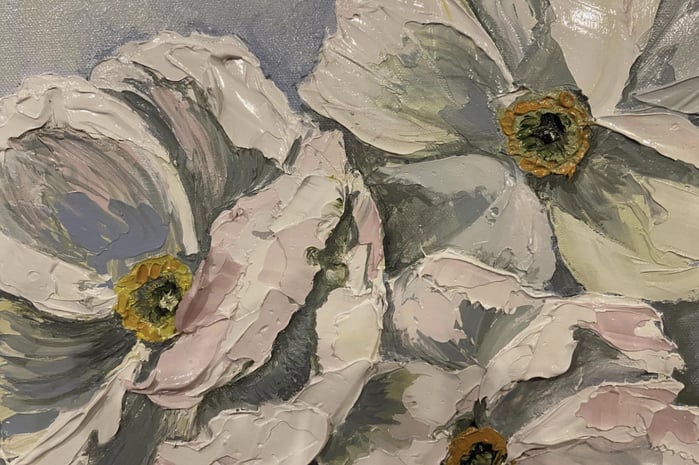 "There was a little Mexican restaurant that had burned in a fire," she explained. "I would come to look through the windows, and the space was all burned out. Eventually, I found the right person on the right day, and we signed the lease!" The landlord refurbished the building, and Kirkland moved in with a gallery full of art on consignment.
A longtime bozeman gallery
Fifteen years later, she is still in the same 9-foot-wide space, with 60 artists, a loyal online following, and a great website. When asked what she looks for in her artists, she is very clear.
"Fifty percent are local, but I will bring in others if their work is handmade and fits with what we are doing," she says. "I like a lot of colors and clean lines. Also, something that evokes the west and mountains. I look for emerging artists whose work is attainable. I've not wanted to be high-end. I've moved in that direction intentionally. I want to sell art for the everyday person. I think art should be for everybody."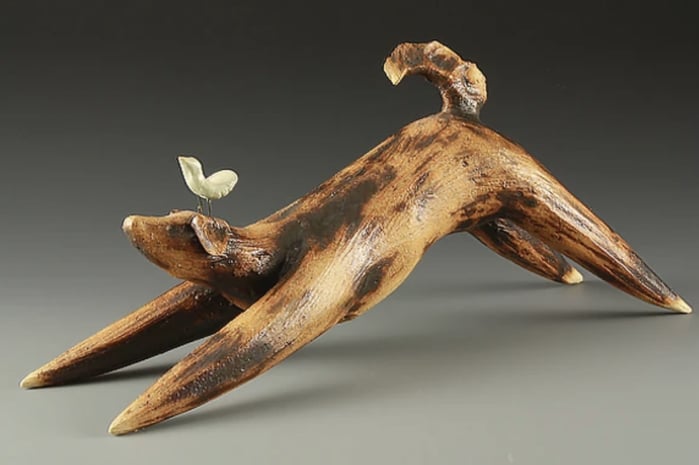 Kirkland also looks for artists who are fun to work with.
"Everything has to be easy, because if it's not — if it's not fun — it's not worth it," she says. "As you can tell from my history of how I got here, I'm going to have some fun. I'm not here to take myself too seriously."
Her philosophy is pretty simple.
"I think it's about connecting with great artists who love what they do and who are doing cool things, and putting them in the homes of people who love them. And enjoying it along the way."
Being a steward of the community is also important to Kirkland. "
That is something I take very seriously because of the success the gallery has had," she says. "Now that I'm out of my ski bum years and am not just trying to survive financially, it's about giving back to the community and supporting the place that has allowed us to thrive here. Downtown Bozeman is really special, and I want to make sure it stays this way."
You can find all of her artists' work online at altitudegallerybozeman.com.
If you enjoyed this blog, take a look at some of our other related articles at Bozemancvb.com: