Bike Tour of Bozeman Breweries
With Montana being ranked third in the country for most breweries per capita, it should come as no surprise that Bozeman is a treasure trove of great local breweries. The north side of town in particular is a mecca for hopheads and casual beer drinkers alike. With the beautiful Montana summer weather we've been enjoying, it's the perfect time to break out the bike and take a leisurely loop of some of these great breweries. We've mapped out a bike tour and shared some of our favorite aspects of each spot below.
Lockhorn Cider House
First up on our tour is Lockhorn Cider House– while Lockhorn isn't a traditional brewery, their tasting room is the only spot in town to find locally produced ciders. They have a great stable of year-round ciders but also offer rotators on a biweekly basis that often include some unique flavor combinations. Their dandelion cider that was released earlier this summer was a one-of-a-kind experience! Check their Instagram to see a sneak peek at upcoming or current rotators on tap.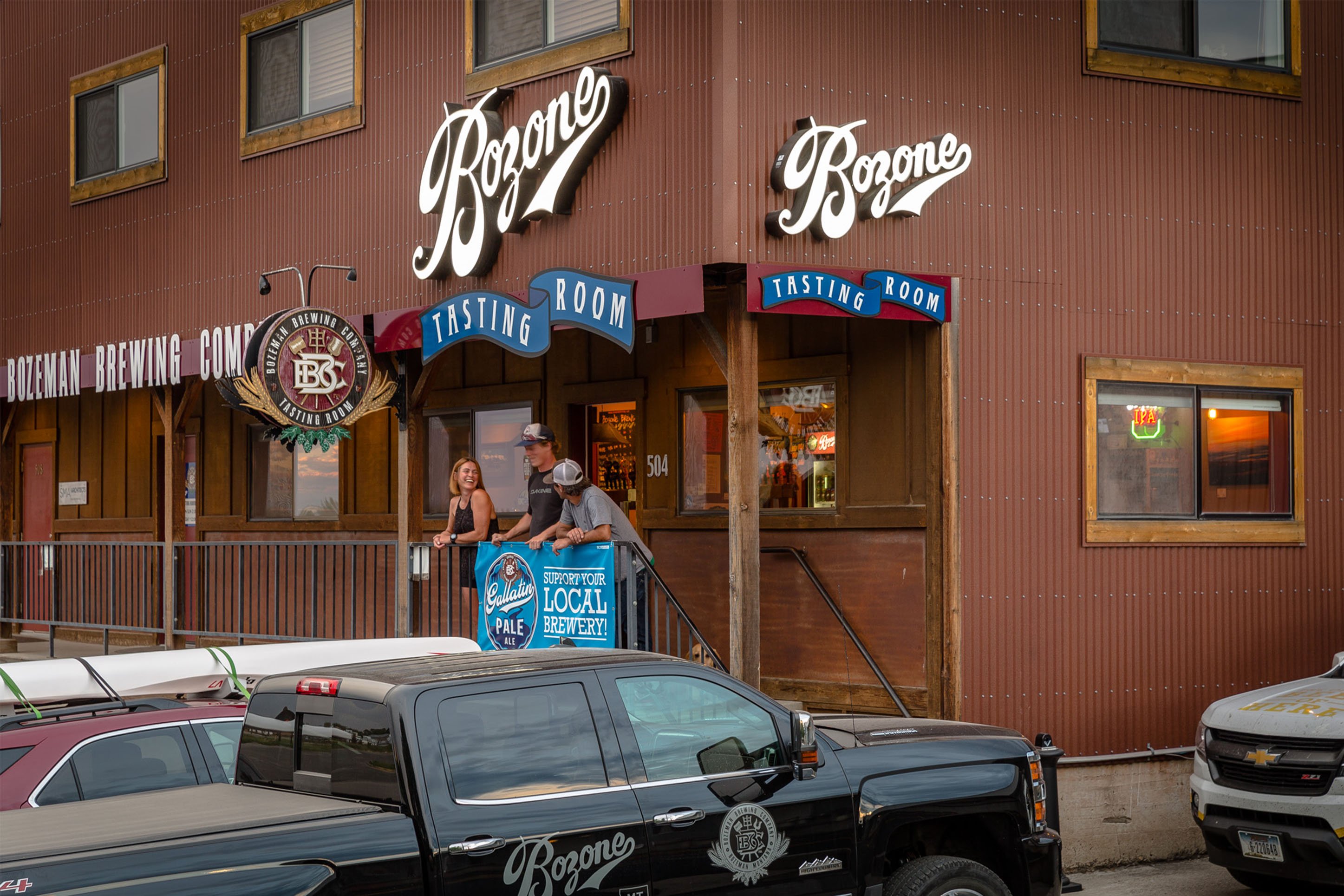 Bozeman Brewing Company
Next up on your bike route is Bozeman Brewing Company, Bozeman's original craft brewery. Bozeman Brewing offers beers ranging from Plum Street Porter to Haze Trip Hazy IPA and everything in between. They also have a whole line of Bozeman Underground sours, named for the fact that they brew them under the building in wine and whiskey barrels, that are small-batch recipes and constantly changing flavors.

photo courtesy of Justine Jane Photography
Mountains Walking Brewery & Pub
You won't even need to get back on your bike to head to Mountains Walking, located just across the street from Bozeman Brewing. Mountains Walking is known for its inventive flavor combinations and seltzer and beer slushies perfect for a summer sip! Because they are always concocting new and exciting flavors of beer, no two trips to Mountains Walking are ever exactly alike. They also have a full-service kitchen so this is a great spot to refuel with some tasty bites on your trip.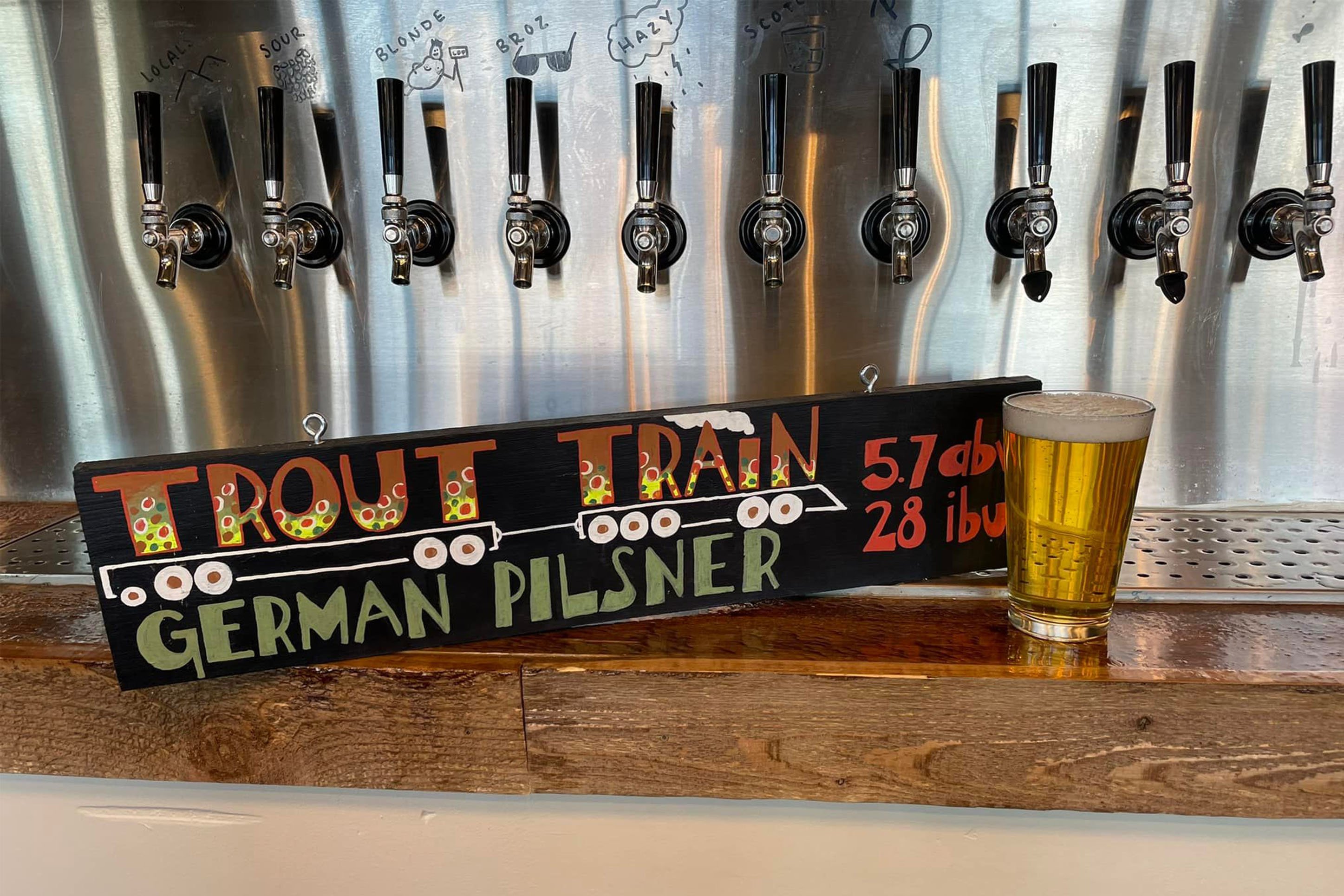 Last Best Place Brewing Company
Located in the up-and-coming midtown district of Bozeman, Last Best Place Brewing is a newer addition to the Bozeman Brewing community. With beers on tap including their flagship Pika Pale Ale and rotators from sour to black lager, Last Best Place has a beer for every palate. Last Best also has an active events calendar on their website with weekly pint nights, trivia, ladies' nights, and frequent live music to spice up your Sunday night.
FreeFall Brewery & Audrey's Pizza Oven
Originally based in Billings, FreeFall Brewery brought its flavors to Bozeman in the summer of 2021 along with reopening a local favorite, Audrey's Pizza Oven. If you weren't hungry when you hit Mountains Walking earlier, FreeFall is a great spot to carb load with some pizza before you finish your ride. Their mainstay The Rock scotch ale is a local favorite and they usually have a flavored seltzer rotating through in addition to the other mainstays and small-batch beers.
Shred Monk Brewery and Coffeehouse
Bozeman's newest brewery, Shred Monk is located in the heart of downtown Bozeman on Main Street and is a unique combination of both brewery and coffeehouse. They separate their beers into two categories. Get Up (under 5% ABV) and Get Down (over 5% ABV) beers range from blond to stout with plenty in between.

Grab your bike, and a few good friends, and block out an afternoon to cycle around Bozeman and enjoy some local brews. If you don't have a bike with you, you can rent one from local shops like Owenhouse cycling. Get ready to pedal!
If you enjoyed this blog, take a look at some of our other related articles at Bozemancvb.com: