Bozeman's Newest Comedy Club: Last Best Comedy
Bozeman has a new addition to the entertainment scene: Last Best Comedy, the only dedicated comedy club in Montana! Located in the basement of the Bozeman Hotel, the newly renovated space is open Tuesdays for open mic and regular shows Thursday through Sunday. Owners Annie and Levin O'Connor and Molly Hannan have created a lineup of improv, standup, and comedy classes that are top-notch and gaining in popularity. And, with a full bar, it's a great place to gather with friends and unwind.
"It's catching on," Levin said. "When I'm not performing, I get to observe the audience more. The audiences are full of people who have had a very traumatic year and a half, and with the laughter, you can see the layers of stress and anxiety peeling off. Laughter is something we've been denied, and it is wonderful to see people respond."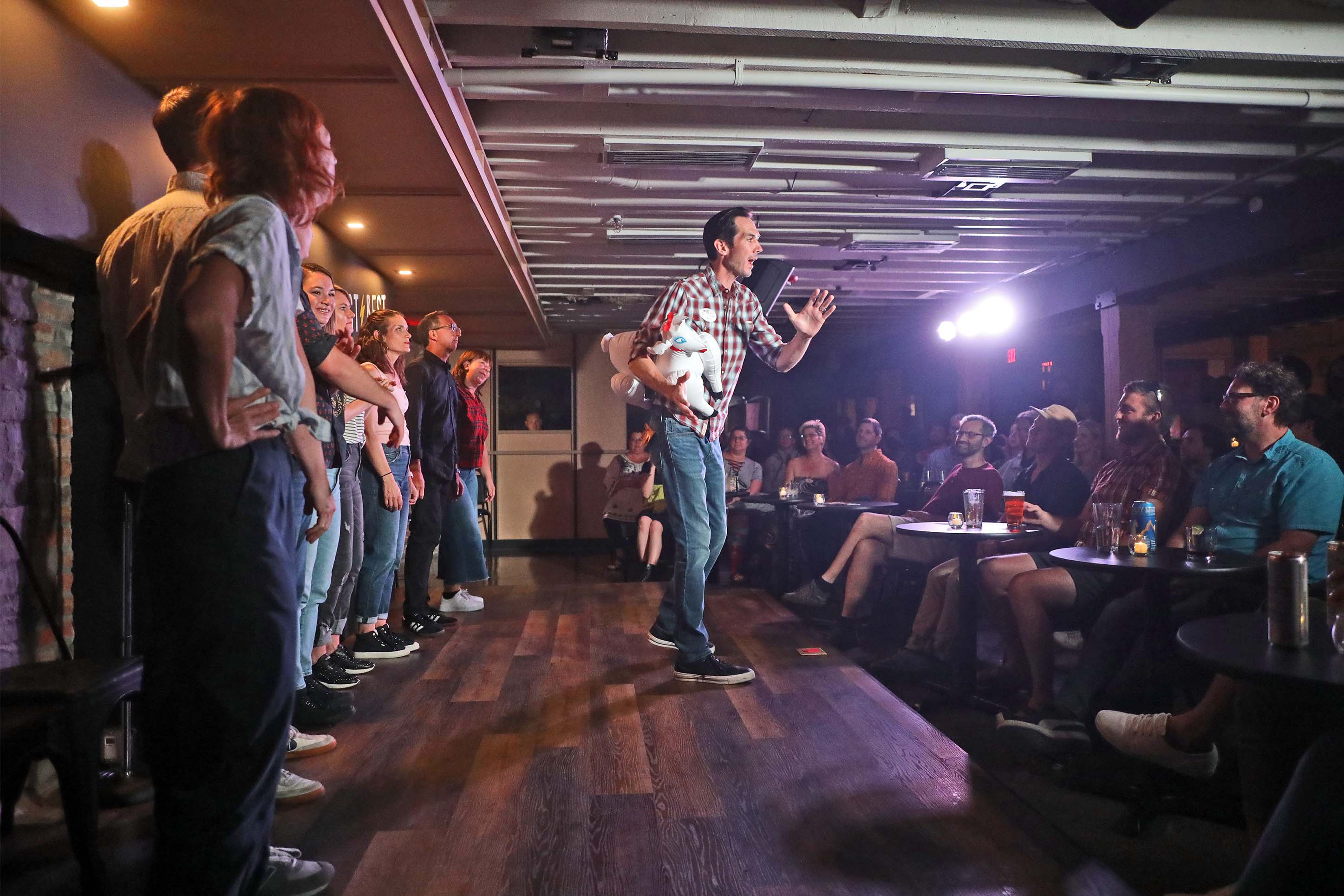 Weekly Shows
Regular shows include Treasure State Comedy Showcase, which is a monthly showcase of comics from around Montana. In addition, Bozeman's Funniest Human Person, a comedy competition, gives up-and-coming comedians 5-10 minutes to prove to the audience they are funny.
Notorious BOZ is a long-form improv show where guest monologists share stories from their life. The cast then uses those stories to create characters and scenes, bringing them together in a hilarious whole.
NOW with Annie and Levin, takes improv to the next level. Performing together since 2005, the husband-and-wife duo take one suggestion and play it out.
"It's fun to watch because improv grows differently," Levin says. "Annie and I do our two-person show on Thursday; if people like it, they come back and rope a friend into it. If it's a good experience, there's nothing like it. Suddenly the next week, a table of two is now a table of four. It's a rewarding process."
Special Guest Shows
Shows with special guests such as Gareth Reynolds and Simon Gibson sold out pretty quickly, so be sure to watch the schedule and get your tickets early! This December, comedians like Emma Arnold, Eddy Ifft and Chris Fairbanks will take over the stage during special weekend shows.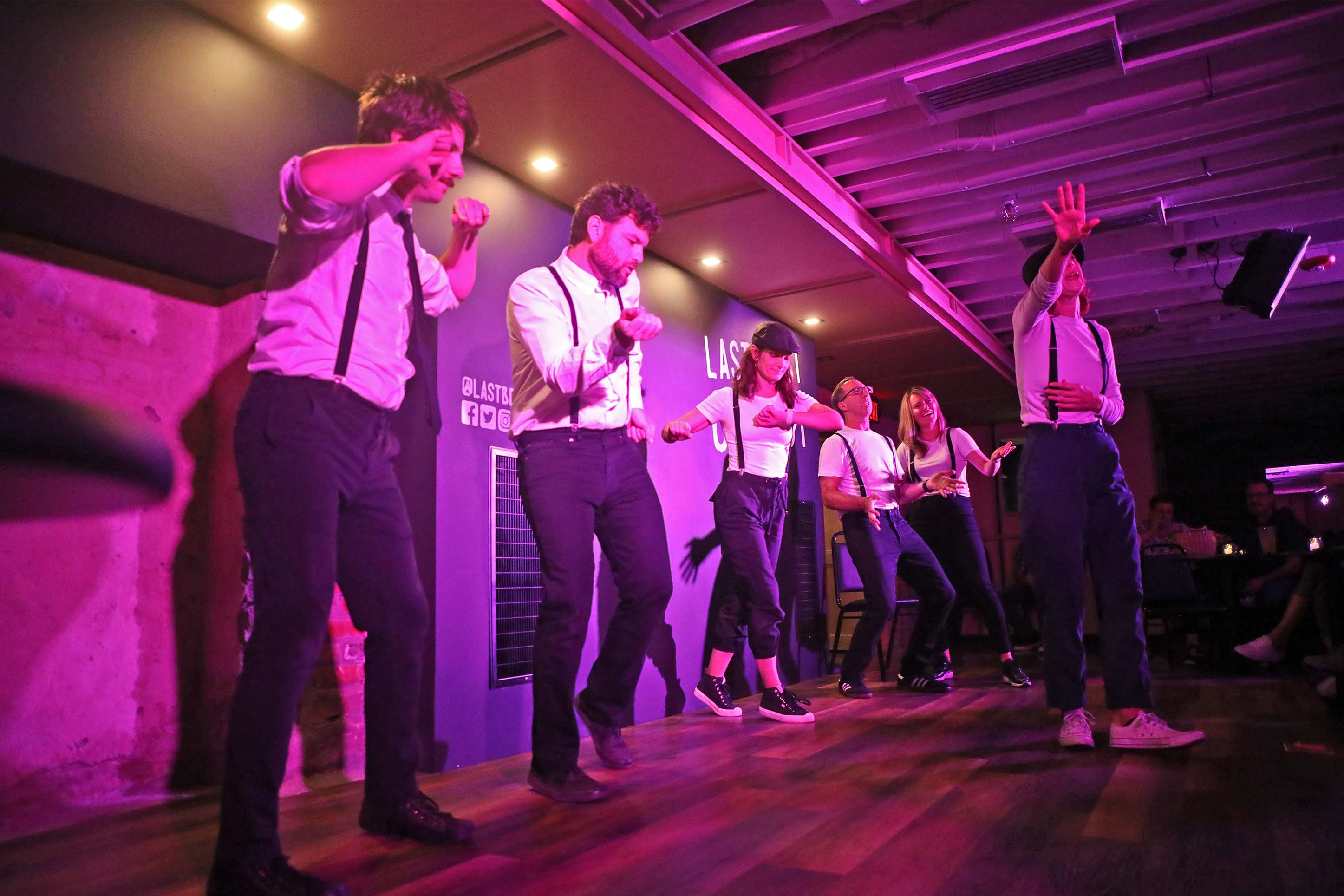 Comedy Classes
As for classes, the O'Connors' and Hannan's backgrounds are all in improv, and they brought in Garrison Choitz, a standup comedian, to lead the standup side. Together, they are working to develop Standup 101.
"Improv is incredibly valuable, but the general mindset is that you need to be clever or quick, and it's not about that," Levin explained. "It's much more an act of meditation and collaboration and making it work. Those skills are helpful in anything you do, from parenting to working together as a team in your job or giving a toast at your brother's wedding. Improv is sneaky, you think you are getting into a comedy class, but it's much bigger than that. Comedy isn't the goal; in fact, the more you try, the more off-putting it can be. But if you relax and listen to your seat partner, it goes well. Improv is about getting people to calm down and listen to each other."
If you're interested in taking a class, you can find a link to their schedule here.
Private Events, Trainings and Workshops
Last Best Comedy can also be hired for private events and functions, and businesses can bring the team in for corporate training or individual workshops, which is beneficial for team building.
"It doesn't take long for businesses to realize that improv training is good for their workforce," Levin says. "It makes people happier to work together and more efficient, no matter what outcome you are looking for. For example, we worked last summer with a group of rocket scientists who had been working remotely and needed to learn to communicate with each other."
"It's wonderful to watch people laugh and learn how to talk to each other," Levin went on. "It's a lot more fun than a counselor and a little more practical. We play around with the parts of communication that make people uncomfortable. Once you put more light on that, you realize that people's intentions are generally good. They learn to take a risk and trust to trust each other."
For more information on upcoming shows and classes or to inquire about a private event, go to www.lastbestcomedy.com.
If you enjoyed this blog, take a look at some of our other related articles: