Farmers' Markets In and Around Bozeman This Summer
"Black Gold" is what residents of Gallatin Valley call the rich soil in the area. Lots of organic matter and high water content make the dirt dense in nutrients, creating a fertile ground for agriculture. At local Farmers' Markets, you'll also find items such as beeswax candles, handcrafted soaps, lotions, and fresh flowers. Our markets don't stop with food either; artists and craftsmen sell a variety of items such as jewelry, leather goods, paintings, and more. Bozeman has two markets of its own, each with its own unique flavors, but there are others available throughout the rest of the valley just about every night of the week.
Bozeman Farmers' Market
Looking for something to do on a Tuesday night? Bozeman Farmer's Market in Lindley Park is a great place to spend the evening. 2022 marks 20 years of fresh produce, food, art, music, and more at the market. You can feel good about your purchases because the market commits a portion of the revenue every year to the preservation and improvements of Bozeman Parks. For a list of vendors, check out their website.
June 21st - September 13th, 2022
Tuesdays from 5 pm-8 pm
Lindley Park, 900 E Main Street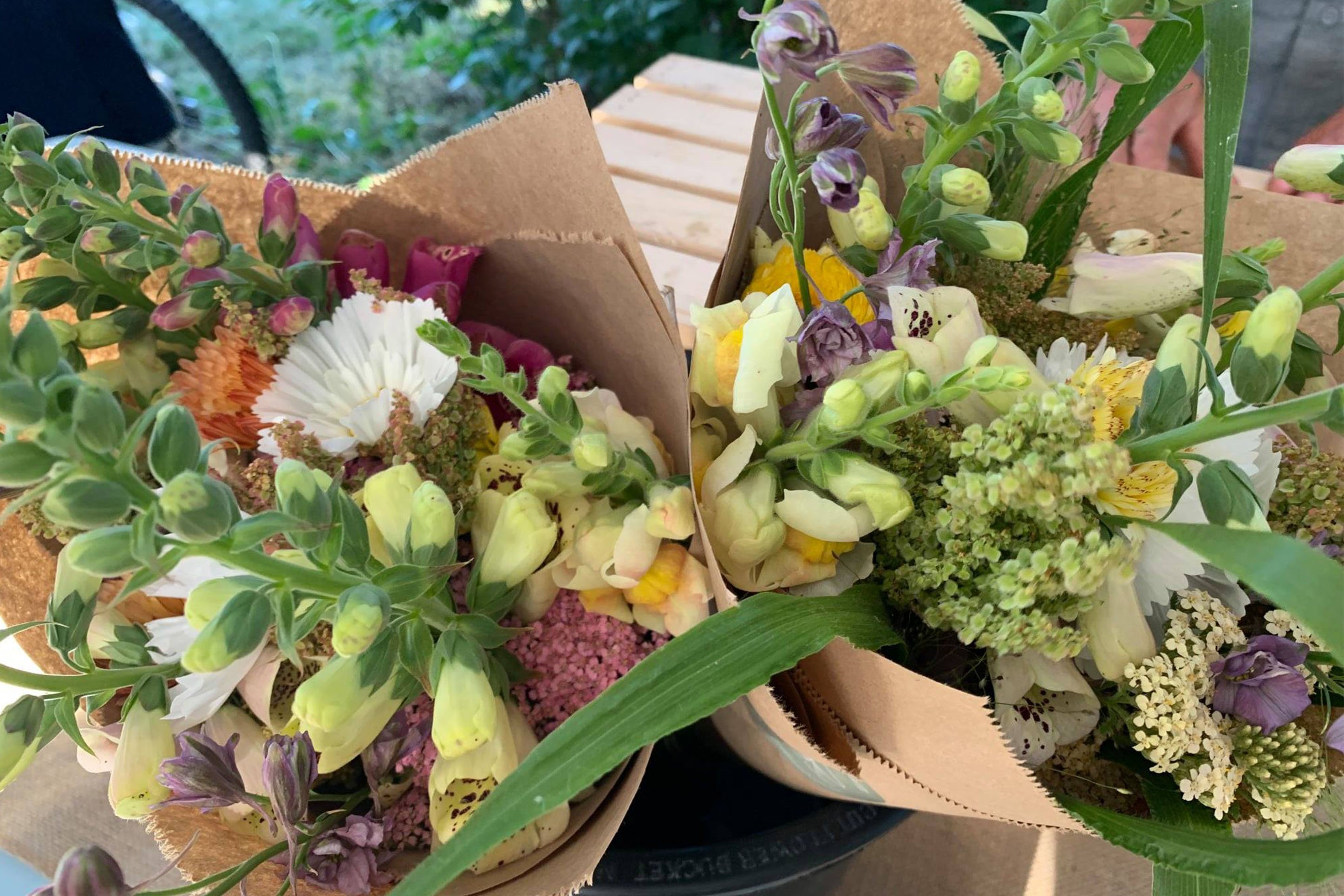 Gallatin Valley Farmer's Market
Saturday morning is the perfect time to browse the Gallatin Valley Farmers' Market at the fairgrounds. While the produce and goods are similar, this market has a long history (over 40 years). Farmers' Markets, in general, aim to strengthen communities, and this one is no exception. Managed by Career Transitions Program, the fees paid go to providing literacy and training services such as GED Readiness Computer Classes and Adult Education. Community programs allow populations, that might not have the opportunity otherwise, to gain access to locally sourced food. And non-profits are given free booth space.
June 18th - September 10th, 2022
Saturdays from 9 am-noon
Gallatin Valley Fairgrounds, Haynes Pavillion
Belgrade Community Market
Just a short drive down I-90, the Belgrade Community Market offers homemade, handmade, and homegrown in our hometown vendors on Thursday nights. This market puts an emphasis on produce vendors, and due to limited space gives that the biggest priority at the market. Though it has a shorter history than the Bozeman markets (this will be their 6th year), this volunteer and donation-based community event fills Lewis and Clark Park with up to 40 vendors at a time.
June 30th - September 8th, 2022
Thursdays from 4 pm-7 pm
Lewis and Clark Park, Belgrade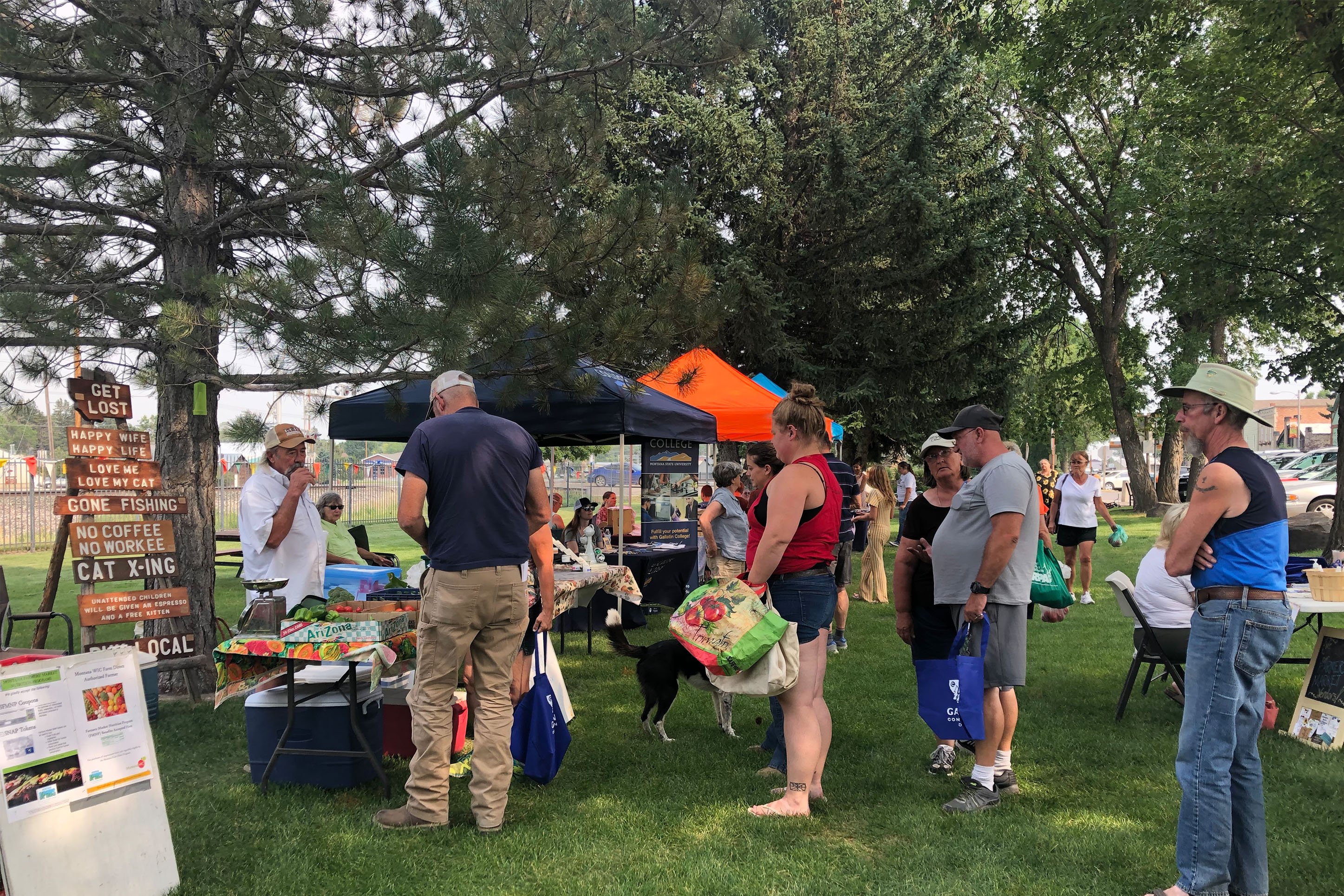 Photo courtesy of Manhattan Farmer's Market
Manhattan Farmer's Market
Billed as the "heart of the Gallatin Valley", the Manhattan Farmer's Market fills Railroad Park on Wednesday nights from mid-June to mid-September. Manhattan features locally grown, baked, and handmade goods with free parking and admission. This market has been going strong since 2006 and is currently operated by the Gallatin Conservation District. If you're looking for a good time, the market hosts entertainment and kids' events throughout the season. For the most up-to-date information, follow their Facebook for updates.
June 22nd - September 14th, 2022
Wednesdays from 4 pm-7 pm
Railroad Park, Manhattan

Photo courtesy of Wolftrack Photography
Three Forks Farmers Market
Nestled along the Headwaters of the Missouri River, Three Forks Famers Market is a weekly favorite community event. Located in the grassy area of John Q Adams Park near the Historical Society Depot, you won't miss it as you drive down Main Street on Thursday nights between Memorial and Labor Day. Each week offers a variety of vendors and sometimes entertainment, they even kicked off the 2022 season with a petting zoo! Follow their Facebook for weekly updates on what vendors will be making an appearance.
June 2nd - September 1st, 2022
Thursdays from 4 pm-7 pm
John Q Adams Park, Three Forks
Between Bozeman and the surrounding towns, you could fill nearly every night of the week with a different farmer's market and really get your fill of locally sourced goods in the Gallatin Valley. We hope you take advantage of the great summer weather in Montana and give a few of these a try this year!
If you enjoyed this blog, take a look at some of our other related articles:
In our never-ending quest to keep up with all things new in Bozeman, we have been producing content for years and can't possibly update every blog when new businesses open or existing businesses close. Please reference the publish date and do your own due diligence when making plans.