Bozeman Makes One of the Best Snowmobile Vacations
Snowmobiling in the mountains is an adrenaline-pumping winter adventure that's easy to do in Bozeman. Just minutes from downtown, riders can be ripping it up in the backcountry, alternating between groomed trails, steep hill climbs, and wide-open meadows. It's easy to make Bozeman your base and explore different areas each day. If you have your own snowmobile, many hotels have ample parking for a snowmobile trailer and offer easy access from I-90.
Should you need a sled part (or even a new sled), there are several snowmobile dealers in town. Yellowstone Motorsports, Summit Motor Sports, Blitz Motorsports, and Gallatin Recreation have complete sales and service departments. If you prefer to rent a sled, Summit Motor Sports and Big Boys Toys offer rentals.
When it's time to pick a place to ride, the options are vast. The Bridger and Bangtail ranges, within a 30-minute drive from Bozeman, have great options for trips close to town. Farther up Gallatin Canyon and close to Big Sky, there are several rides, or for a truly unique experience, try a guided snowmobile tour in Yellowstone National Park.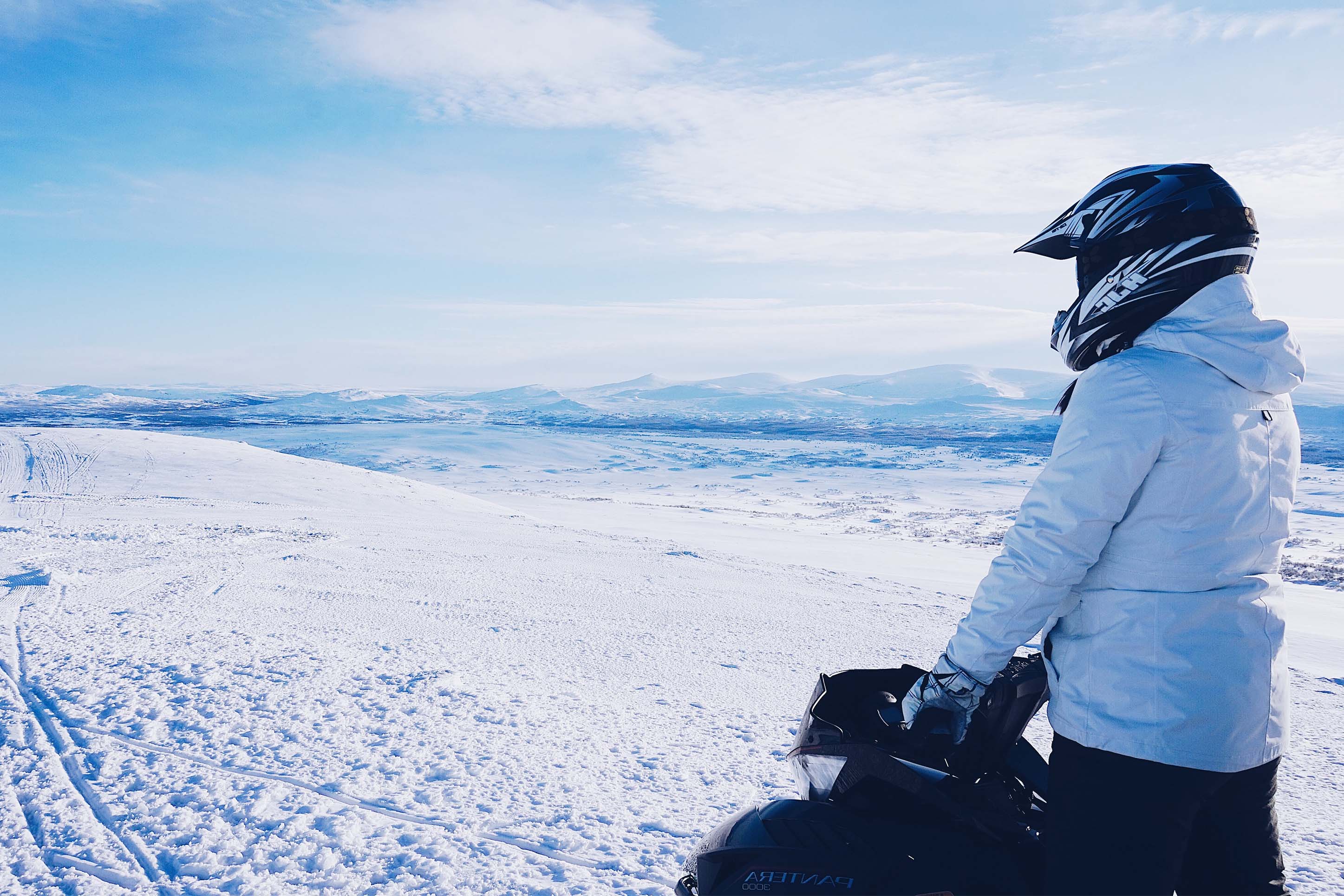 Bridger and Bangtail Ranges
A half-hour drive up the beautiful Bridger Canyon takes you to miles of snowmobile trails, both groomed and ungroomed.
Brackett Creek has 15 miles of marked and groomed trails located approximately 18 miles from Bozeman. There are multiple options – some of them quite technical.
This ridgeline trail in the central Bridgers leads into Ross Pass and the Bridger Foothills National Recreation Area, which provides access to multiple connector trails.
An excellent family-friendly ride, the trail begins just 13 miles north of Bozeman. The 5-mile loop is gentle yet beautiful and not super technical, so it's great for beginners and kiddos.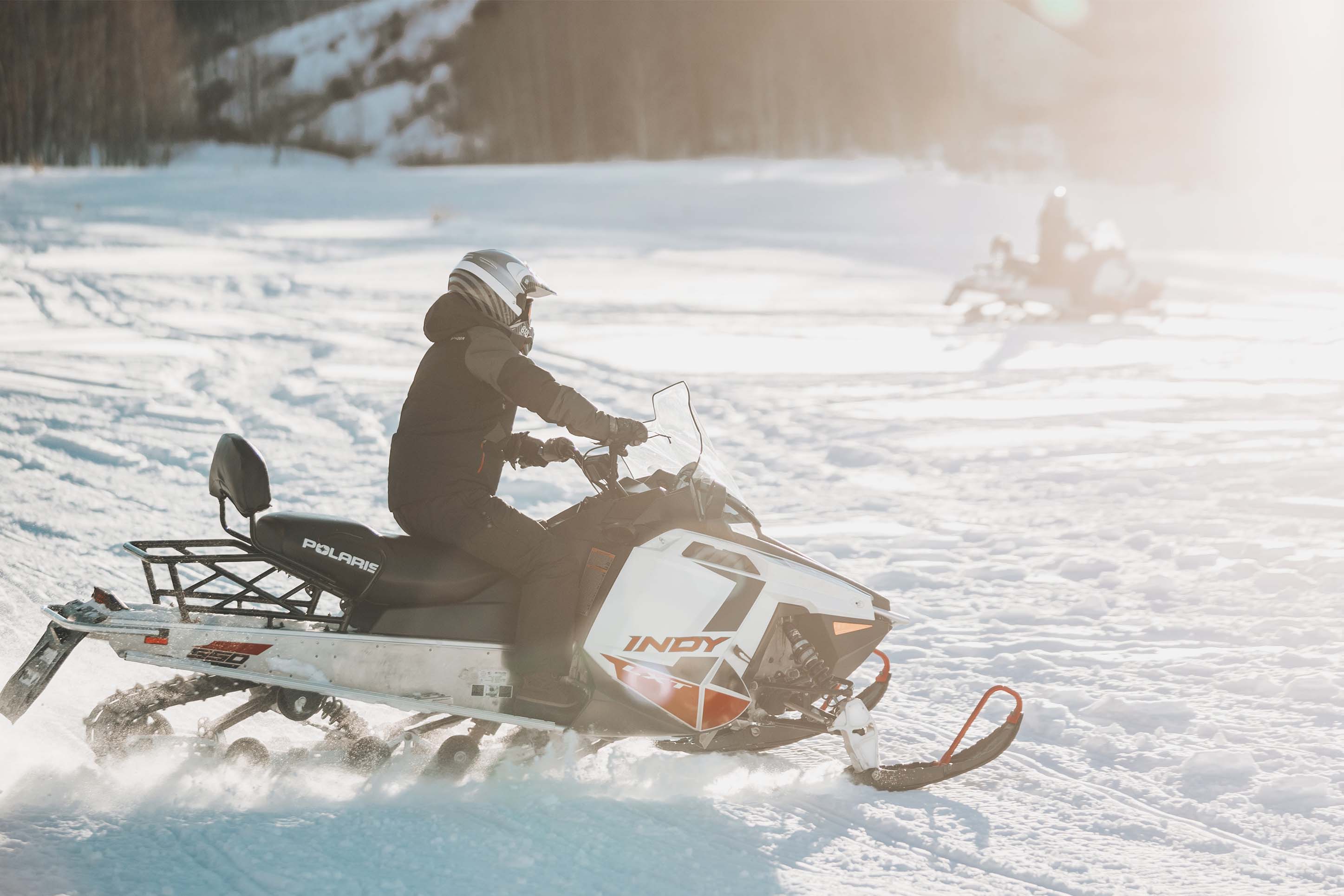 Gallatin Canyon
The iconic Gallatin Canyon is just as much fun to explore in the winter as it is in the summer.
Just off of Highway 191 south of Big Sky, you'll find this gem of a ride. The trailhead is located at the Corral Bar and Grill and takes you to spectacular views of the Spanish Peaks, Lone Mountain, and the Sphinx. Beginners should take the Doe Creek trail, which provides a gradual ascent to the ridge.
The granddaddy of the area's trails, Big Sky Snowmobile Trail has something for every type of rider. For those who want to make the whole trip, it's 123 miles from Little Bear Creek to West Yellowstone. Some areas are groomed, while others have ungroomed powder. Cabin and Teepee Creek have open bowls with deep powder fields and access to a forest service cabin you can rent. Aggressive backcountry riders will love the hill climbing in this area. There are five access routes along the trail, making it easy to make shorter loops.
During the winter, most Yellowstone's park roads are closed to vehicular travel, and the only way to explore is by a guided snowmobile or snowcoach tour.
Bozeman is close to two of the entrances to Yellowstone: the north entrance in Gardiner, Montana, and the west entrance at West Yellowstone. Both towns have guides that offer tours into the park, and either is an excellent place for an overnight stay if you want to explore a bit. In addition, West Yellowstone has over 300 miles of trails outside the park if you're going to explore yourself!
You can find a list of National Park Service-approved tour companies here.
Before heading out, always make sure you have proper layers of clothing, extra food, and water, and check the Gallatin National Forest Avalanche Center for current conditions.
If you enjoyed this blog, take a look at some of our other related articles at Bozemancvb.com.