Teaching Your Kids to Ski at Bridger Bowl
Since its inception, Bridger Bowl, Bozeman's community ski area, has been turning out young skiers, often creating life-long lovers of the sport and some exceptional skiers and riders along the way. Known for some of the best in-bounds extreme skiing in the Rockies, Bridger has expanded their beginner terrain and their Snowsports program in recent years. Now, there are two covered magic carpets, three chairlifts and the Snowflake Warming Hut, a 600-square-foot heated viewing area perfect for watching lessons or warming up the little ones in between runs. Between new technology and better access to beginner terrain, teaching your kids to ski at Bridger Bowl has become a whole lot easier!
Plus, there's a reason why Bozeman is one of the west's best ski towns!

Lessons at Bridger Bowl
There are several options through the Snowsports Program if you prefer professional lessons.
Private Lessons
Private lessons are recommended for those younger than 7; the one-on-one instruction allows small children to have extra attention. This environment helps them gain confidence without the pressure of being in a group full of kids with multiple abilities. Private lessons are also available for groups of friends and family of all abilities, ages three and up – which is a fun way for the whole family to learn to ski!
Group Lessons
For kids 7 and up, group lessons are generally the preferred method. Kids have fun skiing with other kids of similar ages and abilities (and parents get to spend a little time skiing on their own)! First Tracks is for 4-6-year-olds who are just starting out, and Learn to Ski in 3 is Bridger's method to get beginners ages 7 and up on the slopes in no time.
If you're in the area for the winter, the Youth Multi-Week Programs are separated into different age and ability levels, from Mogul Mice to the Freeride and Ridge teams
Adaptive lessons are also available and include adaptive equipment and ski rentals.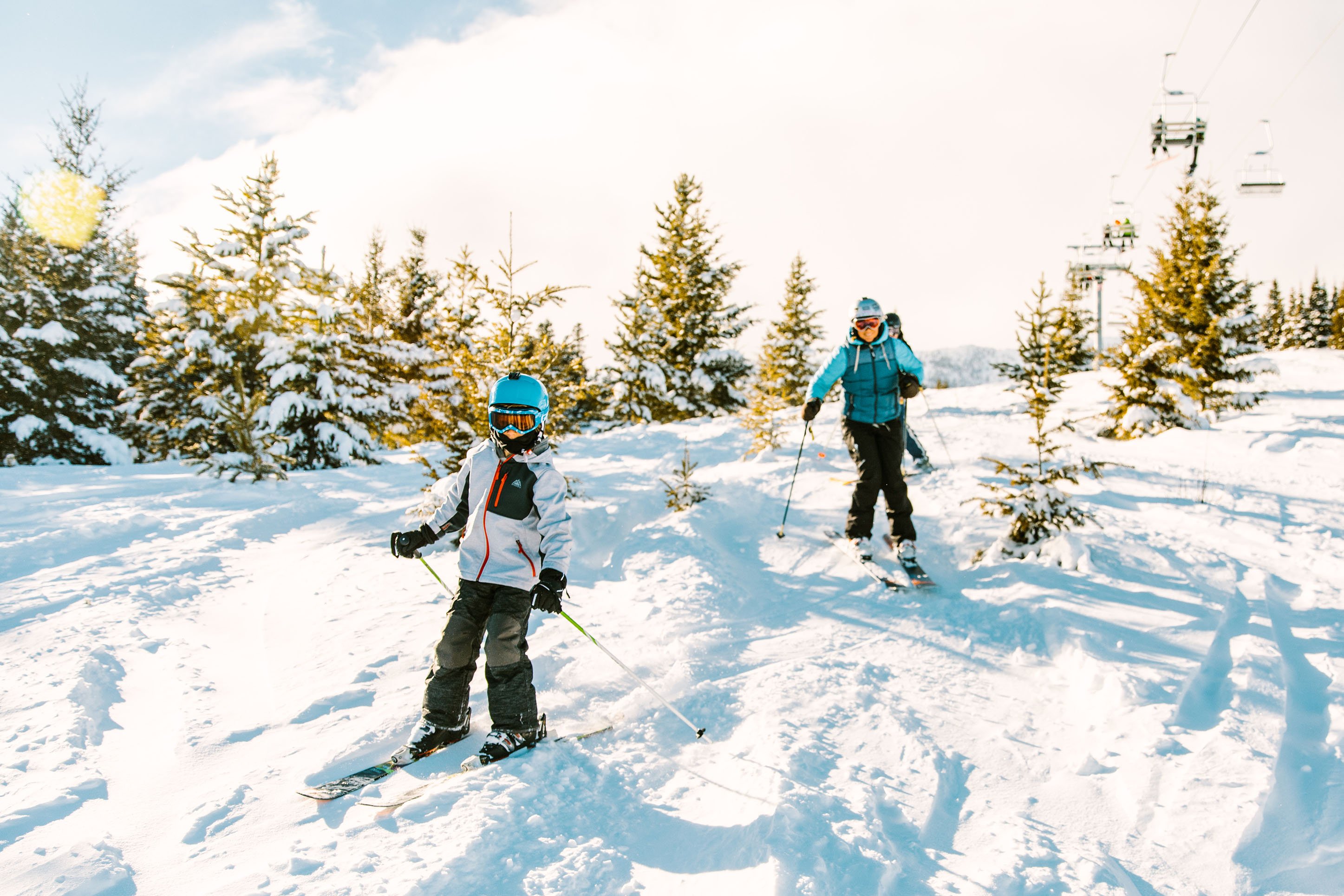 Beginner Lifts at Bridger Bowl
If you're a parent who prefers to teach the kiddos yourself, there is plenty of elbow room and a cost-effective lift ticket program to get them going.
Bridger has seven acres of beginner's terrain, including two covered moving carpets, "Sundog" and "Flurry." The Snowflake chairlift takes you to an open trail with a long gentle slope, perfect for spreading out and making wide turns.
Once they get the feel of being on skis, the Virginia City lift is the next progression. This triple chair has a height-adjusting loading conveyor making it easy to get on the chairlift, and the Sunnyside Quad gives you access to additional beginner, slow skiing terrain.
Parents can purchase beginner lifts-only tickets, including Sundog, Flurry, and Snowflake, for only $17 online and $20 at the window, which is a great way to get the kids on the hill more consistently.
Making Skiing Fun for Kids
Logistics aside, the most important thing you can do is make skiing fun for kids! Keep a lighthearted attitude, carry lots of snacks and hot cocoa, and be sure to pack layers. (Mittens are generally warmer than gloves.) Word games such as "I Spy" or "The Alphabet Game" make the chair ride more fun. Take short breaks to warm up and refuel, especially on cold days. Bridger has five restaurants on the hill and a sack lunch area if you prefer to bring your food!
Bozeman has several fun places to take the family for dinner after a full day. Check out 4 Great Bozeman Restaurants to Visit After a Day of Skiing for a few of our favorites.
If you enjoyed this blog, take a look at our Bozeman Cold Weather Guide and some of our other related articles: