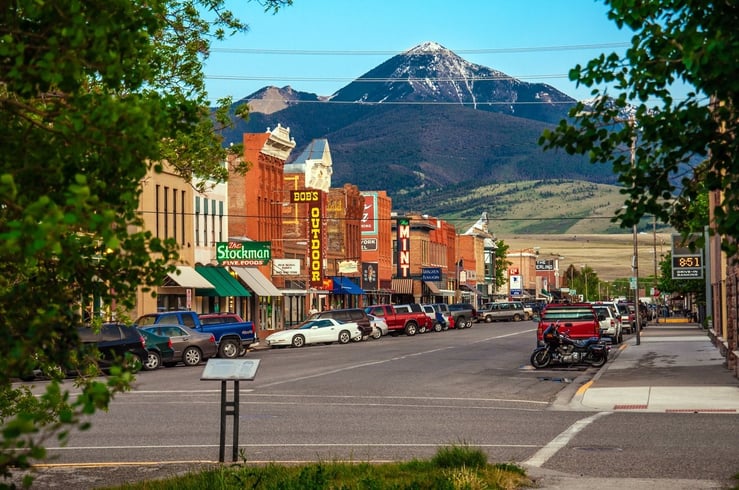 Just over the Bozeman Pass sits Livingston, MT. Once the Pacific Railroad's original access to Yellowstone National Park, this quaint little town now bustles with art galleries, restaurants, breweries, music, and outfitters to take you adventuring.
The Town
This historic town is known for its outdoor recreation, surrounded by majestic mountains and the famous Yellowstone River running through town. Here people come to hike to waterfalls and lakes, catch big fish and leisurely camp in the middle of an alpine paradise. If exploration is what you're seeking, check in with one of the local guide shops; you can go fishing, rafting, horseback riding and even zip lining. There are plenty of day hikes around the area; be sure to plan ahead, some may take you most of the day!

Arts & Culture
It's no secret Livingston has an appeal for artists, particularly writers. The literary community is extensive, including iconic western authors such as James Harrison and Thomas McGuane. (Take note, you never know who you might be striking up a conversation with!)

If culture is what you love, the streets of Livingston are lined with art galleries, retail shops, and some seriously great restaurants. From a classic breakfast at Gil's Goods, to the local foods served at Second Street Bistro, you will not be disappointed. Craft beer lovers should check out Neptune's Brewery, or Katabatic Brewing. In the summer months, Matt's In and Out is a nostalgic burger joint; your order is taken at a walk-up window, reminiscent of the classic drive-in (without the carhops).

Things to Do
The museums in Livingston are rich with interesting history. The Livingston Depot Center is a restored rail station which is now home to a railroad museum. (This museum is open Memorial Day to Labor Day.) The Yellowstone Gateway Museum is a three story, 1906 schoolhouse on the National Register of Historic Places. The museum displays artifacts and education about the lives of early settlers, native cultures, the railroad and Yellowstone National Park. The International Federation of Fly Fishers Museum is full of angling artifacts, literature and the beautiful art of fly fishing.

Scenic Drive
Just south of Livingston is what is known as Paradise Valley, (aptly named). This scenic drive is well worth the time. In the fall, the cottonwoods along the river turn a brilliant gold, and grassy hillsides have turned yellow giving everything a bit of a glow. Spring is also gorgeous with snow-capped mountains and the bright green of new grass. Chico Hot Springs is just down the road, so bring your bathing suits and end the day with a relaxing soak in their pool.

Livingston is one of the hidden gems in our area…you might need a couple of days for exploration!

If you enjoyed this blog, take a look at some of our other related articles: