10 Idyllic Cabins You Can Rent Around Bozeman
The mountains of Montana have a unique allure. People are drawn to the views, the quiet, the stars, and the smells— with good reason. Stepping out of the bustle of everyday life, the tempo slows, time loses its importance, and you can truly unwind. Days can be spent hiking, fishing, or reading and the stargazing will keep you up late into the night.
It's an experience worth adding to your itinerary.

Fortunately, you can get the outdoor experience without having to haul tents or pull campers. Forest Service cabins dot the hills, often with nobody around for miles. These small rustic cabins are available to rent, and are truly a reprieve from everyday life.

Cabins are equipped with basic cookware and bunks. Some have electricity while others are heated with wood. Running water is available at a few, but you should plan to bring your own drinking water.

Each rental cabin in Bozeman is unique in its location, amenities and appearance, and boasts spectacular views. Most are open year round, but the access can vary greatly from summer to winter. Make sure you know how far you are going and by what method. Once, during a winter Nordic excursion, we set out on skis with our backpacks filled to the gills only to find the cabin about 30 feet from the car!

Reservations can be made in advance, but they fill up fast so don't procrastinate if you decide enjoy yourself in a Bozeman cabin.

True to its name, Mystic Lake Cabin sits near its namesake lake where you can fish for brook, rainbow and cutthroat trout. In the fall, it's a good place for hunting. To access the cabin, you need to hike, bike, horseback ride or ski in. No motorized vehicles are allowed.

This cabin is easily accessible located just 18 miles from Bozeman in the Bridger Mountains. In the summer it's a great place for hiking, wildlife watching, birding, and in the winter it's especially popular for Nordic skiing and snowshoeing.

The Gallatin Canyon is a beautiful drive leading the way to this unique cabin, an actual fire lookout, now available to rent year round. Once at the top, you will have amazing panoramic views of 3 mountain ranges along with the Gallatin Valley. In the summer, the trail is 3.5 miles gaining 2,800' to an 8245' elevation. You can access this Bozeman cabin rental by motorcycle, ATV, mountain bike or hiking. Access in winter stretches to 10 miles and is best accessed by snowmobile.

Sitting on top of a grassy knoll in the Gallatin Range, this cabin is ideal for motorcycle and off-road vehicle riding, mountain biking, and hiking. Winter activities include snowshoeing, snowmobiling, cross-country skiing as well as a popular hunting spot in the fall. Keep your eye out for wildlife. In the summer and fall, you can drive to within 300' of the cabin. Winter can be up to a 10-mile ski or snowmobile.

Adjacent to Spanish Peaks unit of Lee Metcalf Wilderness, this cabin is surrounded by protected lands with an abundance of wildlife and wildflowers. Trails lead to great fishing in Little Hell Roaring Creek at the north end of the Madison Range and the South Fork of Spanish Creek. In the winter, snow drifts prohibit travel after the first 5 miles so you will have to ski or snowmobile the other four miles.

Located in Hyalite Porcupine Buffalo Horn Wilderness Study Area, this cabin is close to the crest of the pass which sits at approximately 8,900'. This Bozeman rental cabin has plenty of trails for both hikers and equestrains alike. Access is non-motorized — it's a 2.5-mile hike, horseback or mountain bike ride. The cabin is only available in summer and fall.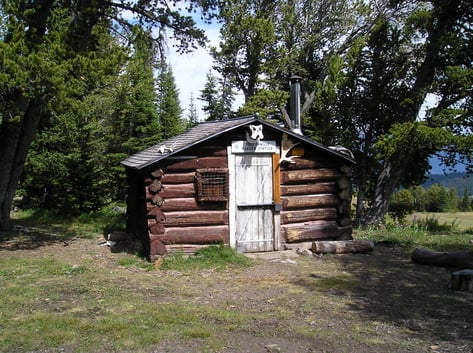 Yellow Mule Cabin is a small one room cabin for up to three people. This location is popular with snowmobilers because of its access to ideal elevation gains. Hikers, mountain bikers, and off-road vehicle riders also enjoy the trail in the summer. Access in summer is eight miles either by off-road vehicle, motorcycle, or hiking. In winter, it is best accessed by snowmobile. This trail is not recommended for ski access.

During summer months, this cabin is only accessible by hiking 2.5 miles from the trailhead. In winter it turns into seven miles due to closed roads. You can reach the cabin from two different trailheads, the South Cottonwood and History Rock Trails which are full of hiking, mountain biking snowshoeing and cross-country skiing. Both trails connect to the Mount Blackmore Loop Trail, which offers amazing views of Hyalite Canyon at the summit of Mount Blackmore.

This cabin sits in the midst of a recreation mecca. This non-motorized lake cabin is situated near Hyalite Reservoir and is ideal for fishing, floating, and relaxing. There are majestic peaks for hiking with miles of trails for Nordic skiing or snowshoeing. For the extreme adventurer, Hyalite is a renown ice climbing spot. There is a smaller, unheated cabin adjacent to the main cabin and in the winter can accommodate up to 15 people.

Another Bozeman rental cabin is located in Hyalite Canyon. There is a corral for six horses makes it perfect for riding. Hyalite Creek flows close by and many of the trails lead you to beautiful waterfalls.

What To Bring:

Propane for stoves
Lighter or matches
Flashlight or lantern
Food

One-pot meals such as chopped veggies and good sausage can be sautéed and are perfect for easy cleanup.

Layers of clothing

Weather can turn from clear and hot, to a total downpour without much notice. Include hats, gloves and rain gear.

Bug spray
Bear spray
Water
Sleeping bag
Toilet paper
First aid kit
Dish soap
For more information, check out the USDA Forest Service website and to reserve a cabin, go to recreation.gov. Whatever you decide, be sure to leave your stress at home and get ready for some serious R&R.

If you enjoyed this article, check out our related blogs: