Iconic Bozeman: Rockin' R Bar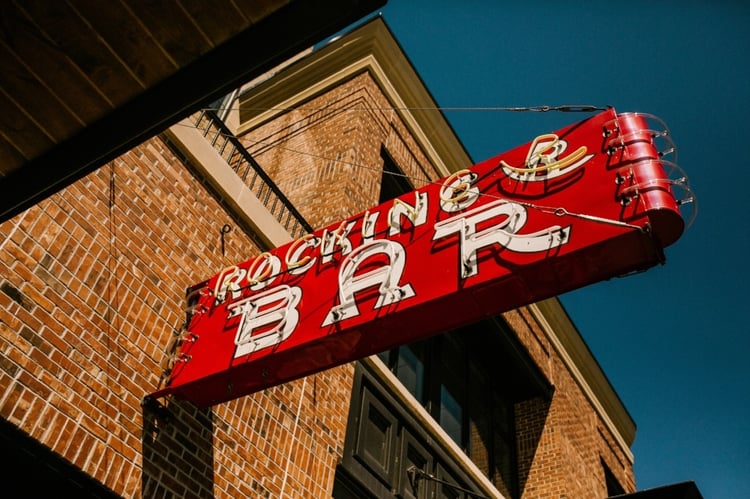 "In 1947 it was a working man's bar; the place you went to have a drink with the boys after work," explains Tony Kaber, General Manager of the Rockin R Bar, aka "The R Bar," the name derived from a local brand. In 1978 the establishment sold to one of the now current owners who kept the same feel and clientele, but it soon became a favorite haunt of college students as well. Showing their appreciation, the bar hosted a Friday afternoon club," Kaber says, "from 4pm-6pm we offered 25 cent beers."
The Rockin' R Hat
It was during this period, the R Bar hat became a popular collectible, (particularly the corduroy). Promoting an iconic small town bar, in a college town, people who visited wanted to have something to commemorate their time. Eventually, the hat became so popular it was in the top five of the Playboy's must-have hat list. "When you're wearing an R Bar hat, everywhere you go, someone knows someone who knows of the bar, and they want to tell you their story," Kaber laughs. "Grandfathers, fathers— it's always an example of what a small world it is. Oddly enough, school buses in town for sporting events would come through, and everyone would stop and buy a hat before the tournament."

Main Street Bozeman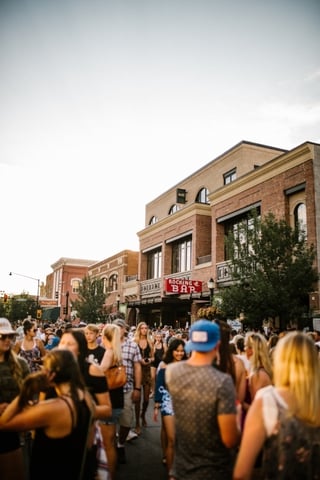 A downtown mainstay, the bar was in keeping with the historic architecture on Main Street Bozeman. It was remodeled in 2001, fifty-four years after the bar opened, replacing what was old. However, long-time patrons weren't totally sold. "People said it wasn't the same old R Bar," Kaber explained. The new digs didn't last. In 2009, downtown Bozeman experienced a huge explosion which took the bar down. When they re-built, the thought process was to make it timeless. "We used brick and wood, Montana style, that brought back a lot of memories of the original bar," Kaber said. Fortunately, two of the major relics made it through the explosion; the original sign, and the half of a Montana State University goal post which students marched to the bar after the victorious Cat/Griz game in 2005. Another bonus is the outdoor patio, which is an open-air continuation of the bar; a great place to sit outside and people watch during the warm months. The concept worked, and today the R Bar has a returning lunch crowd, a great happy hour and is still a college hangout at night. As Kaber put it, "People of all generations still enjoy their time here, from ages 21 to 70, people love the R Bar."

The R Bar Today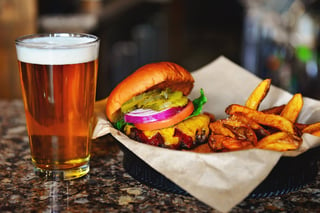 The current decor is full of sports memorabilia. Bobcat teams and coaches, Broncos, Chief's, Joe Montana and hockey jerseys; teams the owners know or followed during their childhood.

The R Bar isn't just a bar; food has been a part of the mix since the 80's. The famous Pork Chop John's from Butte had a location inside the bar, and a local favorite, the Pickle Barrel, served sandwiches (think Philly Cheese Steak) until the explosion. Today, the bar has a full restaurant, the High Country Grill, which Kaber describes as "made from scratch bar food." Handmade burgers, fresh cut fries, and home-cooked soups and sauces. Not your run of the mill bar noshes, they hold their food to a higher standard. To give you an idea, appetizers include things such as wings with a choice of buffalo hot, house BBQ or sesame ginger. Or try the lamb kebobs, with spring onion and mint dijon. Hungry for a sandwich? Try a fried green tomato BLT with chipotle aioli.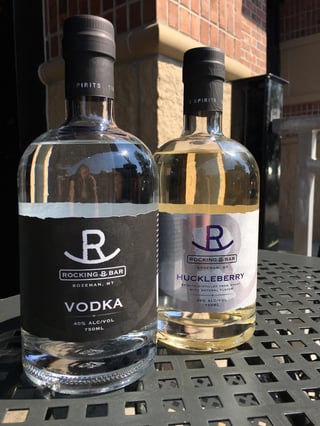 It doesn't stop there. Signature drinks include their very own R Bar Vodka as well as a Huckleberry vodka. Specialty cocktails such as margaritas are all made with fresh squeezed lime, grapefruit and lemon juices. In the summer, try a Montana Lemonade with Huckleberry Vodka, and in the winter, warm up with a Blitzen 52, made with Grand Marnier, coffee liqueur, Baily's Irish Cream and coffee. (That will get you going!) Beer lovers will appreciate the 14 beers they have on tap,10 of which are from Montana. And for the popular Music on Main during the summer, they serve "adult" juice pouches.

The establishment has also become the place for watching sports in Bozeman with 20 tvs and a 100" projection screen. They carry all the major sports packages—baseball, football, and hockey, and have a huge following of sports fans. "One family who were Panther's fans, came every Sunday because the team kept winning," Kaber explains, "their superstition was strong!" (Football fans check out the rotating appetizer specials such as the wing platter for $10.) Other mainstays include Tuesday night bingo, (awarding some impressive cash payouts) and Wednesday night trivia, which is free to play and comes with great prizes.

When I asked Kaber about his favorite part of running the Rockin R, his reply was quick. "I love the people. Whether it's customers I've created a relationship with or employees that I watch grow and graduate from college. Homecoming is one of my favorite weekends," he says, "hearing the stories that go back decades. Generations of people come in to reminisce; it's their home away from home."

Pretty much everything you want in a hometown bar.

As for those 25 cent beers? "We still do it once in a while," Kaber says, "events such as an hour before Homecoming. We want to keep the history alive."

The Rockin' R is located at 211 E Main Street, Bozeman. Open seven days a week with minors are allowed until 9 pm. For more information, RockingRBar.com, or call (406) 587-9355.

If you enjoyed this blog, take a look at some of our other related articles:
In our never-ending quest to keep up with all things new in Bozeman, we have been producing content for years and can't possibly update every blog when new businesses open or existing businesses close. Please reference the publish date and do your own due diligence when making plans.