Planning Your Day Trip: A Family Adventure in Big Sky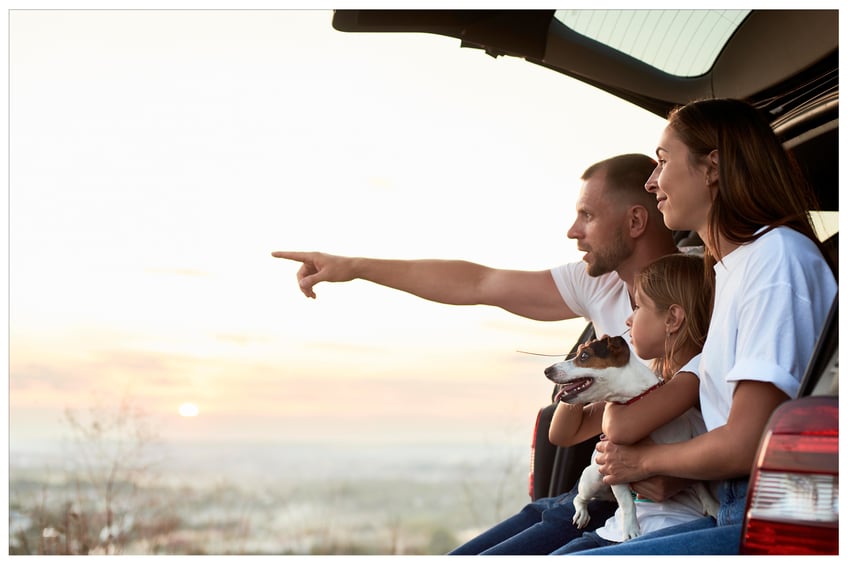 In light of COVID-19, we want to be sensitive to the responsible and cautious habits that will keep from amplifying the effects of the situation in public spaces. As a result, we want to encourage you to find the escape you need, but look forward to the adventures to be had this summer. Working together is an integral part of life — so we are cooperating in our communities to stay indoors more and care for those around us.
We all know that an essential part of life is the activity that recharges us outside — the beauty and wonder of the sunrise hike, the midday ride, the afternoon drive, or the sunset stroll. It's time to plan your next outside adventure. The outdoors are ready, are you? In the spirit of those plans, here's an itinerary for your next trip.

A Quick Trip Up the Hill
Just 44 miles up the road sits Big Sky, Montana, home to Big Sky Resort and a plethora of outdoor fun. Big Sky lies between the Madison Mountain Range, and its subset, the Spanish Peaks. In every direction, you gaze up at towering peaks, and if you're the type that likes to get to the top, the views are jaw-dropping.
Don't let the massiveness of the mountains discourage you; there are plenty of ways to adventure, and plenty of options for tailoring the intensity of the activities to different ages and skill levels.
Grab Some Grub
First things first, kick-off the day with a good breakfast. The Coffee Pot Bakery, just outside of Four Corners, serves hearty, homestyle meals, and their assortment of baked goods will impress any sweet tooth. Once your belly is full, head south on US Highway 191 through the beautiful Gallatin Canyon, the setting of A River Runs Through It. The drive itself is spectacular!

Choose Your Adventure
Believe it or not, ziplining is a low-intensity, exciting adventure that most family members can participate in. There are two options in this area, Montana Whitewater, which is about halfway up the canyon, and Big Sky Resort, at the base of Lone Mountain. The course at Montana Whitewater runs between significant limestone rock formations—and at one point, you cross the Gallatin River. Big Sky's Adventure Zipline Tour starts with a chairlift ride to the top of the course, which is four lines, 1500 ft long and 150 ft above the forest floor. For the competitive types in your crew, the Twin Zipline is perfect for racing.
Speaking of Lone Mountain, the famous ski mountain is equally loved by the locals in the winter for its mountain biking. Over 40 miles of lift accessible trails cover this impressive landscape ranging from beginner to expert levels. Zipline tours start at Big Sky Basecamp, which also has disc golf, archery, horseback riding, and more!
For a more leisurely activity, ride the chairlift to the top and hike back down. Or, try the Lone Peak Expedition, a tram ride to 11,166 ft where at the top of Lone Peak you can see two national parks and three states.
Families that enjoy hiking have plenty of options! Ousel Falls and Ulery's Lake Loop are all short hikes close to town. One of the more popular hikes is Beehive Basin. It's a bit longer but has a beautiful trail and takes you to a lovely alpine lake. Stop at the Hungry Moose Deli and grab a picnic before you go.

Take in Some local Flavor
If you have time, browse the shops in Big Sky Town Center. June through September host a farmers' market each Wednesday from 5-8 pm, with local and regional farmers, artists, and young entrepreneurs. Music in the Mountains, a family-friendly outdoor concert series runs each Thursday evening from 6-8 pm in a state-of-the-art venue, Center Stage at Town Center Park. Artists range from up-and-coming names to nationally known stars.
There are several excellent dining options in Big Sky, or for a bit of western flair, head back to Stacey's Old Faithful Bar and Steakhouse, in Gallatin Gateway at the base of the canyon. A local favorite, they serve a seriously good steak, hearty cocktails, and live music.
Cap it Off with the Hot Springs
End the day soaking tired muscles at Bozeman Hot Springs, located in Four Corners, just a quick ride down the road from Stacey's. There are 12 pools, both indoor and outdoor, varying in temperatures from 59-106 degrees, along with a dry and wet sauna. Watch the schedule; many nights, they feature live entertainment outside while you watch from the pools!
If you're looking to plan your next adventure, Bozeman is a great place to get in touch with the outdoors and the big, big sky here in Montana. We will be posting #DigitalMontana images to keep you excited about your plans, while we're keeping our safe distances. Follow us on social media to enjoy your #VirtualVisit.
If you enjoyed this blog, take a look at some of our other related articles:
In our never-ending quest to keep up with all things new in Bozeman, we have been producing content for years and can't possibly update every blog when new businesses open or existing businesses close. Please reference the publish date and do your own due diligence when making plans.