Restaurants & Bars With the Best Views of Bozeman
Most visitors to Bozeman take in its majestic views from the top of a mountain or on a drive outside of the city, but what about experiencing the scenery while having a beer, cocktail, or some incredible food? We've got plenty of those options, too. So if you want to enjoy an excellent craft beer, a delicious meal, or have a family dinner while taking in some fantastic views, here are our recommendations.
Sky Shed
The recently renovated Armory Hotel offers scrumptious food and drinks at all of its in-house restaurants, but the one with the most incredible view is the aptly named rooftop "Sky Shed." The restaurant boasts 360 views that encompass all four mountain ranges around Bozeman, and since it's glass-enclosed, the Sky Shed is open and accessible all year long.
AC Benchmark
Right across the street, The Benchmark on the sixth floor of the AC Hotel serves drinks and Neapolitan pizza in a warm and welcoming setting. The bar has both indoor and outdoor seating where guests can take in the sunset and the dazzling Gallatin range.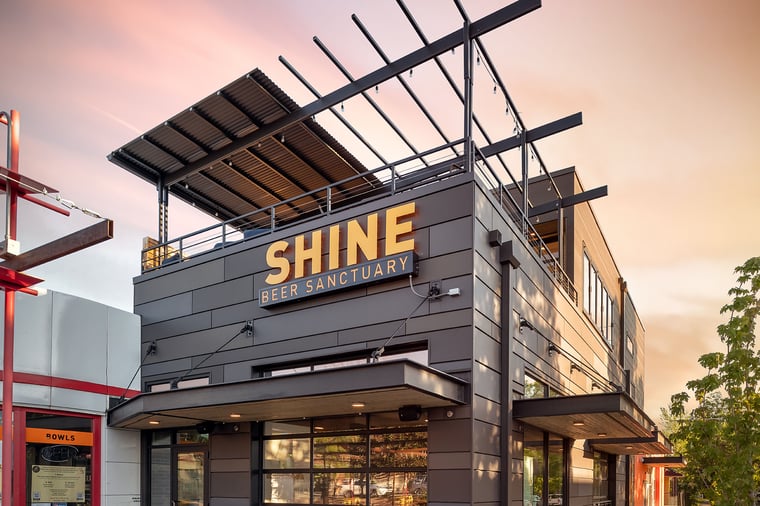 Shine Beer Sanctuary
If relaxing with friends and a few drinks is up your alley, then head over to Shine Beer Sanctuary for a drink in their colorful, welcoming rooftop bar. Shine offers a wide-ranging selection of beer and wine, a cozy atmosphere with beautiful views, and a menu of Mexican-inspired, yummy bar food. This one's just a warmer weather option, folks.
The Crystal Bar
A longtime locals' favorite, the Crystal Bar, or "the Crystal" as it's more familiarly known, offers real Montana vibes, strong drinks, and a rooftop patio that's a little rustic but definitely gets the job done. On a perfect summer day, bargoers can take in views of both the city and the mountains while drinking elbow to elbow with what's sure to be a lively, packed crowd.
Brigade
One of Bozeman's newer restaurants, Brigade, is already wowing locals and visitors alike with its French-inspired cuisine and classy, cozy atmosphere. Guests who are lucky enough to snag a spot overlooking Main Street can also get a glimpse of downtown's twinkling lights and the Gallatin Range in the distance.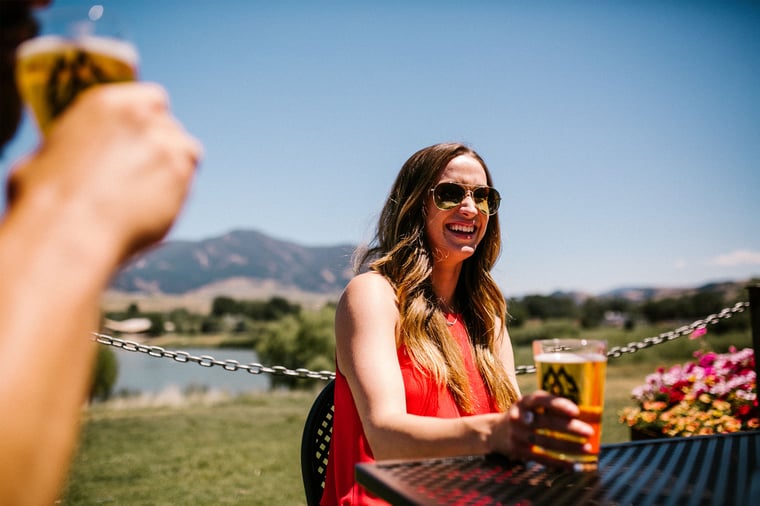 MAP Brewing
Another popular, family-friendly gathering place, MAP Brewing offers a gorgeous, unobstructed view of the Bridger Mountains and Glen Lake. Along with your drinks, choose from a selection of delicious bar food, salads, pub classics, or the kids' menu.
Sidewinders
Sidewinders' large, covered rooftop patio offers sweeping views of the sky and mountains starting in the spring and through the summer. Offering classic American cuisine and an extensive menu of beer on tap, Sidewinders is a great family-friendly option.
Bozeman Taproom
The Bozeman Taproom offers a large and lively outdoor rooftop bar with great views of the mountains all around. Enjoy both local and international libations, plus excellent burgers and tacos while you take in the scenery.


Well, there you have it: Bozeman's best scenic dining spots, where you can experience our incredible scenery without having to climb to the top of a mountain, though we still recommend you do that, too. For more information about visiting Bozeman or to start planning your trip, download our Visitor's Guide below.
If you enjoyed this blog, take a look at some of our other related articles:
In our never-ending quest to keep up with all things new in Bozeman, we have been producing content for years and can't possibly update every blog when new businesses open or existing businesses close. Please reference the publish date and do your own due diligence when making plans.