Sweet Pea Festival & SLAM Fest 2023
Sweet Pea Festival and SLAM Fest, two festivals that have become synonymous with summer in Bozeman, are on the horizon. Every year, locals and visitors look forward to joining in these community-wide celebrations that offer an incredible variety of entertainment and activities for arts lovers of all ages. Both festivals are a celebration of regional art and artists, with proceeds going back to the community in the form of grants, scholarships, art installations, and more. The events also benefit artists directly through robust artist marketplaces at both festivals.
So if you're going to be in town during the first week in August, here's how to partake in the festivities, plus a few highlights to look forward to:
Sweet Pea Festival
When: August 4-6
Where: Lindley Park and various downtown locations
Admission: $30-$50 for a three-day wristband (depending on the date of purchase) to attend events at Lindley Park; kids age 12 and under get in free. You can also get a free three-day pass by volunteering at the festival. Click here to sign up. Other downtown events (like the parade) are free to the public.
More info: sweetpeafestival.org
This year's Sweet Pea highlights:
Shakespeare in the Parks
If you missed Montana Shakespeare in the Parks' kickoff performances at MSU in June, here's your chance to enjoy live outdoor theater in Lindley Park. See "The Three Musketeers" on Friday, Aug. 5, or "Measure for Measure" on Sunday, Aug. 7.
Chalk on the Walk
Downtown Bozeman is your canvas for this all-day event that is a festival favorite for adults, kids, and onlookers. Anyone wishing to channel their inner artist can pick up free chalk at Jacob's Crossing or participating downtown businesses on Tuesday, Aug. 1.
Live Performances
During all three days of Sweet Pea, attendees will have the chance to see a variety of music, dance, theater, and other live performances by both professional and community groups. This year's musical headliners are the Galactics (Friday), the Monophonics (Saturday), and Corb Lund (Sunday). You can also catch performances by the Montana Ballet Company, the Bozeman Symphony, The Spoon Man, IndepenDANCE and others.
Children's Activities
Sweet Pea offers many activities for kids, including hands-on workshops, face painting, performances, a Children's Fun Run (which opens the parade) and more.
Sweet Pea Run
The Sweet Pea 5K and 10K runs are open to both experienced and amateur runners, and entry fees support local youth athletes as well as Cancer Support Montana.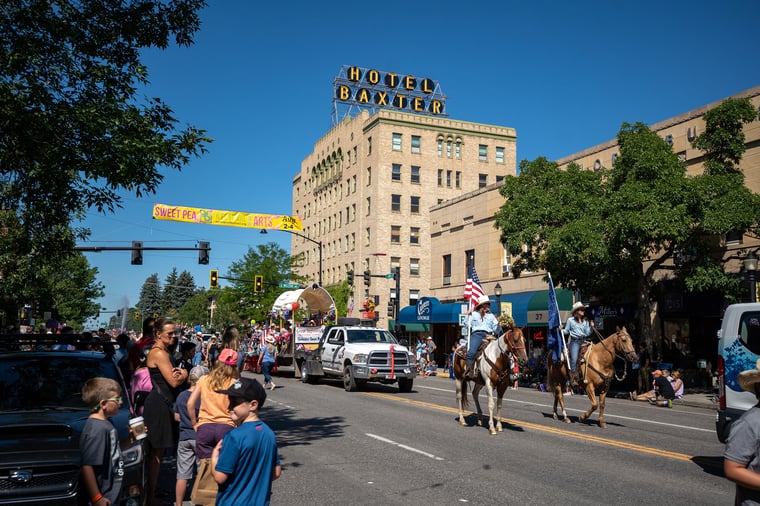 Sweet Pea Parade
Nothing says small-town summer like a great parade, and Sweet Pea's is a really good one. This year's theme is "Walking On Sunshine," and parade-goers can look forward to a whole lot of happiness right out of the gate with the procession's lineup of local canines in Sweet Pea's second annual dog parade.
SLAM Fest
When: August 5-6
Where: Bogert Park
Admission: Free
More info: slamfestivals.org
This year's SLAM Fest highlights:
Artist Vendor Marketplace
Local and regional artist vendors are at the heart of SLAM Fest, offering a chance for attendees to get to know a huge variety of local talent and to support artists directly by purchasing their wares. At this year's marketplace, you'll find painting, pottery, leather goods, jewelry, clothing and more.

Live Music
During both days of SLAM, you'll get to see popular local performers starting at 11 a.m. and into the evening. This year's highlights include Alex Robilotta Jazz Quintet and the Dirty Shame on Saturday and Bluebelly Junction on Sunday.
Culinary Delights & Libations Garden
At SLAM, food vendors are rightly referred to as "food artisans," and there will be some delicious works of art to devour at this year's festival, including Taco Montes, Island Noodles, and Ms. Sippi's Southern Cuisine. For those over 21, a "libations garden" will offer a chance to experience Bozeman's vibrant beer scene, plus wine and refreshing summer cocktails.
Artist Demonstration Tent
The Artist Demonstration Tent will feature several different creators each day and give viewers a chance to see what really goes into making a piece of art. If you've ever wondered how the magic happens, be sure to stop by and find out.

Want to find more festivals, museums, shopping and concerts in Bozeman? Check out our Play in Bozeman guide here.
If you enjoyed this article, check out our related blogs:
In our never-ending quest to keep up with all things new in Bozeman, we have been producing content for years and can't possibly update every blog when new businesses open or existing businesses close. Please reference the publish date and do your own due diligence when making plans.