8 Reasons to Stop In Bozeman On Your Way To Yellowstone National Park
Yellowstone National Park is a major destination for people around the world who want to experience nature at its purest. Yellowstone was the world's first national park, established March 1, 1872. It was considered a "grand experiment" in preserving natural places for the public to experience. To this day, people flock to the park every summer to see the geysers, animals, mountains, lakes, rivers, and geothermal features. In the past two years, the world-famous park has set records for the number of annual visitors, and it doesn't seem to be slowing down. In 2016, more 4.2 million people visited Yellowstone. If you are one of the millions of people who are planning to visit the park this summer we've got a few tips that might help you avoid the crowds-- or at least give you a few other things to do while you are in the area. Bozeman, Montana is located just 80 miles north of Yellowstone, along Interstate 90. It's a booming little mountain town that hosts Montana State University and a variety of appealing attractions. Here are 9 reasons you might want to stop in Bozeman on your way to see Yellowstone.

More Lodging Options
Yes, Yellowstone is busy during the summer, and it can be difficult and expensive to find a place to stay. Why fight the crowds? Check out lodging options in Bozeman. Bozeman offers a wide variety of options from large hotels to quaint bed and breakfasts. You will also find options for all budgets. Bozeman is a great place to use as a base camp as you make day trips to Yellowstone Park and the surrounding areas.

Even More Recreation
Do you have vacation aspirations of whitewater rafting, mountain biking, rock climbing, fly fishing, or hiking? You can do some of these in Yellowstone, but if you want more Bozeman is your spot. Bozeman is a mecca for outdoor adventure seekers. It is surrounded by National Forests, mountains, and rivers that provide amazing access to outdoor recreation. Find guides that will make your aspirations, including whitewater rafting, and fly fishing, a reality. If you just want to explore mountains on your own, Bozeman is your playground. Enjoy!
Great Places to Eat
Bozeman is filled with great restaurants to explore your dining desires. You will find everything from sushi at Seven and Dave's Sushi to Pizza at MacKenzie River Pizza and Tarantino's and amazing steaks at Open Range and Copper. There are many options to choose from, and it's worth the trip to sample a few. To find more options check out the restaurant page on our site.

The Best Downtown in the Northwest
Bozeman offers a beautiful downtown with shops, art galleries, theaters, restaurants, and bars housed by the beautiful, historic architecture. Downtown Bozeman is always bustling with activity. It really comes alive during the summer with events like Music on Main, monthly Art Walks, the Bite of Bozeman, Sweet Pea Festival, and Crazy Days.
Regional Shopping Destination
Bozeman is a booming college town with many fantastic shopping options. Check out the Gallatin Valley Mall, the largest carpeted mall west of the Mississippi River, or peruse the many adorable boutiques throughout downtown. The N. 19th corridor also features popular chain stores such as Target, Bed Bath & Beyond, T.J.Maxx, Gap, REI, Sportsman's Warehouse, World Market, Ulta, and Costco. We can't forget about the many unique local shops including Dee-O-Gee, Round House, Universal Athletics, World Boards, and the Jewelry Studio.

The Fly Fishing
Bozeman is the premier fly fishing destination in North America with blue ribbon waters like the Gallatin, Madison, and Yellowstone rivers. On top of those big name fisheries, Bozeman features smaller rivers and creeks like the East Gallatin River, Hyalite Creek, and Bozeman Creek. The area is such an amazing fly fishing destination that Simms Fishing Products is proud to call Bozeman home and the famous fly fishing movie starring Brad Pitt, A River Runs Through It, was filmed right here in Bozeman. Check out some of our local fishing shops to book a guided trip or just stop in to get a little local advice.
Art Galleries
A thriving art community, Bozeman is home to a variety of art galleries. If you are looking to add that perfect piece over your mantle or just enjoy browsing, Bozeman has you covered. Just take a stroll down Main Street and hit some of the popular spots like The Legacy Gallery, Sundog Fine Art, Thomas Nygard Gallery, and Old Main Gallery. You will be able to choose from many spectacular works of art throughout Bozeman.
The History
The city of Bozeman was founded in 1864 as one of the main stops along the Bozeman Trail. Both of which were named for John Bozeman, a frontiersman from Georgia who led wagon trains to the gold fields near Virginia City, Montana. Bozeman's rich history is worth exploring through the local museums, such as Museum of the Rockies, the Gallatin History Museum, and the American Computer Museum.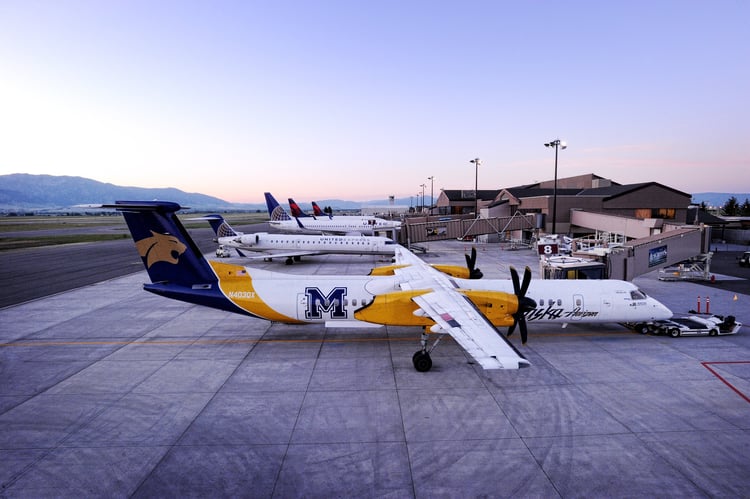 The Airport
One of the most difficult things about getting to Yellowstone is the lack of access. There aren't any major metro areas within hundreds of miles, so it isn't the easiest place to reach by air. The Bozeman Yellowstone International Airport is the busiest airport in the state of Montana and features approximately 17 direct flights to cities around the United States. If you are looking for the best way to get to Yellowstone, Bozeman is the answer.
As you work on planning your visit to the Nation's first National Park, we hope that you take a day or two to explore Bozeman. There is plenty to do and see. We may just add a little extra excitement to your Yellowstone vacation . For more ideas and tips for visiting Yellowstone and Bozeman, subscribe to our blog and receive weekly email updates.
If you enjoyed this blog, take a look at some of our other related articles: