7 Ways to Warm Up This Winter in Bozeman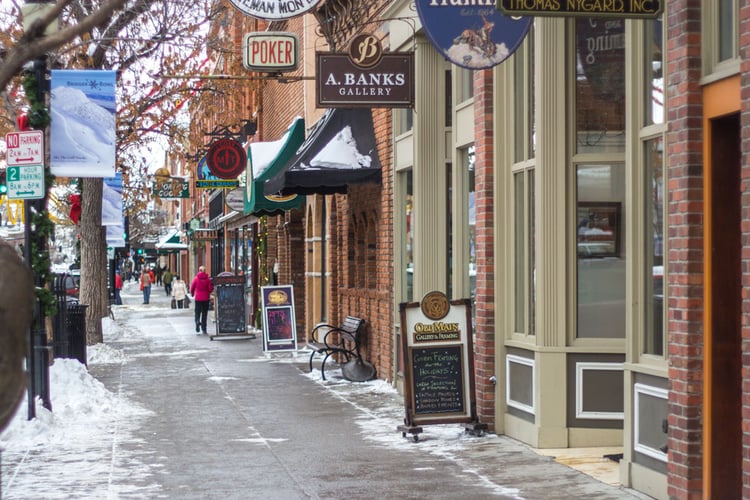 Winters in Montana can get pretty cold. We've already had a couple of days below zero which makes it hard to get out and enjoy all that Montana has to offer. On days when you don't want to be outside it can be difficult to entertain yourself, but it doesn't have to be. Bozeman locals are resourceful and know how to warm up during the winter. Here are a few suggestions to keep you warm and toasty this winter in Bozeman.
Relax at the Hot Springs
Even though it might be a little chilly outside, sitting in a warm pool of water is so relaxing. The Bozeman area offers a variety of options for those looking to soak away the winter or just warm up. The closes option is the Bozeman Hot Springs just west of town. To see a few more options, check out our blog Where to Soak Near Bozeman.
Grab A Hot Cup of Coffee
Bozeman is filled with great coffee shops. Of course we've got your big names like Starbucks or even City Brew, but it's always fun to explore local coffee shops like The Daily, Coldsmoke House, Zocalo Coffee, Wild Joe's, Cafe M and Rockford Coffee. These are some of the favorite hangouts for locals and they each offer a variety of delicious coffee drinks and snacks. So grab a chair and enjoy a warm cup of joe.
Indoor Climbing
Just because it's cold outside doesn't mean you can't try a little rock climbing. The Spire Climbing Center offers over 18,000 square feet of surface for all skill levels. On a cold day, head inside and work on your technique or just try something new. Their helpful staff will get you squared away with shoe and harness rentals and even give you a few tips to get you started.
Go Shopping
In Montana, Bozeman is a regional shopping hub, with a lot of options at the Gallatin Valley Mall. You will also find some of your big brand stores like Target and Gap along with Bob Wards Sporting Goods, Famous Footware, Khols and Walmart. For a more unique experience, head downtown and explore the many boutiques and art galleries along Main Street. There's a lot to like about shopping in Bozeman.

Explore Bozeman Breweries & Distilleries
The brewery scene in Bozeman is quite impressive along with a few distilleries. The beers are really good and each location offers a unique atmosphere. You might even find a cozy chair near a fireplace to really warm up those toes. So grab a bar stool and enjoy some local Bozeman beers.
You Can't Forget the Food
For being a town of less than fifty thousand people, Bozeman has a great variety of restaurants with some really good food. Downtown offers some popular options like Montana Ale Works, Open Range, Copper Whiskey Bar & Grill, MacKenzie River Pizza, Ted's Montana Grill and Sweet Chili Bistro. But the great options don't stop there. Safron Table, Dave's Sushi, Feed Cafe, Red Chair, The Bay Bar & Grill, Pizza Campania, and Seven Sushi. There are so many great places to try in Bozeman. We could go on and on. You can't go wrong by warming up with a delicious meal.
Check Out a Basketball Game
Bozeman is home to Montana State University, a Division I school that plays in the Big Sky Conference. If you want to warm up and take in some college athletics, the MSU Bobcat basketball games are always a good time. Tickets are affordable and you can usually find a good seat to catch all the action. You might even find yourself a Bobcat sweatshirt to help you stay warm too. To find out when the Bobcats play, check the schedule on the teams website.
Bozeman is a great place to visit any time of they year. The town has so much to offer even when the temps dip down. We hope that you enjoy your time here and find your own way to stay warm during the winter.
If you enjoyed this blog, take a look at some of our other related articles: