5 Majestic Snowshoe Trails in Yellowstone National Park
Hiking lovers take note. Snowshoeing in Yellowstone National Park is a gorgeous way to continue your adventures through the winter. You'll see the nooks and crannies of the park in a whole new way. Since snowshoes distribute your weight over a large surface area, it is a low-impact workout that most everyone can do.
A few things to note: winter in this area brings cold dry air and the sun can be intense. When you hit the snowshoe trails, be sure to pack plenty of water and snacks and bring sunscreen, sunglasses, and layers of clothing—the weather can change quickly!

Old Gardiner Road Trail
Level: Easy
An old backcountry road, this trail is perfect for either a short one-way hike or a longer in-and-back. For the shorter trip, leave a car in Gardiner and start at Mammoth Hot Springs. The trail has a slight incline before it turns into a gentle downhill. Either way, plan to have lunch in Gardiner. The trail starts at Mammoth Hot Springs Hotel and ends at the North Gate Entrance in Gardiner. Look for elk, bison and antelope and enjoy the views of Sepulcher Mountain and Electric Peak.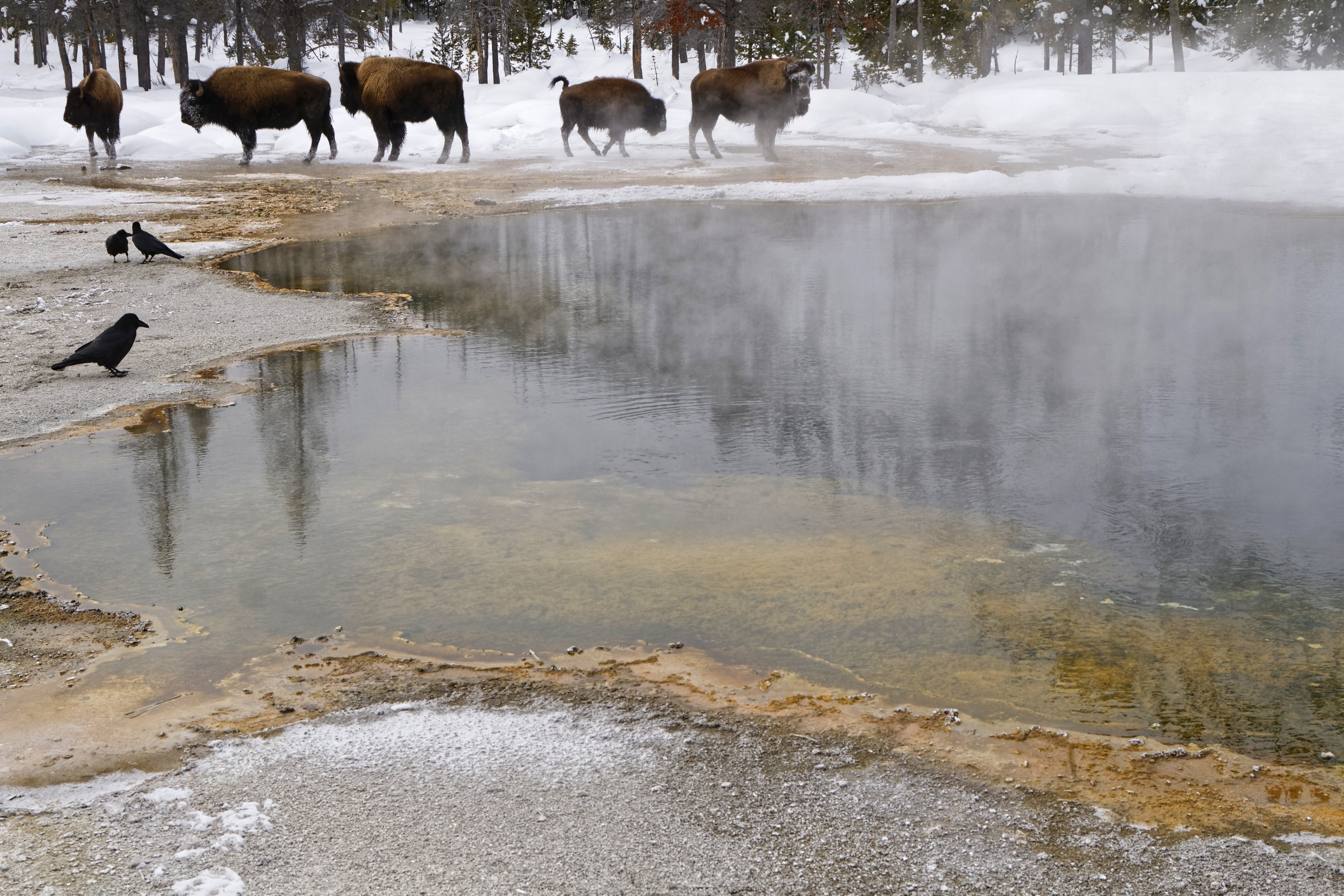 Level: Easy
This machine-groomed trail near Old Faithful makes for a perfect side jaunt for a double adventure day. This area of the park is closed to vehicles during the winter, so you'll need to take a guided snowmobile or snowcoach to the trailhead. The trail follows along the Firehole River to Lone Star Geyser, which erupts every 2-3 hours, shooting 30-50' for approximately 20 minutes. There are no other geysers around so it's a serene hike to a spectacular site. The trail is 2.5 miles one way returning along Kepler Cascades Trail to Old Faithful. Check with your park guide prior to ensure drop-off and pick-up times can be arranged.

Level: Easy
Follow this magical 4-mile roundtrip trail through a grouping of geothermal features, spotting geysers as they erupt if you're able to time it right. You'll begin in front of the Old Faithful Visitor Center and take the Upper Geyser Basin Trail past Castle Geyser. Turn left onto the skier-tracked trail to Daisy Geyser, stay to the left and continue to the snow vehicle road. You'll find Black Sand Basin across the snow vehicle road and well-worth the two-mile trek to get there. Like the Lone Star Geyser Trail, you'll need a snowcoach to get you to this trail in the winter, so make sure to plan ahead!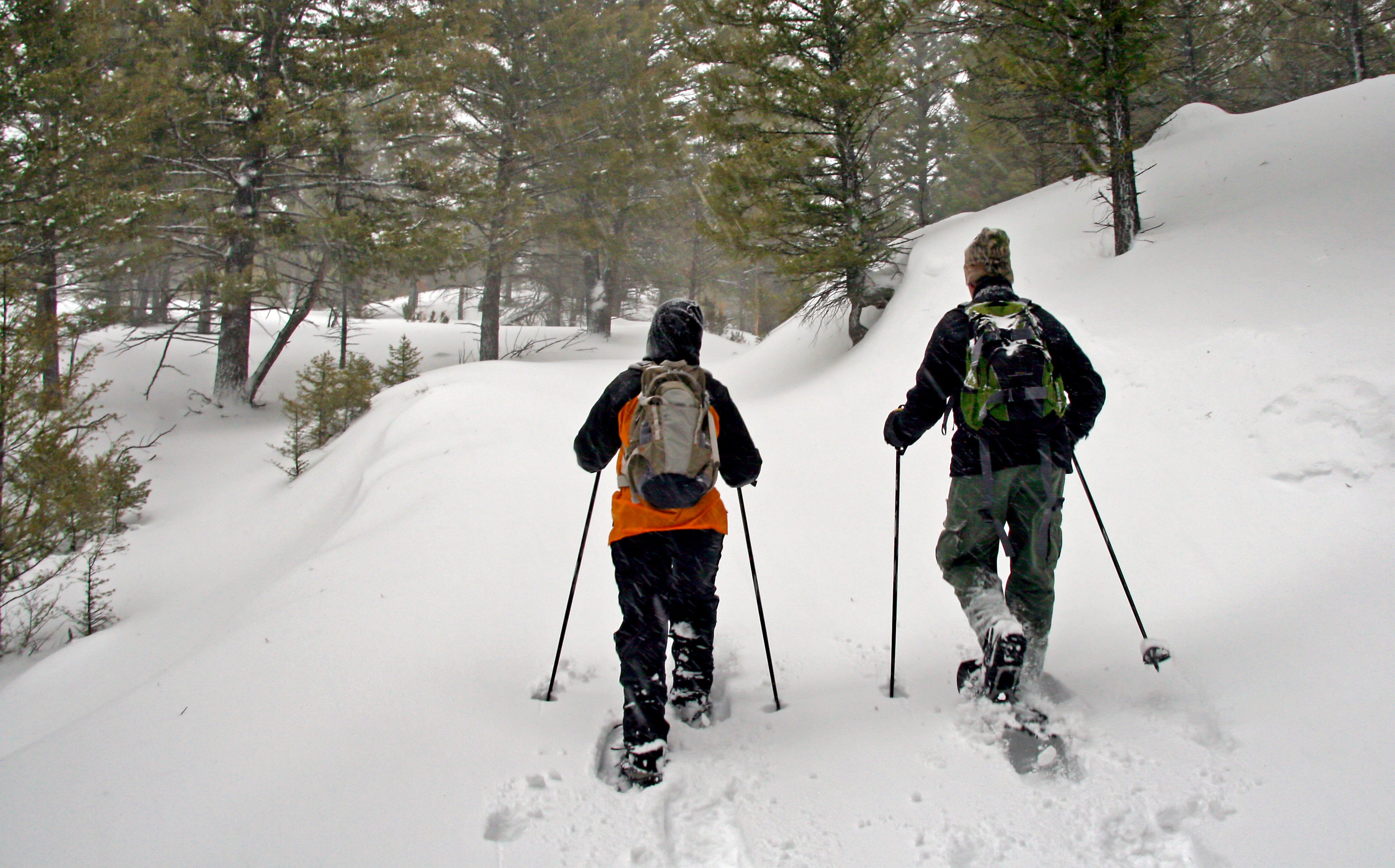 Level: More difficult
For those wanting a more challenging trail, this loop is a great option. You'll hike through dense lodgepole forests which makes for a cozy, serene experience. Add views of Mt. Washburn, and you get a little bit of everything. The trail starts at Tower Fall, 2.5 miles from Tower Junction. You'll end up at Tower-Canyon Road which continues about 3 miles back to Tower Falls. For a truly special winter adventure, consider an overnight stay at Mammoth Hot Springs Hotel and Cabins.

Level: Easy
This easy, 2-mile ski trail is also open to snowshoers (just remember to keep off the groomed ski tracks as best you can!). The flat, peaceful trail follows an old road that was once used to supply the mining town of Cooke City. Make your way west through meadows and mixed conifer forest toward the Northeast Entrance of the park, keeping an eye out for bison and elk that frequent the trail.
If you enjoyed this blog, take a look at our Bozeman Cold Weather Guide and some of our other related articles: