Top Brunch Spots in Bozeman
Brunch is a serious meal in Bozeman, Montana. Maybe because of the relaxed pace of life, but probably more so because we have so many great restaurants to choose from. Chefs come from across the country to make Bozeman their home, and the resulting cuisine is phenomenal. Trust us, Montana is much more than meat and potatoes. You'll find classic favorites as well as exciting twists, sweet and savory sensations, vegetarian dishes, and some fantastic local meats. Bozeman is also home to some excellent coffee roasters, their coffee served at most restaurants.
Some restaurants only serve brunch on the weekends, but if you can swing it during the week, you'll avoid some wait times. If you have to wait a bit for a table, grab a coffee and a seat, and enjoy a leisurely wait. After all, you can't rush brunch!
Adjacent to the RSVP Motel, the Farmer's Daughters Café has both breakfast and lunch items that blend deliciously into brunch. A variety of smoothies, breakfast toasts, chia bowl, or overnight oats are great breakfast options, and if you're leaning more toward lunch, the salads are delightful. As for beverages, it's rosé all day.
Jam's menu is varied and exciting, bringing a healthy and delicious spin to classic favorites like crepes, omelets, and Benedicts. Their feature dishes include hearty dishes like red chili and corned beef hash, loaded hash browns, and huevos rancheros. If you're a mimosa lover, you're in for a treat — they've got an entire menu!
At Feed, not only are the ingredients fresh and local and the meals made from scratch, but they also bake their breads! Try one of their signature toasts with rotating toppings, a breakfast sandwich on Challah, or their white cheddar scallion biscuits and gravy. If you prefer the lunch side of brunch, the soups, sandwiches, and salads are all exceptional.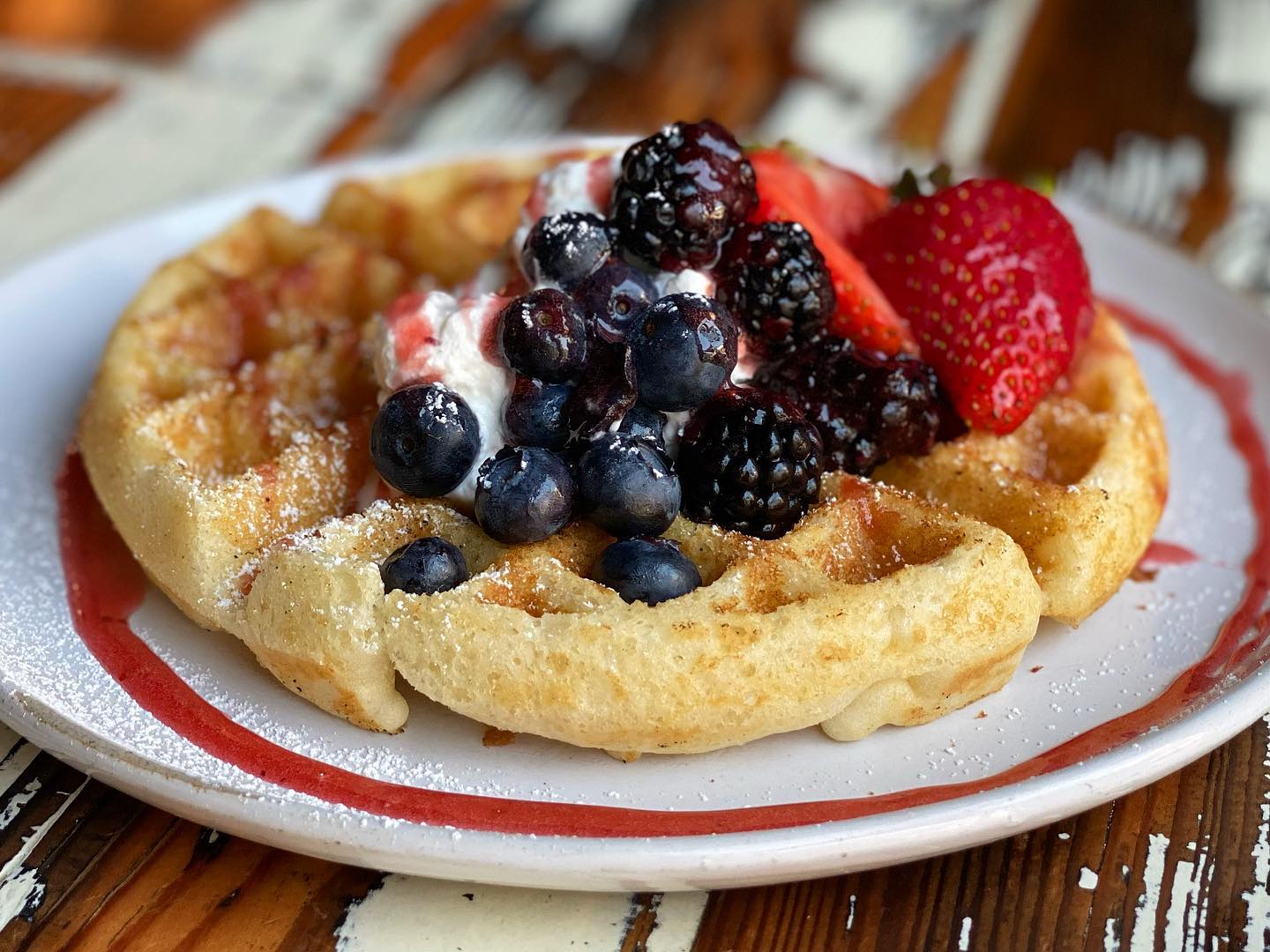 We love the name, and it certainly captures the vibe at Revelry, where lively conversations take place over coffee, Micheladas, mimosas, and heaping plates of food. Brunch is served Saturday and Sunday, featuring unique dishes such as Ora King Salmon Hash or Crispy Chicken and Waffles.
The most iconic brunch (ok, breakfast, but they serve it all day) spot in Bozeman, the Western is known for their homemade cinnamon rolls, hearty country breakfasts, a cozy atmosphere, and lots of storytelling.
For gluten-free, vegetarian, or vegan diners, the Nova has many options (try the vegetarian breakfast tacos)! Daily specials include things like Rueben Eggs Benedict, Marscapone Stuffed French Toast, and Brioche Hummus Toast.
The menu at Little Star combines delicious flavor combinations with a lighter fare: sourdough pancakes with rhubarb jam and maple syrup, a breakfast version of fried rice, shitake mushrooms on toast or salad, the list goes on and on. For lunch options, try the falafel, burger, or dal. The mimosa specials are delightful!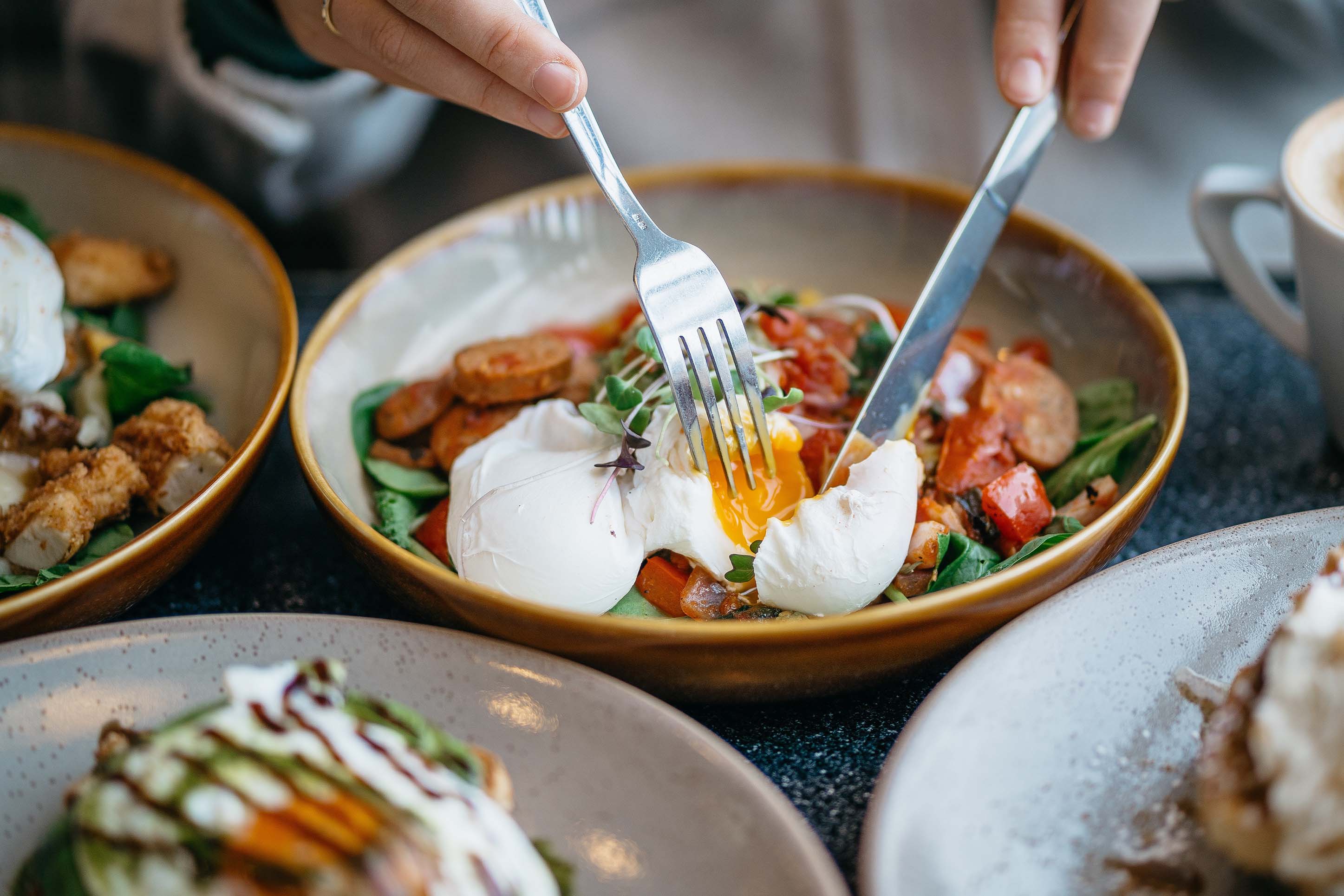 For the heartiest breakfast in town, Storm Castle tops the charts. Generous, wholesome portions of breakfast classics such as breakfast burritos, Grandma's Enchiladas, Country Fried Steak, and Rainbow Trout. We highly recommend the milkshakes blended with locally made Wilcoxin's ice cream.
Serving breakfast from 7 a.m. - 2 p.m, Main Street Overeasy is an excellent place for families – right down to the Mickey Mouse pancakes! They also have some great gluten-free pancakes, scrambles, Benedicts, and other classic breakfasts.
(Seasonal for Summer)
You wouldn't expect a brewery and pub to have a killer brunch, but like everything Mountains Walking does, it's delicious! Breakfast pizza, biscuits and gravy, and hearty hash. Plus, their dessert cart brews are delicious and pair nicely for a mid-day beverage.
If you enjoyed this blog, take a look at some of our other related articles at Bozemancvb.com.
In our never-ending quest to keep up with all things new in Bozeman, we have been producing content for years and can't possibly update every blog when new businesses open or existing businesses close. Please reference the publish date and do your own due diligence when making plans.