Ice Fishing Guide to Bozeman
Ice fishing is more than just a way to spend time waiting for open-water fishing season to open up again. It's a way to connect with nature, spend time outdoors with friends, and collect your thoughts in a peaceful activity. There are several spots within driving distance of Bozeman to get your ice fishing on, but first, let's start with the basics.
What to Bring
Warm clothes, especially layers, are essential for keeping you warm and allowing you to adjust your body temperature in varying conditions. Base layers, plus clothing and bibs, are a great start before adding your coat and waterproof boots. Add a hat, neck gaiter, gloves, wool socks, and hand warmers for additional warmth.


You'll want a bucket to sit on to keep you off the ice - buckets work well, as do any standard hardware store buckets or even a hard-sided cooler. A waterproof water bottle is a must; just because you aren't sweating doesn't mean you don't need to hydrate. Ice picks are a safety must-have and give you peace of mind whenever you're on the ice.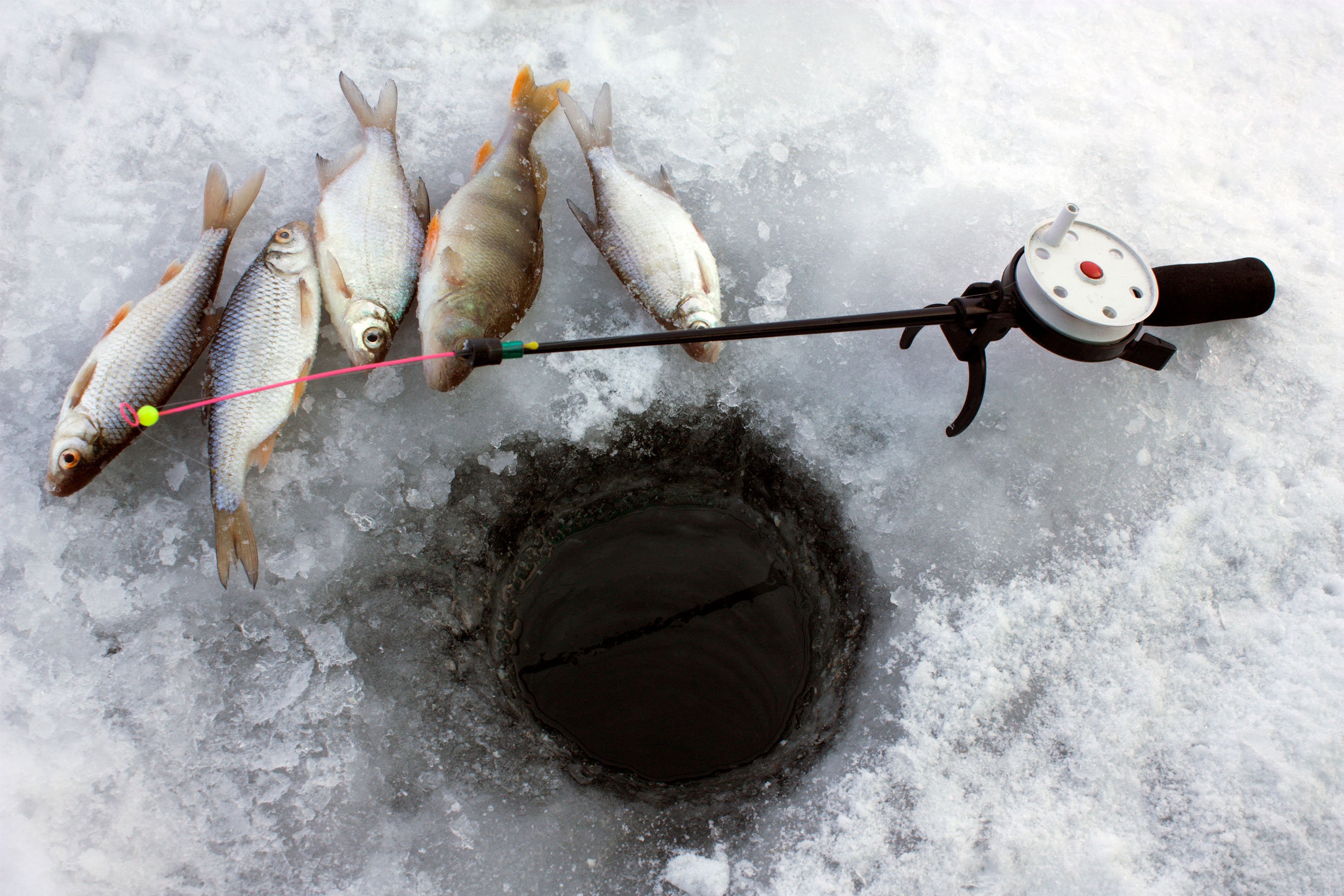 Ice Safety
Never assume ice is safe; always approach with caution. Conditions can change quickly and vary drastically across short distances, so always be cautious when stepping onto lake ice. Before you go, check the weather and tell someone where you are going; if possible, bring a friend for companionship and safety.

Once you find a spot, look for signs that others have been on the ice before you, and check the thickness of the ice by drilling a small test hole. Ideally, you want 4-6 inches of clear ice (stronger than cloudy ice). Refer to Montana Fish, Wildlife, and Parks division for information on fishing regulations and fishing license requirements.
Where to Go
If you want to stay within city limits, you often find folks ice fishing on the Glen Lake Rotary Park pond. Anglers can use the Ice Report app to share information about current conditions, including lake ice thickness. A short drive up in the mountains will take you to Hyalite Reservoir, a popular spot for all kinds of winter recreation, especially cross-country skiing, winter hiking, ice climbing, and ice fishing. If you prefer scenic driving to a quieter location, you can head west to Harrison Lake, aka Willow Creek Reservoir, for a more intimate ice fishing experience.


Guided Experiences
There are plenty of options for the ice fishing novice who wants a safer, guided fishing experience. Gallatin Valley Outfitters, based in Bozeman, offers an ice fishing excursion complete with lunch. Another Bozeman favorite, Dave Mckee Fly Fishing, offers ice fishing guides and includes a shorter half-day option. Gallatin River Guides, based in Big Sky, has a full-day ice-fishing trip you can book online and spend 6 hours on the ice. Montana Hunting & Fishing Outfitters, based out of Helena, also offers ice fishing excursions in the winter.


Now that you have some basic information, it's time to pack up and head out on the ice. Don't forget to bring plenty of snacks to keep you fed and entertained while you wait for the fish to bite!
If you enjoyed this blog, take a look at some of our other related articles:
In our never-ending quest to keep up with all things new in Bozeman, we have been producing content for years and can't possibly update every blog when new businesses open or existing businesses close. Please reference the publish date and do your own due diligence when making plans.