Perfect Picnic Spots in Bozeman
Montana summers are beautiful, but typically pretty short. That's why guests and locals alike try to soak up every moment of sunshine and good weather while we can in the summer. A great way to enjoy the summer sun is to pack a lunch and have a picnic in the great outdoors. Whether you want to stay in town or venture out into some more wild areas for your picnic, we've got you covered.
In Town
Beall Park
Beall City Park is a 2.2-acre park located near downtown Bozeman. The facilities here include basketball courts, a playground for the kiddos, and restrooms. This park has a picnic pavilion with picnic tables as well as a large open grass area if you prefer to spread out a blanket and bask in the sunshine.
Bogert Park
Bogert City Park is located in the heart of downtown Bozeman and is a hub of activities in the summertime. The Bozeman band shell here is often home to live music and events which can make for an exciting picnic. Here you will find an outdoor swimming pool, tennis courts, basketball courts, playground, and more. There are large and small pavilion areas with picnic tables and plenty of grass to sprawl out on.

Bozeman Pond Park
Bozeman Pond Park offers a little something for everyone. There is a large fishing pond, sand volleyball courts, climbing boulder, basketball courts, and paved shared-use paths. Plus if you want to bring your pup along on the picnic, there is an off-leash fenced Lewis & Bark dog park and a dog swimming beach area. This park also has a large pavilion you can rent for day use and plenty of picnic tables, benches, and grass for your picnic blanket throughout.
Lindley Park
Lindley Park is home to big summer events like the annual Sweet Pea Festival, weekly Farmers' Market, and more! Located on Main Street, it's the perfect spot to stop off for a picnic lunch before exploring downtown Bozeman. If you want to get a hike in while you're there, nearby Peets Hill is a local favorite to explore. Lindley Park has a picnic pavilion and tables, as well as plenty of green grass to enjoy your picnic spread.
Out of Town
Hyalite Canyon Recreation Area
Hyalite Reservoir is a great spot to spend the day hiking, paddleboarding, or just plain soaking up the sun. There are multiple picnic facilities around Hyalite, including a pavilion available for reservation located right by the trailhead along the reservoir. There is also a day-use area on the other side of the reservoir, located near Hood Creek Campground. Palisade Falls has a small picnic area, along with a beautiful accessible hiking trail that leads to the falls. Blackmore picnic area offers a few more spots and another great hiking trail nearby. While these are the areas that have pavilions or picnic sites, there are plenty of other spots around Hyalite Canyon where you could stop and throw down a blanket and enjoy the scenery while you nosh on some picnic goodies.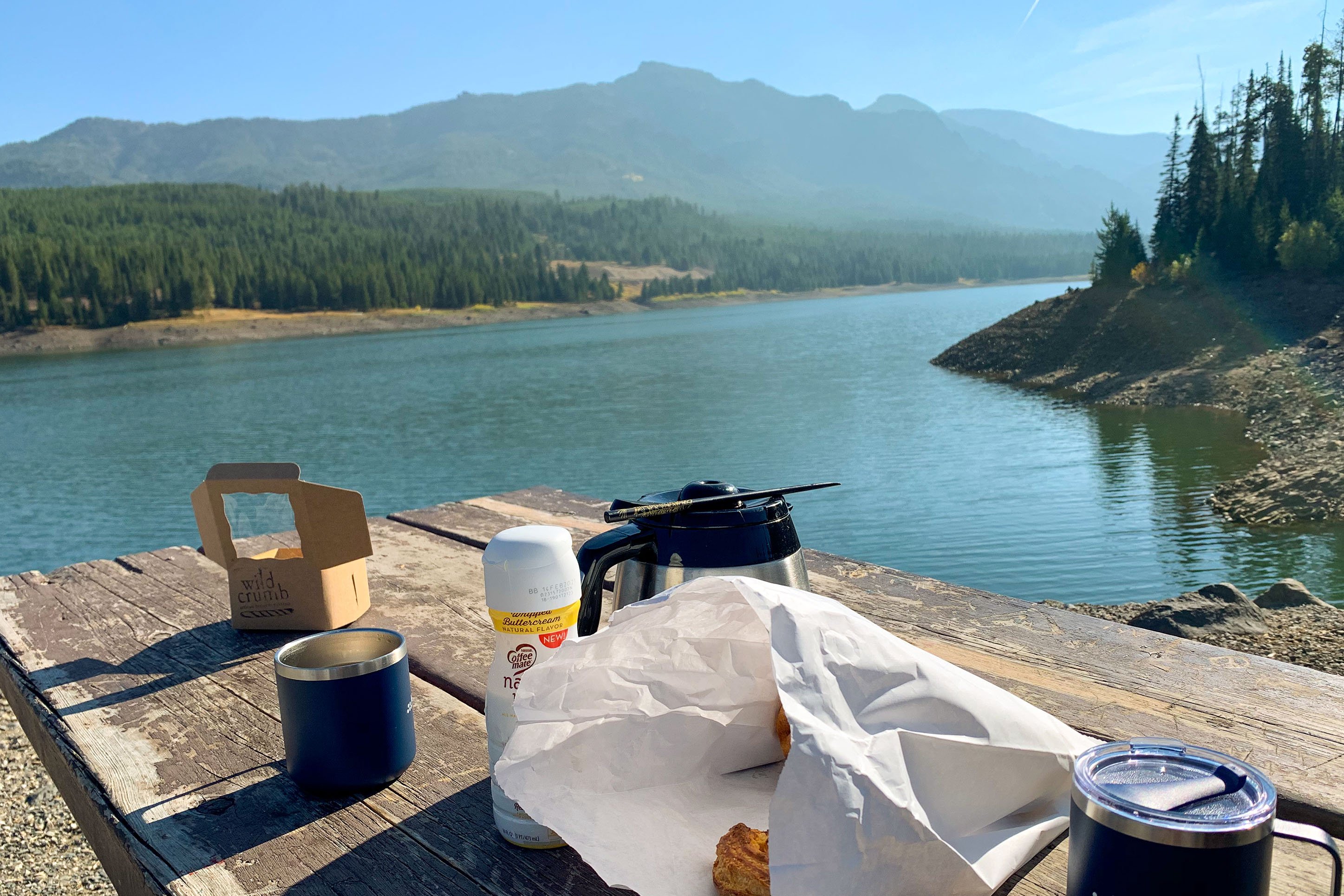 Moose Creek
Moose Creek Flat Picnic Area is located south of Bozeman in Gallatin Canyon at Moose Creek campground. You'll find this spot just off of highway US 191 alongside the Gallatin River. There are 3 picnic tables here, and no shade but it is a pretty great quiet spot to enjoy a bite to eat, especially if you're on your way to or from Yellowstone and need to stretch your legs.
Spanish Creek
Spanish Creek Picnic Area is also located south of Bozeman, but this area is a bit further from the highway. There are 4 picnic tables in this spot and drinking water is available, but there is no trash service so you will have to pack in and pack out your garbage. If you're a fan of fishing, this area also has fishing access in addition to some fire rings if you want to grill up your catch of the day.
Bozeman and the surrounding area have no shortage of perfect picnic spots, pack up some snacks or lunch, or have Mavens Market do the packing for you, and head out to enjoy summer while it lasts!
If you enjoyed this blog, take a look at some of our other related articles at Bozemancvb.com: