Top 10 Things To Do In Yellowstone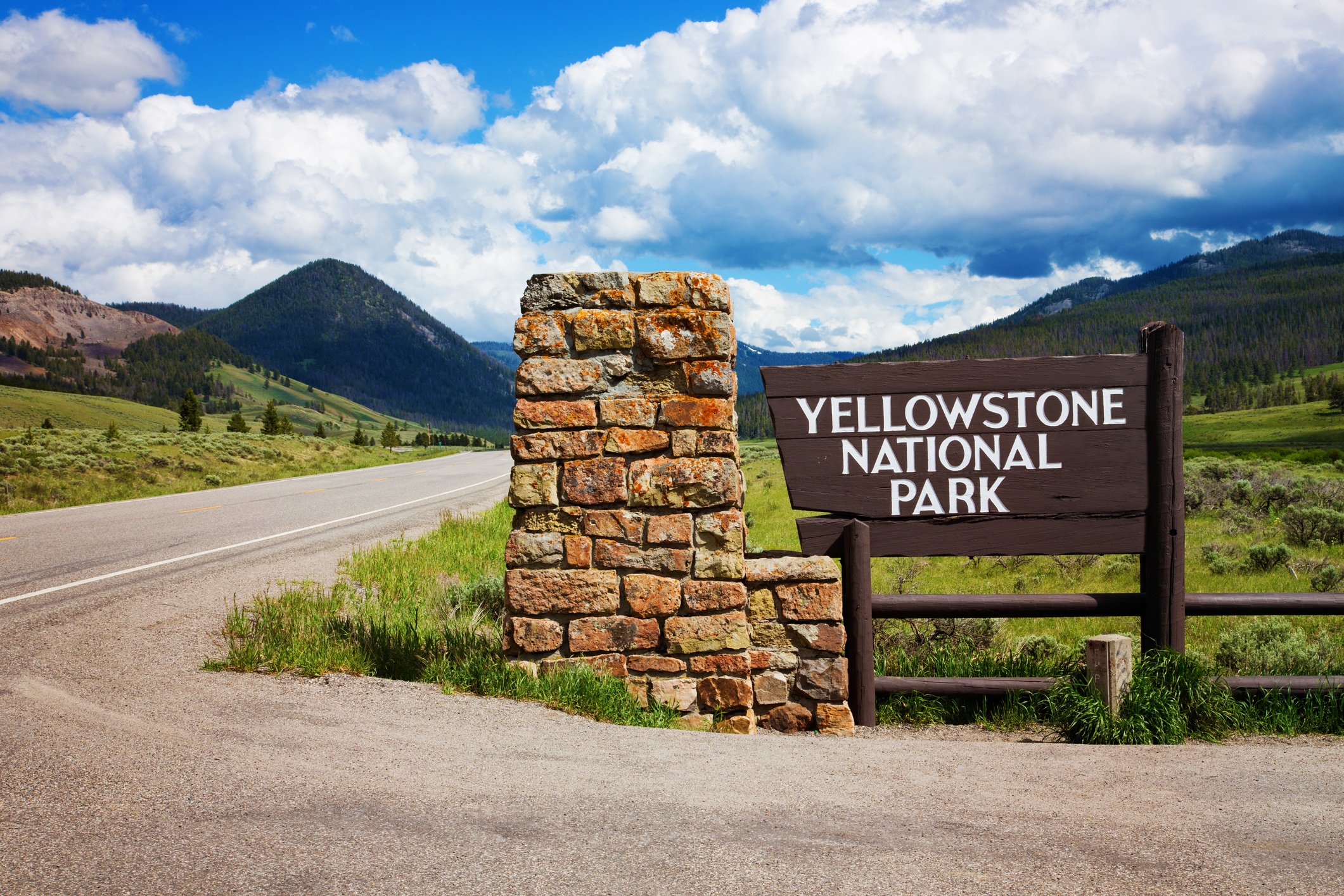 The reservations are booked, your bags are packed, and you can't wait to experience the world's first National Park. So what are you going to do when you get there. Yellowstone is big, and there is a lot of time spent driving from one attraction to the next. It is good to have a game plan for the big items you want to see and/or experience. Plus, if you are coming during June, July or August, you will be joined by a few million other people, all clamoring to get a view of the American West. To help you out, we've put together a list of the top 10 things to do in Yellowstone, in no particular order. So pull up a chair and get ready to plan your Yellowstone Adventure!
Experience Old Faithful
A list of the top 10 things to do in Yellowstone wouldn't be complete without the world famous Old Faithful. The geyser gets its name because it erupts approximately every 90 minutes. Eruption intervals can range from 60-110 minutes, so it is worth it to arrive early, especially to get a good seat. Old Faithful is one of Yellowstone's most popular attractions, and the crowds can get quite large. If you are looking to avoid the crowds, we would advise visiting Old Faithful early in the morning (prior to 9 am) or later in the evening (after 6 pm).
See The Grand Prismatic Pool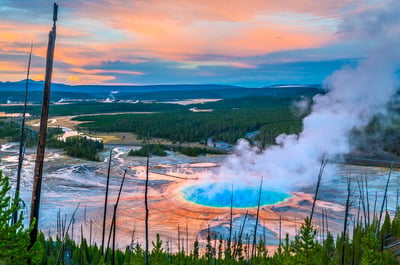 The third largest spring in the world, the Grand Prismatic Pool is a thing of beauty. It is located in the Midway Geyser Basin, along the Firehole River. Walk along the boardwalk to get up close and personal, but do not step off the boardwalk. For a view from above, check out the Fairy Falls trail that will take you above the geyser basin and provide a panoramic view. It's hard to describe the vibrant colors you will see in the Grand Prismatic Pool until you experience it for yourself. The vibrant colors come from different species of heat-loving bacteria that live in the water surrounding the spring.
Mud Pots
The mud pots around the park are a unique thermal feature that you just don't see in many places around the world. A mud pot forms when surface water pools in a depression on the earth's surface. The surface water gets heated by thermal water below causing the mixture of mud, clay, and water to boil. Hydrogen sulfide gas gives mud pots their distinct odor of rotten eggs. Check out the Artists Paint Pots located three miles south of Norris Geyser Basin and the Fountain Paint Pots located between Old Faithful and the Madison Junction.
Grand Canyon of the Yellowstone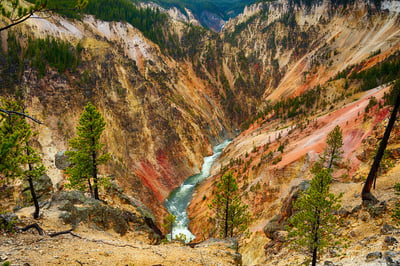 One of the most photographed areas in Yellowstone, the Grand Canyon of the Yellowstone is a sight to behold. The massive V-shaped canyon is flanked with yellow walls that inspired the name Yellowstone. At the bottom of the canyon flows the Yellowstone River, the force that created the canyon and the longest undammed river in the continental United States. There are numerous viewing points around the canyon, each providing a different perspective of the Upper and Lower Falls and the deeply carved canyon. Keep an eye out for birds of prey that nest around the spires and rock formations.
Spot a Bear
The Greater Yellowstone Ecosystem is home to more than 650 Grizzly Bears as well as a healthy population of Black Bears. Spotting a bear is a very thrilling experience but beware, these are wild animals so please stay at least 100 yards away unless you are safely in your vehicle as a bear moves by. The Greater Yellowstone Ecosystem and northwest Montana are the only areas in the United States that still have Grizzly Bear populations. So visiting Yellowstone provides an opportunity to see these magnificent creatures that you really can't get anywhere else in the country. As you can imagine bears are leery of humans and tend to avoid the roadways so seeing a bear isn't a guarantee when visiting the park, but sightings are not uncommon. Bring a good pair of binoculars to scan the hillsides and valleys throughout the park.
Download The Bozeman/Yellowstone Travel Guide
Bison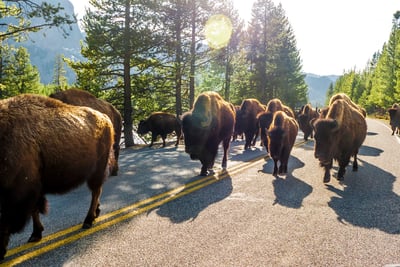 The North American Bison has become a symbol of the American West. Once estimated at 20 to 30 million bison populations used to extend from that Appalachian Mountains to the Rocky Mountains and from the Gulf of Mexico to Alaska. During American westward expansion, bison populations were decimated by the loss of habitat and unregulated hunting. Yellowstone is the only place left in the country where bison have lived continuously and have not been hybridized by interbreeding with cattle. The Yellowstone Bison herd is estimated at over 4,800 animals and are a top-rated attraction in the park. Seeing the bison roam free takes us back to a time when they used to inhabit much of North America. They may appear like a friendly, fluffy animal but they are still wild and can exhibit unpredictable behaviors. More people are injured in the park each year by bison, than any other animal. Visitors assume these large animals are docile like domestic cattle and get too close attempting to get that perfect picture. This irritates the bison, and they frequently charge visitors who don't adhere to the 25-yard safe viewing distance. So enjoy viewing these large animals, but keep your distance.
Hiking
There is no shortage of hiking opportunities in Yellowstone National Park. Whether you are looking for a casual stroll along Yellowstone Lake or an intense backpacking adventure, you can definitely find your perfect hike. Yellowstone National Park has even organized a hiking guide that groups hikes based on their location within the Park. Some of our favorites include Mt. Washburn, Fairy Falls, Yellowstone Lake Overlook, and Hellroaring Creek Trail. Remember, always hike with a partner and carry bear spray.
Fly Fishing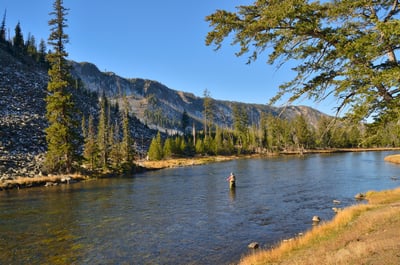 As you would imagine, fishing regulations in a National Park are designed to protect and conserve native fish and habitats. The fishing season begins on the Saturday of Memorial Day weekend and extends through the first Sunday in November. Fishing licenses can be purchased as three-day, seven-day, or season-long licenses. For kids 15 years and younger, they can fish without a permit as long as an adult supervises them or they can obtain a free license that is signed by a responsible adult. Licenses can be purchased at many of the fly fishing shops surrounding the park or at one of the Park Service offices. All native fish, including cutthroat trout, mountain whitefish, and Arctic grayling are catch and release only. Please check the fishing regulations on each river or lake you intend to fish for limits on other species. Some of the most popular areas for fishing are the Firehole River, Madison River, Yellowstone Lake, Slough Creek and the Lamar River. Yellowstone is filled with smaller creeks and lakes that are also fishable but it is best to consult Yellowstone's park newspaper, Backcountry Trip Planner, or rangers at visitor centers and backcountry offices to learn more.
Horseback Riding
Nothing makes you feel like you are in the "Wild West" like a horseback ride through the mountains. People are allowed to bring in their horses but must adhere to all the Park's regulations. For the average visitor, a guided trip is the way to go. Yellowstone allows licensed outfitters to operate guided day trips and overnight trips through the backcountry. Yellowstone National Park Lodges also offers one to two-hour rides at Tower-Roosevelt Lodge and Canyon Lodge. Each ride varies to be sure to check out the Yellowstone National Park Lodges website for specifics.
Wolf Watching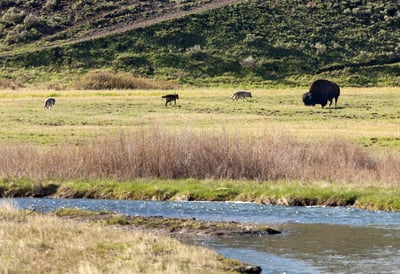 Since the reintroduction of wolves to Yellowstone in 1995, wolves have provided a wild mystique that attracts people from all over the world. As of December 2016, wolf populations were estimated at 108 wolves in eleven packs. Populations generally fluctuate year to year, but their territory has been growing steadily over the years. Most of the wolf packs occupy the northern half of the park with numerous packs calling the northeast quadrant of the park home. Favorite spots to watch for wolves include the Lamar and Hayden Valleys. The winter months make it a little easier to spot the wolves from a distance as their darker coats stand out against the white backdrop of the snow, however, you can often find groups of wolf watchers posted up along the pullouts in these two valleys with big spotting scopes waiting for a glimpse of these majestic animals.
If you enjoyed this blog, take a look at some of our other related articles at Bozemancvb.com:
In our never-ending quest to keep up with all things new in Bozeman, we have been producing content for years and can't possibly update every blog when new businesses open or existing businesses close. Please reference the publish date and do your own due diligence when making plans.