Wildlife Watching in Northern Yellowstone
The northern part of Yellowstone National Park is home to abundant wildlife. Carved by glaciers, with the Yellowstone River running through, these extensive grasslands are home to some of the largest animals in the Park. At various times of the year, you may likely see bison, black bear, grizzly bear, big horn sheep, elk, mule deer, pronghorn, moose, and the elusive wolf, which is best seen in the winter, when it's easier to spot them against the white snowy backdrop.
Generally, the best time for wildlife viewing is early morning or evening, when the animals are moving about and eating. Staying in Gardiner or Cooke City makes getting in and out of the Park easy without a lot of drive time. There are also several tour operators in both areas, and if you've never been out with an experienced Yellowstone guide, it's well worth it. These guides know the Park inside and out, making the experience more fascinating.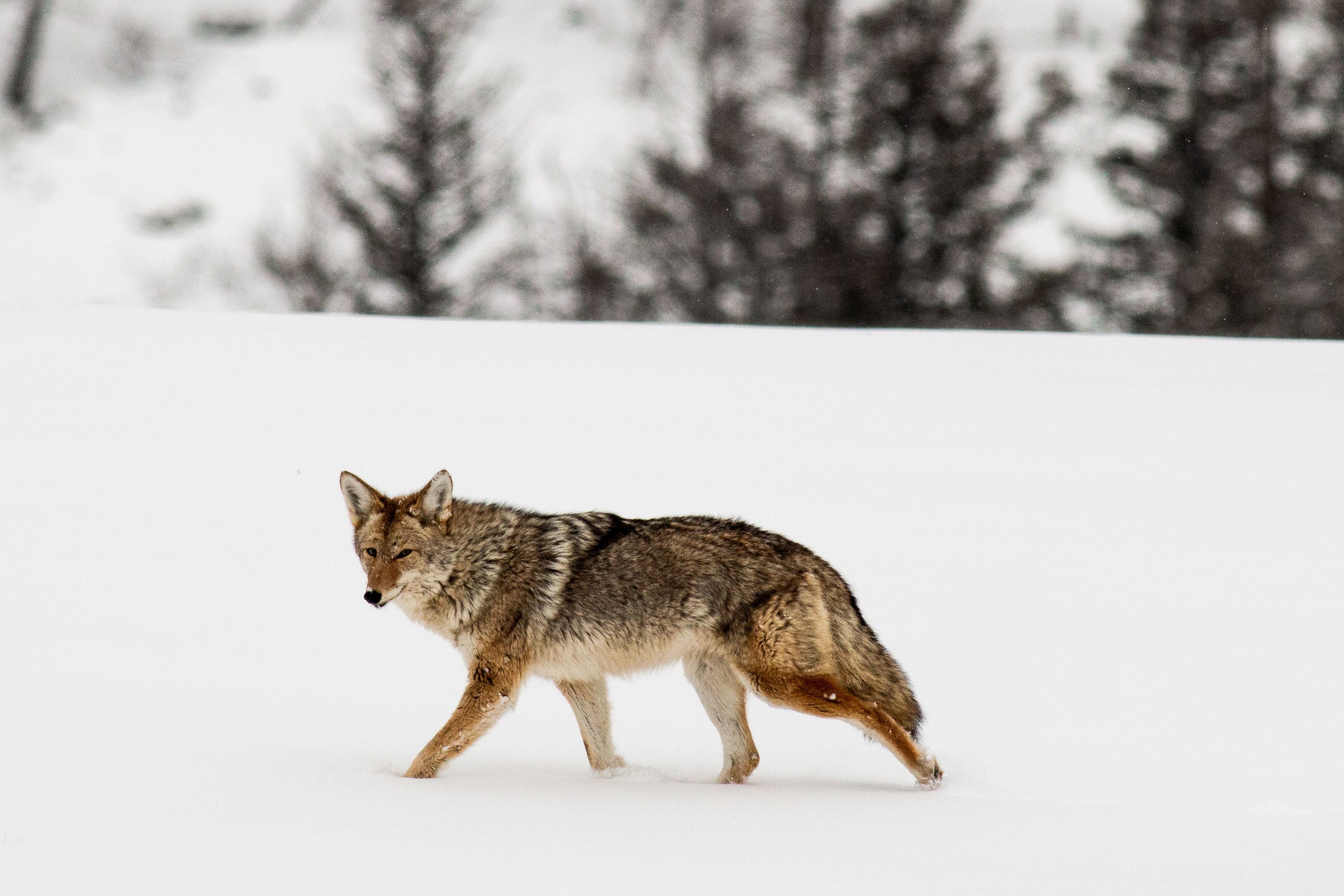 While certain times of year are better for seeing more varieties of animals, you'll see some year-round, and each season has unique advantages. For example, in March and April, bears begin coming out of hibernation, and you can spot them grazing in the roadside meadows until warmer temperatures push them to higher elevations.
The National Park Service has established Bear Management Areas with a high density of elk and bison carcasses and lots of bear activity. These areas restrict certain activities and can include such measures as area closures, trail closures, a minimum group size of four or more, day-use only, or no off-trail travel. Be aware of current restrictions for your safety and the well-being of the bears, who are busy eating after the long winter.
In April, bison begin calving in the Lamar Valley. These little calves, called Red Dogs, for their reddish coats, are adorable as they get their bearings and follow their mams around on their young, wobbly legs. Black and grizzly bears can still be seen, and the bull elk antlers are in velvet.
Moose and pronghorn calving begin in May, and the wolf pups emerge from the den. Then, in June, elk and big horn sheep calve, the songbirds are in full song, waterfalls are at full volume, and wildflowers start to pop!
The warmer months of July and August bring the bison rut. And while the mating season is not a spectator sport, watching the bulls battle with one another is quite something. (Always stay in your car, these sparring animals have immense strength and are wild animals.) You'll also find resident elk populations lounging around Mammoth Hot Springs. They may seem docile, but they are not tame, so please leave them alone and never try to feed them.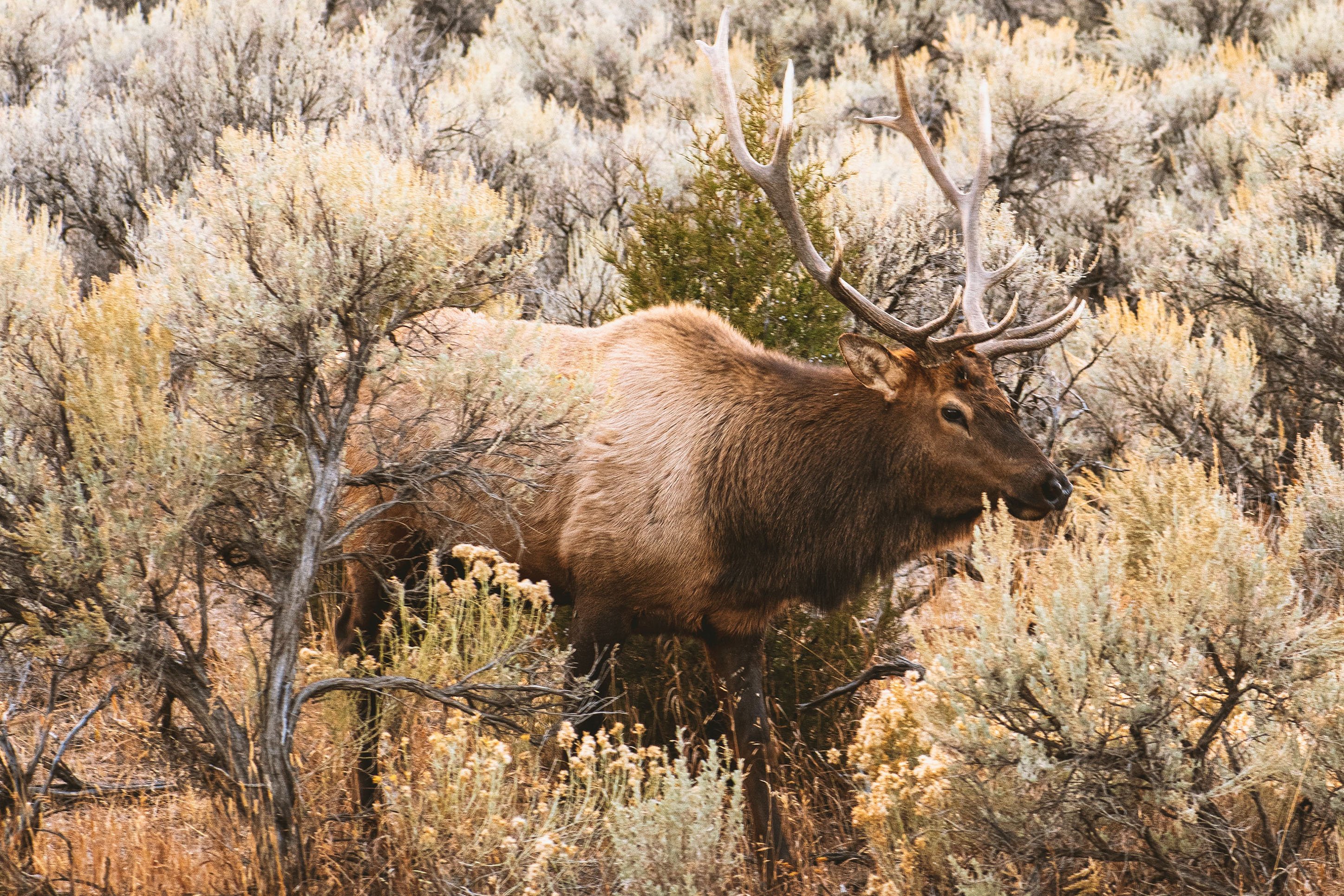 In September and October, the elk rut begins, and again, the bull elk often do battle over the females. Black and grizzly bears return to the roadside meadows in preparation for hibernation, and the raptors begin to migrate.
November and December are the bighorn sheep rut, but these animals are a bit more elusive as they can manage steep, rocky terrain and are rarely spotted in lower elevations. So watch along the slopes and rock cliffs when looking for them.
Remember, it is illegal to willfully remain near or approach wildlife, including birds, within any distance that disturbs or displaces the animals. So, for your safety, always stay at least 100 yards (91 meters) from bears and wolves (think almost the distance of a football field) and 25 yards (23 meters) from all other wildlife.
If you enjoyed this blog, take a look at some of our other related articles: