Montana State Bobcat Football: A Bozeman Fall Tradition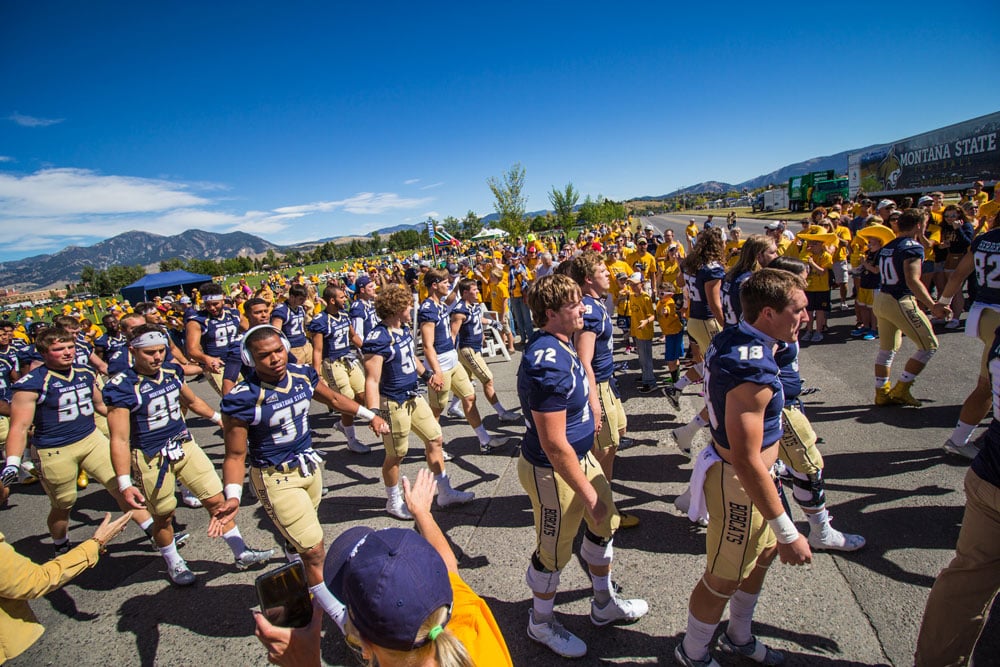 At its heart, Bozeman remains a college town. And being a college town, Bozeman gets to experience the excitement of the start of school in the fall, football games, homecoming, and if we are lucky, maybe a playoff game or two. And let's not forget about the big rivalry with that other team across the Continental Divide, the University of Montana Grizzlies, better known as the "Brawl of the Wild." The Bobcats have been playing football since 1897 and have recorded three national championships. All of this has built a rich tradition and a rabid following of loyal fans that make the game day experience a lot of fun. Fall in Bozeman is an exciting time to visit and take in a Montana State Bobcat football game.
Big Time Sports Meets Montana
There are few things that get your blood pumping in the fall like the beat of a marching band drumline or the roar of a crowd after a big play. In most states, big time college football teams usually play in big conferences like the Big Ten, SEC, ACC, Big 12 or PAC 12. In Montana, FCS football is as big as it gets and that includes professional sports as well. With no major metropolitan areas within 400 miles, our sports options are few and far between, which places the Bobcats and Grizzlies square at the top of the list when it comes to Montana sporting events. Both teams have developed a passionate and loyal fan base which makes game day a rowdy good time.
What You Need to Know
If you are planning on attending a Bobcat game, here are a few tips that you should know before you go. The Montana State Bobcats play in the Big Sky Conference in the Football Championship Subdivision (FCS), formally known as division 1-AA. This is the division of NCAA football right below the big schools like Alabama, USC, Notre Dame, and Texas, whom all play in the Football Bowl Subdivision (FBS), formally know as division I-A. As noted above, the Bobcat's biggest rival is the Montana Grizzlies, so don't get the two teams confused. On game days you will see the mascot, Champ, roaming the stands and sidelines while the band plays "Stand Up and Cheer," the school fight song. One of the fun traditions to experience prior to the game is the Cat Walk where the players and coaches walk from the fieldhouse to the football stadium led by Champ and the marching band. If you arrive early enough be sure to check this out.
What To Expect
What makes college football so great is the passion of the players, coaches and fans and Montana State is no exception. The majority of players at the FCS level won't play on Sundays so they put everything they have into their college football careers. Fans in Montana don't get the luxury of rooting for a local NFL team so their football passions rise and fall with each Bobcat win or loss. So what you end up with at Bobcat games is an exciting experience representative of the relaxed Montana lifestyle mixed with the passion of college athletics. You will enjoy yourself and you might even find yourself rooting for the Cats each week.
If you find yourself in Bozeman this fall and are looking for something fun to do on Saturday afternoon, be sure to make a stop at Bobcat Stadium to cheer on our beloved Bobcats. The team is fun to watch, the fans always keep it exciting, and the atmosphere might surprise you. And as always, Go Cats!
If you enjoyed this blog, take a look at some of our other related articles:
In our never-ending quest to keep up with all things new in Bozeman, we have been producing content for years and can't possibly update every blog when new businesses open or existing businesses close. Please reference the publish date and do your own due diligence when making plans.