6 Amazing Swimming Holes Near Bozeman, Montana
Montana summers aren't long, but they can get hot. There is nothing better than spending a day at the lake or catching an afternoon dip on a hot day. From local ponds to scenic mountain lakes, there's no shortage of water bodies to cannonball into when you need to cool off. So as the temps heat up, we've gathered up a few of our favorite swimming holes for you to explore on a hot day this summer in Bozeman.
Bozeman Beach
Located at Glen Lake Rotary Park on the north side of town, Bozeman Beach offers a little sandy spot of heaven along Glen Lake with a backdrop of the Bridger mountains. You'll also find sand volleyball courts and easy access for a kayak or paddleboard. Trails surround the lake, and the dock is perfect for diving in. It can get a bit crowded on a hot summer day, but you can usually find a spot for your beach towel and jump in for a swim. This is probably the most accessible swimming spot in town. Plus, it's right next to one of the most popular breweries in town, MAP Brewing, which looks out over the lake.
Hyalite Reservoir

The Hyalite Canyon Recreation Area offers nearly any kind of outdoor activity you can think of, including swimming. You may want to wait until a little later in the summer for this one because the mountain runoff water can be pretty cold. But in such a beautiful area, surrounded by mountain peaks, it's worth just hanging out in the sun, making a picnic, and dipping in when you get too hot. Only 30 minutes from downtown Bozeman up Hyalite Canyon Road, it feels out of town without the long drive. It's also a great place to bring your dogs, your paddleboard or kayak, and a fishing rod. At Hyalite, endless trails circle the lake, taking you past waterfalls and up to nearby peaks, so you can easily pack in a full day of fun.
You can stick around the main boat launch at the base of the reservoir or drive around the lake and see if there is a spot available at one of the campsites bordering the reservoir.
Axtell Bridge
Axtell Bridge is technically a fishing access site, but plenty of Bozemanites visit the area to swim. Located a 15-minute drive from Bozeman along the highway toward Big Sky, Axtell Bridge offers a safe spot to wade into the cool clean waters of the Gallatin River. Beware if you go too early in the summer season, the currents could be a little fast. Save this spot for late June or early July.
Fairy Lake
Fairy Lake is probably the most scenic swimming hole near Bozeman. Located in the Bridger Range, the lake itself is full of emerald-colored water at the base of Sacajawea Peak. From the parking area and campground, it's an easy one-mile hike down to the lake. With opportunities for camping and hiking to the summit of Sacajawea, you can easily spend a good amount of time here. This magical spot does require a bumpy drive along a rough road for several miles, so a high-clearance vehicle is recommended.
Canyon Ferry Lake
Take an hour-and-a-half drive north from Bozeman to the third-largest body of water in Montana. With 76 miles of shoreline, Canyon Ferry Lake is a great place to throw down a beach towel and head for the water. Fill up the coolers with some lunch and beers and spend the day relaxing in the sun. With camping, fishing and boating opportunities, this lake sees plenty of traffic throughout the summer, so plan to arrive early to scope out the best spot!
Ennis Lake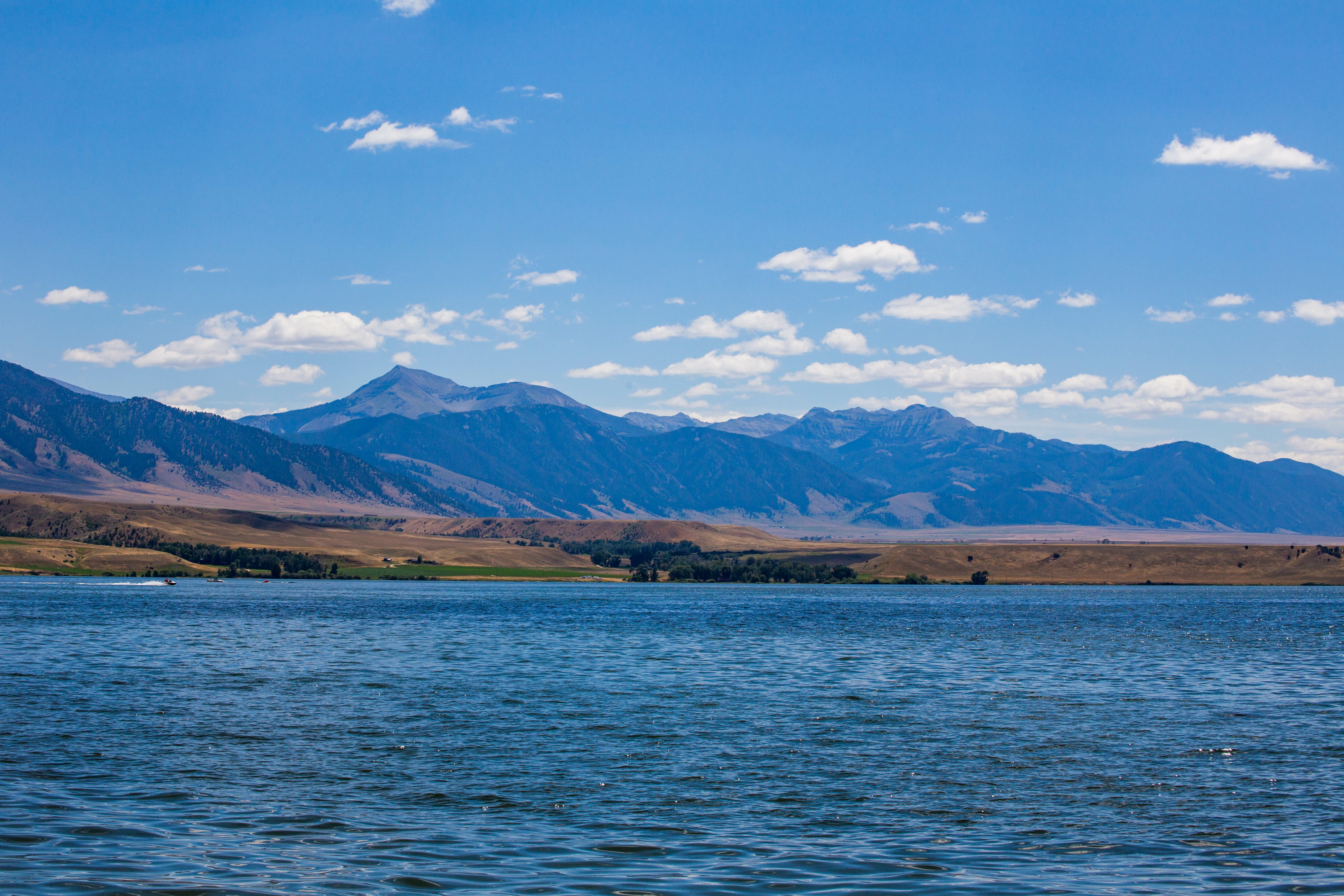 Ennis Lake, formed by damming the Madison River near Ennis, Montana, is one of the more shallow lakes in the area. This means warmer waters, even in earlier summer months. Just an hour southwest of Bozeman, it's a scenic drive to the day use area at Kobayashi Beach. It's a popular spot for families with picnic tables, bathrooms, and keep your eye out for an awesome rope swing.
If you're not up for jumping in the nearest swimming hole, Bozeman offers plenty of shady patios and cold brews for cooling off during the summer months. If you're looking for something a little warmer, check out our list of nearby hot springs as well.
If you enjoyed this blog, take a look at some of our other related articles at Bozemancvb.com.
In our never-ending quest to keep up with all things new in Bozeman, we have been producing content for years and can't possibly update every blog when new businesses open or existing businesses close. Please reference the publish date and do your own due diligence when making plans.