Commonly Asked Questions About Visiting Bozeman, Montana
Bozeman flew under the radar for many years as a destination mountain town. There were a few people in the know, but they kept a low profile, and other than visits from close family and friends, Bozeman, Montana, remained a bit of a mystery. Now, with increased air service and remote work opportunities, more and more people are discovering the beauty of Bozeman.
Bozeman has become a sought-after location, a bustling college town with a growing tech industry and a hub for travelers to Yellowstone National Park. The outdoor recreation is unending, the food is terrific, and the music scene is coming alive.
To understand more about this up-and-coming town, we've compiled a list of commonly asked questions, and we also encourage you to download the Bozeman Travel and Relocation Guide.
Is it hard to get to Bozeman?
No, it is not hard to get to Bozeman; in fact, it's easier than ever. Bozeman Yellowstone International Airport has nine airlines with service across the country, including 32 nonstop flights to major cities. If you're driving, you can access Bozeman from I-90 or US 191, which takes you to West Yellowstone, the west entrance to Yellowstone National Park.
How far ahead should I plan my trip to Bozeman?
The short answer is: book it well in advance. Lodging, tours, and rental cars can all sell out, particularly in the summer. Campgrounds all book up months before summer hits, as does lodging during the holiday season.
Bozeman sits between two entrances to Yellowstone: the west entrance in West Yellowstone, MT, and the north in Gardiner, MT. The distance to West Yellowstone is 89.2 miles. However, it is through the beautiful Gallatin Canyon, a windy road with heavy traffic, so plan to go slow. Gardiner is 77.9 miles from Bozeman, with the town of Livingston in between.
Is Yellowstone open in the winter?
Yes. Not only is Yellowstone open in the winter, but it's also a fantastic time to visit! Many park roads are closed to vehicular traffic, making the landscape seem even more extensive. The exception is the road from Mammoth Hot Springs to Silver Gate, MT, which remains open year-round. The rest of the park is accessed through a guided snowmobile or snowcoach tour, which takes you through steamy geysers, bubbling hot pots, and ice-covered bison. It is truly a winter wonderland. You can find a list of National Park Service-approved tour companies here.
How cold does it get in Bozeman?
Pretty cold. According to U.S. Climate Data, it starts cooling off in October, with an average low of 32 degrees Fahrenheit. December through February, the low ranges from 12 to 17 degrees and warms up to a balmy 38 degree-average low by May.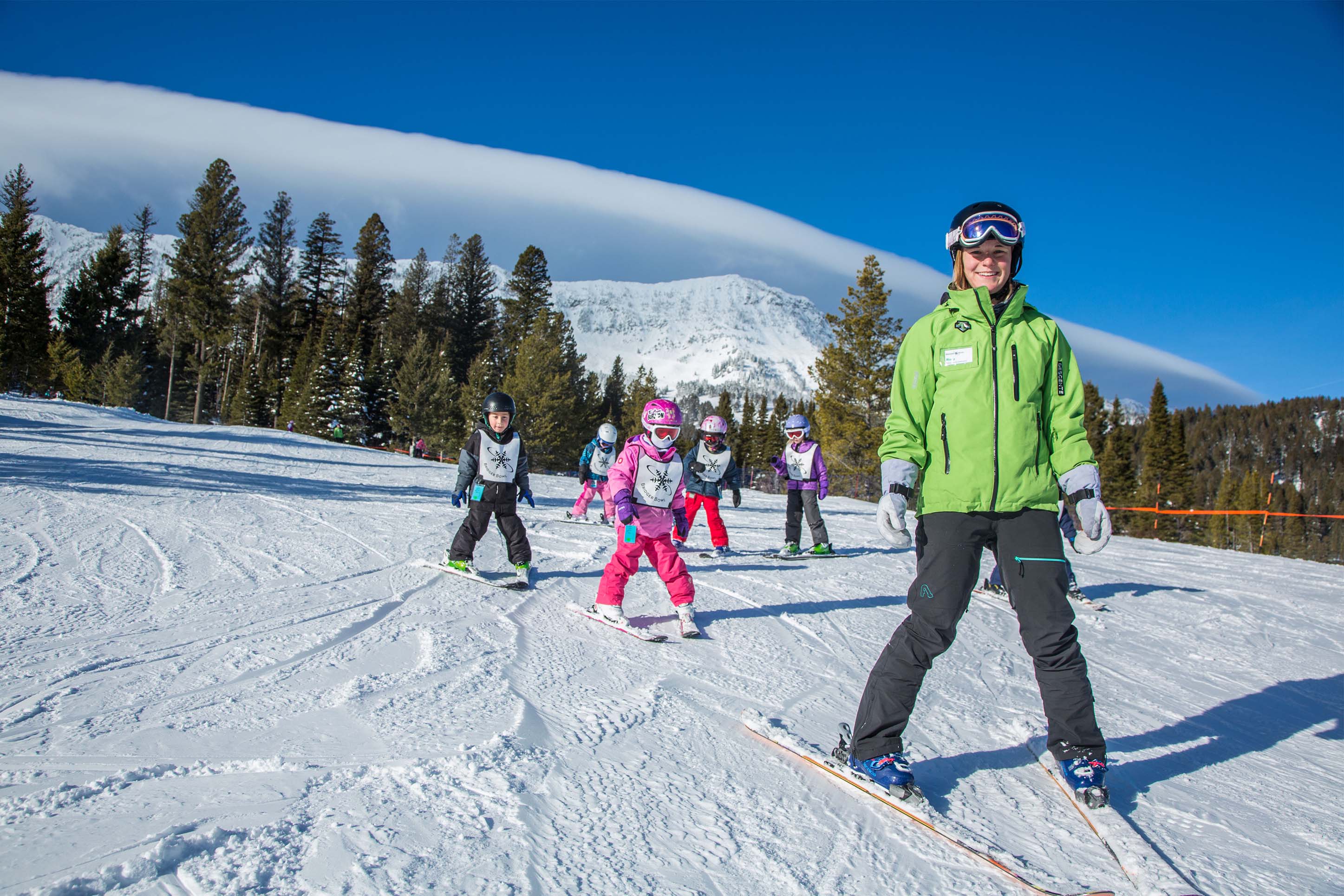 What ski areas are close to Bozeman?
Bozeman sits between two world-class downhill ski areas and two Nordic ski areas. In Bozeman, Bridger Bowl Ski Area, just 16 miles from town, is known for some of the best in-bounds extreme skiing in the U.S., and their expanded beginner terrain rounds out the experience no matter what level of skier you are. Just 45 miles south of Bozeman, Big Sky Resort sits on the iconic Lone Mountain. If you're looking for big skiing, you'll find 5,850 skiable acres, 4,350 vertical feet, and what is becoming one of the most technologically advanced lift systems in the nation.
What college is in Bozeman?
Established in 1893, Montana State University is now the largest university in the state, with roughly 16,766 students. As Montana's Land Grant University, the school is recognized nationally for its prominence in research among public universities.
How do I get to Bozeman from the airport?
There are a few ways to get to Bozeman from the airport: by way of I-90, Frontage Road West, or Jackrabbit Lane from Belgrade. The drive is 10.8 miles from Bozeman Yellowstone International Airport to the city of Bozeman via I-90, 10.4 miles on the Frontage Road (but it takes longer), or 16.1 miles on Jackrabbit Lane. Be sure to check a map before you go; there are several roundabouts when leaving the airport. Bozeman also has taxies, rideshare, and shuttles to surrounding areas. In addition, there are several rental car companies, and most hotels offer airport shuttle services.
What kind of vehicle do I need?
Deciding what kind of vehicle to drive depends on the time of year. Unless you plan to spend time in the mountains in the winter months, any type of car is acceptable. However, in the winter months, we suggest an all-wheel or 4-wheel drive car, especially if you are unaccustomed to driving in winter weather conditions. The other thing to keep in mind is the gear you're hoping to bring with you. If you're planning to rent and haul bikes, skis or other gear, a larger car with storage is probably preferred.
What footwear should I bring?
Again, footwear depends on the time of year. During the winter months, be sure to have boots with a solid tread. Even the sidewalks can be icy at times! Spring can be rainy, so bring something waterproof, and during the summer, be sure to bring comfortable walking shoes. If you plan to go hiking, you may want a stiffer, more supportive boot.
How well are roads plowed? How accessible is it to get around?
Being a town that gets a lot of snow, Bozeman knows how to manage it! The main roads are generally always plowed, and though not all of the neighborhoods get plowed, the city maintains designated snow routes. It's usually easy to get around by car – just remember to drive slow and keep a good distance from other vehicles.
Are there good places to eat?
Absolutely! Bozeman draws a diverse group of people worldwide, including chefs who have brought their culinary talents to the mountains. As a result, you'll find a variety of cuisines, plus many restaurants source much of their meat and produce from local producers. You'll find an extensive list of Bozeman's restaurants here.
Are there any good breweries or distilleries?
More than you would expect in a town this size! Bozeman has nine breweries (with two more on the way), two distilleries, a cider house, hard kombucha, and a meadery. Talk about creative libations!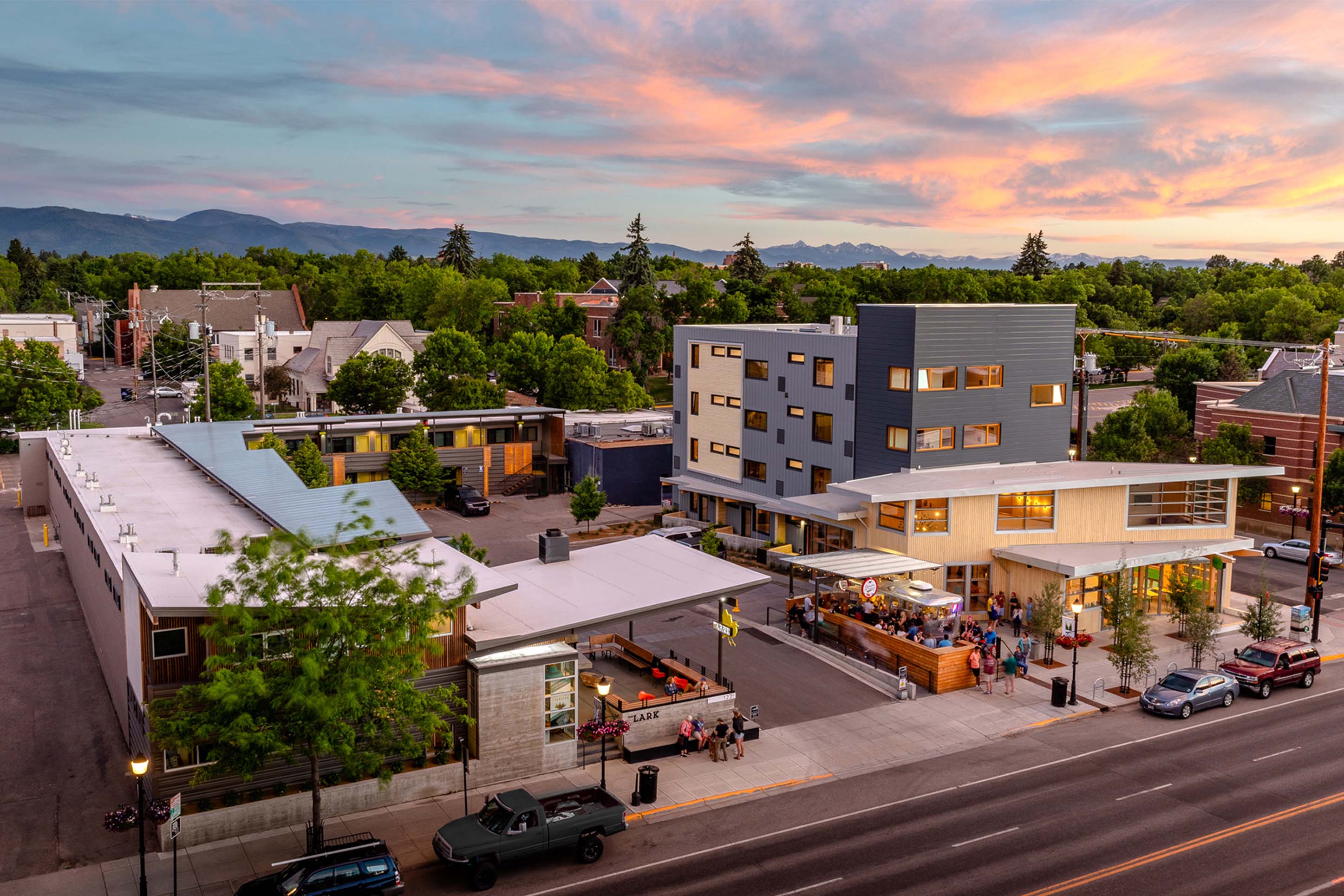 What lodging is central or downtown?
There are several hotels in or near downtown, ranging from renovated boutique hotels like RSVP Motel, Lewis and Clark Motel, and The Lark to national brands such as Marriot's Residence Inn and Element. The latest addition is the Kimpton Armory Hotel, which incorporated the historic Armory building. It is now home to a four-star hotel with great restaurants, a rooftop bar, a rooftop swimming pool, and music venues.
Are there any lodges or cabins nearby?
There are several cabins and lodges near Bozeman. For bigger groups, check out Hardscrabble Ranch, located in the heart of Bridger Canyon. The Howler's Inn Bed and Breakfast and Wolf Sanctuary, also up Bridger Canyon, is a truly unique experience where you can enjoy breakfast while looking out over the wolf pack. Or, for a more rustic stay, there are several Forest Service Cabins in the Custer Gallatin National Forest.
Does Bozeman have public transportation?
Yes, Streamline Bus is a public transportation system that runs seven days a week, with various routes around town. They also offer Latenight Service on Thursday, Friday, and Saturday from 8:00 p.m.-2:30 a.m.
What is the best place to see wildlife?
Hands down, the best place to see wildlife is in Yellowstone National Park. Bozeman is nestled between the west and north entrances to the park, approximately 90 miles away. If you are entering from the west side at West Yellowstone, you'll often see bison as you start to approach the town. In Mammoth Hot Springs, just outside of Gardiner at the north entrance, elk casually stroll around, eating the fresh grass and lounging in the shade.
Where are the best trails?
There are trails all around Bozeman, so it depends on what type of trail you are looking for. Gallatin Valley Land Trust maintains a beautiful trail system, Main Street to the Mountains. Some routes run through town and are interconnected, such as the Gallagator Trail, and others like the College M and Drinking Horse are just outside of town. For longer hikes, there are several routes in the Bridger Mountain Range and Sourdough, Triple Tree, and Leverich to the south of town. In addition, Hyalite Recreation Area has several trails including Palisade Falls, which is paved and handicapped accessible, and some of the area's more prominent peaks, Hyalite and Blackmore.
Does Bozeman have any lakes?
Several! Two small ponds are open to the public in town: Glen Lake Rotary Park and Bozeman Pond. Hyalite Reservoir in Hyalite Canyon is a no-wake lake, perfect for stand-up paddleboards, canoes, and kayaks. In the Bridger Mountain Range, Fairy Lake is a favorite for day trips to a high alpine lake.
What is a good time to visit Bozeman?
Any time is a good time to visit Bozeman! However, if you've explored in the summer, you may want to come back and experience winter adventure. Autumn is a lovely and quieter time to visit, and spring, though it can be rainy, is gorgeous with the fresh colors of grass, wildflowers, snow-capped hills, and big blue skies. Spring is also when the wildlife babies are born in Yellowstone – an exciting time of year!
What hot springs are in the area?
Bozeman Hot Springs, just a few miles down the road in Four Corners, has twelve pools, both indoor and outdoor, along with a wet and dry sauna. About a half-hour drive away, Norris Hot Springs has excellent food and local music on the weekends. East of Bozeman, in Paradise Valley, Chico Hot Springs and Yellowstone Hot Springs are easy day trips. For more options, read about all of the best hot springs across the state.
Have more questions? Download the Bozeman Travel Guide below for all of the latest information about traveling to this incredible mountain town.
If you enjoyed this blog, take a look at some of our other related articles at Bozemancvb.com.