Where to Stay Near Yellowstone National Park
Yellowstone National Park is a vast 2 million acres of stunning scenery, fascinating geological features, wildlife, and recreation — it takes more than a day to explore this country! If you're planning your bucket list trip to the nation's first national park, you should know that Yellowstone isn't a place where you can easily just "get a hotel," particularly if you're traveling during the busy summer season. Planning your stay is essential, and ideally, you should book lodging well in advance. But before you book your lodging, you'll need to decide which city or small town in Montana will be the perfect home base. Here are the most popular places to stay near Yellowstone National Park and the pros and cons of each.
Bozeman
Bozeman is a vibrant, modern mountain town that's also the most accessible and convenient place to stay if you want easy access to Yellowstone National Park. The Bozeman Yellowstone International Airport offers daily nonstop flights to Los Angeles, Seattle, New York, and many other major hubs, and the amenities available in Bozeman are the best you will find in Montana. As much as it's growing, the local airport is still pretty small, which means you can fly directly to Bozeman and be settled in your hotel within 30 minutes of landing. The west and north entrances to the Park are each approximately 90 miles from town, making it an ideal place to stay if you want to explore different Park areas with a rest in between excursions. As a bonus, Bozeman is a popular year-round destination in its own right, offering a wide selection of hotel accommodations, museums, shopping, dining, and live music. Staying in Bozeman also allows you to see a little more of Montana, whether you choose to take a scenic drive to Big Sky, visit a neighboring historic town like Butte or Helena, or explore a local hot spring like Norris, Chico, or Boulder.
Livingston
If you're looking for more of a small-town vibe but still want access to top-notch dining, shopping, and entertainment, Livingston is an excellent choice. Located a little over 20 miles west of Bozeman, Livingston is home to a plethora of artists, cowboys, chefs, writers, musicians and mountaineering types; if you happen to belly up to the bar, chances are, you'll likely find yourself in a lively conversation. There are two hot springs close to Livingston — Chico Hot Springs and Yellowstone Hot Springs — and we highly recommend making some time to soak. If you stay in Livingston, you'll be just about an hour from the Park, and you can look forward to a gorgeous drive through Paradise Valley that exemplifies many people's vision of Montana.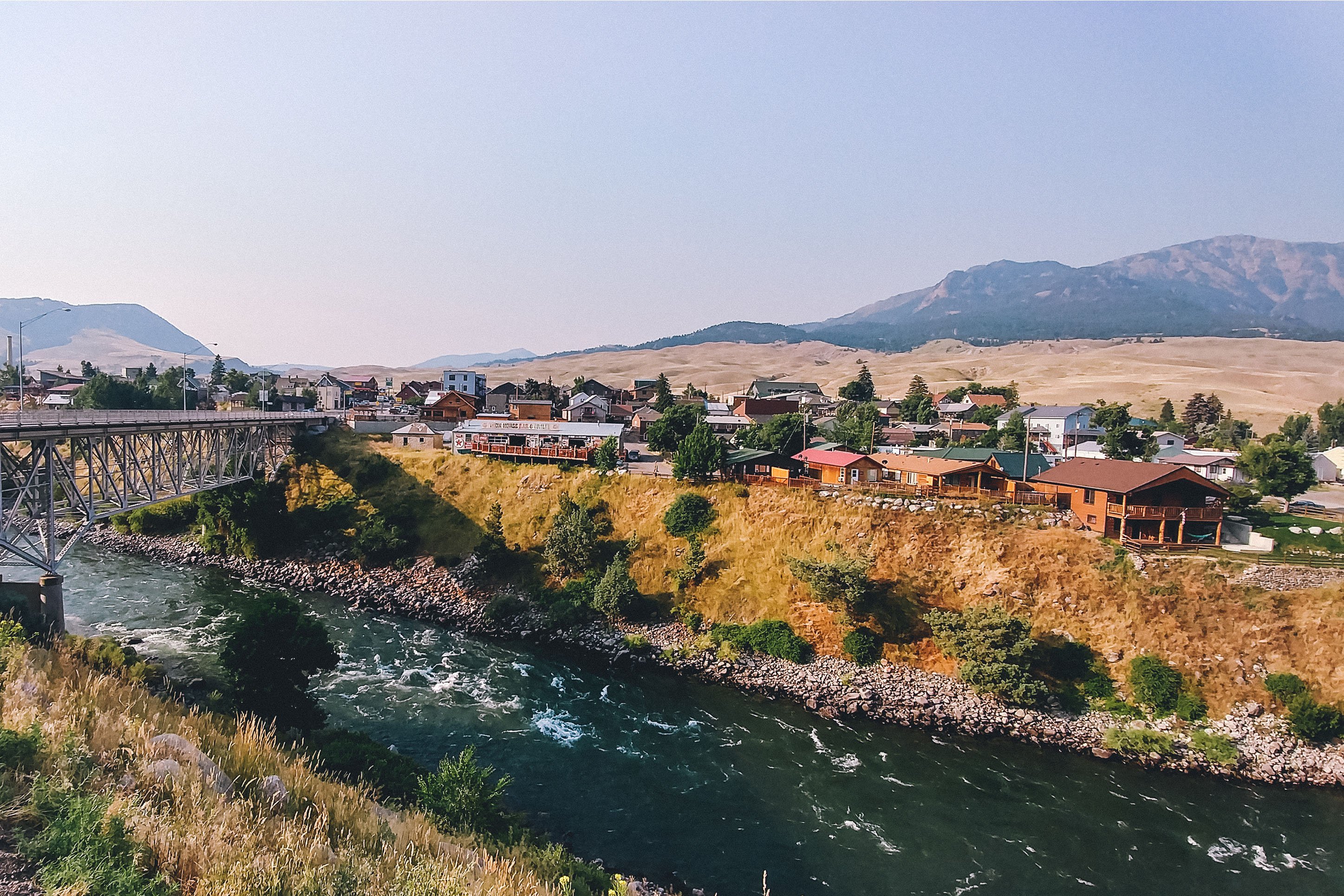 Gardiner
Gardiner sits at the north entrance to Yellowstone, next to the famous Roosevelt Arch. The road from Gardiner to Cooke City through the Lamar Valley is the only road in the Park that stays open to vehicles year-round. It's important to note, however, that this town is pretty sleepy in the winter, and many businesses close down for the season (which might just be the speed you're looking for). If wildlife watching is on your schedule though, Gardiner is the place to stay. Many animals are most active at dawn and dusk, so being close to the Park allows you a little more shut-eye before you chase the sunset or sunrise. The majority of the wolf packs live in the Lamar Valley, along with grizzly and black bears, elk, deer, and bison. Elk roam freely through the streets and lawns of Mammoth Hot Springs, just inside the border. Gardiner itself is small; there aren't many hotel options, so book early if this is where you want to be.
West Yellowstone
West Yellowstone is a popular and well-known gateway town to Yellowstone. Located at the west entrance, it's closest to the majority of the Park's most popular hydrothermal features, including Old Faithful and Grand Prismatic Spring. Even though it feels a bit touristy (because it is), West Yellowstone is a fun and lively town in both winter and summer. The Grizzly and Wolf Discovery Center, an educational center that provides sanctuary for animals that cannot survive in the wild, is ideal for families. In the winter, West Yellowstone becomes a snowmobiler's dream, offering hundreds of trails, and guided tours through Yellowstone via snowmobile or snowcoach. During the summer months, the Wild West Rodeo runs several nights a week. The downside of staying in West Yellowstone is that you're not quite as centrally located, so it will be more challenging to get to the north entrance to the Park.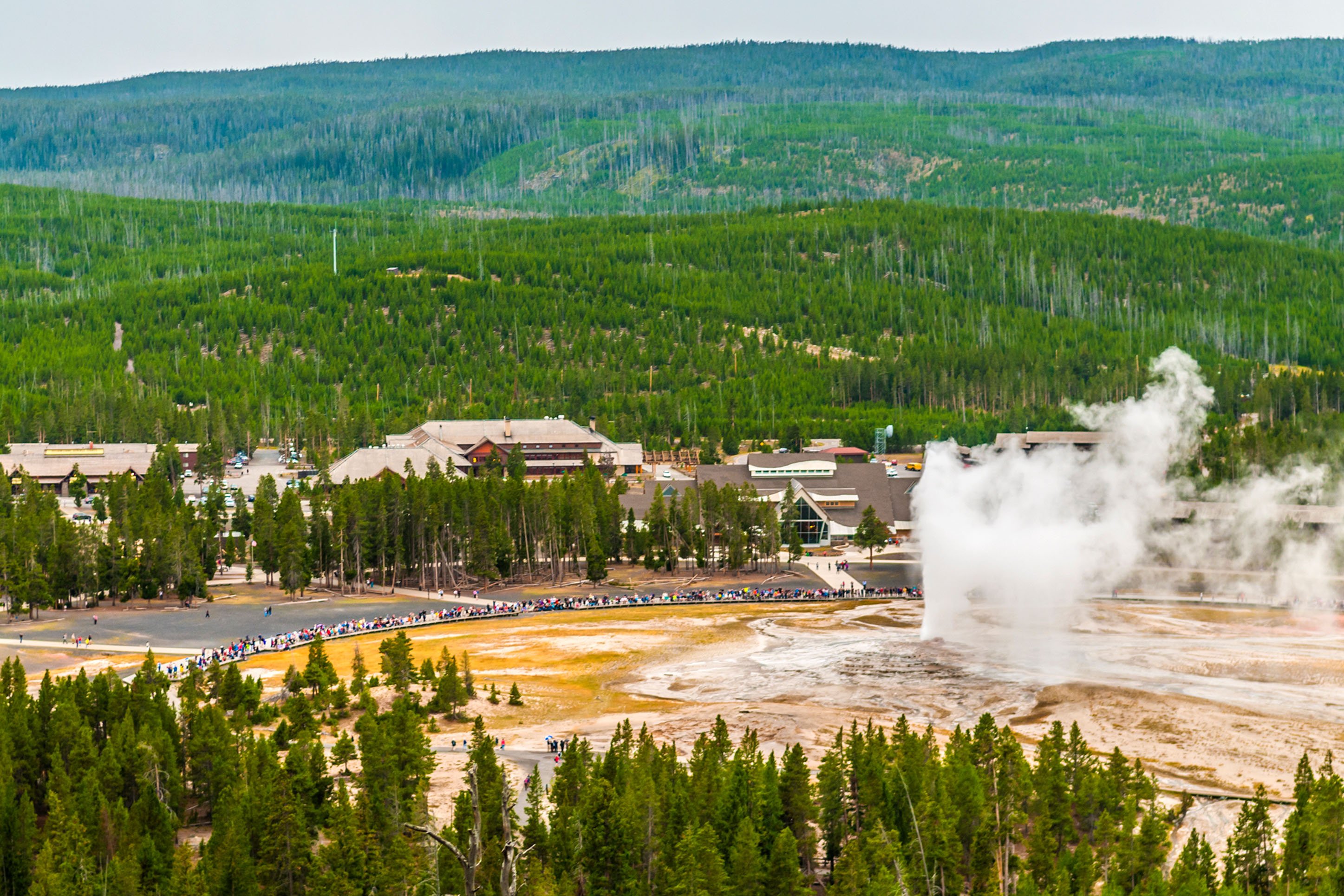 Yellowstone National Park
If you want to get up close and personal with Yellowstone, it is always an option to stay within the park boundaries, but you should definitely secure those reservations early. From the recently restored historic Lake Yellowstone Hotel and Cabins to the stately log structure at Old Faithful Inn, there are several options to choose from. Hotels, cabins, and campsites all fill quickly. If you can, check out the shoulder seasons, spring or fall when fewer people visit. Spring wildlife watching is spectacular with all the baby animals and the wildflowers are gorgeous. The colors are worth seeing in the fall, and there is often some lively sparring among bull elk and bison during the rut (mating season).
Ready to start planning your trip to Yellowstone? Read our blog on planning the perfect day trip to Yellowstone, or read more about Yellowstone attractions here.
If you enjoyed this blog, take a look at some of our other related articles:
In our never-ending quest to keep up with all things new in Bozeman, we have been producing content for years and can't possibly update every blog when new businesses open or existing businesses close. Please reference the publish date and do your own due diligence when making plans.