Exploring Around Yellowstone; Make Bozeman Your Base!
The flooding has subsided in Yellowstone National Park, and repair work is well underway. The south loop opened to visitors again at 8 a.m. on Wednesday, June 22, 2022. Less than three weeks after the catastrophic flooding event, Yellowstone was also able to open the north loop on Saturday, July 2, 2022. Though some areas of the park remain closed, 93% of roads throughout Yellowstone are open to visitors.
Bozeman and the surrounding areas offer excellent outdoor opportunities and stellar evening entertainment, which is a great way to balance out your trip on the days you aren't visiting the park. We've gathered our favorite ideas to jumpstart your trip planning, but for even more ideas, download our Travel Guide. You can also find up-to-date information on Yellowstone at our Yellowstone Flood Resources page.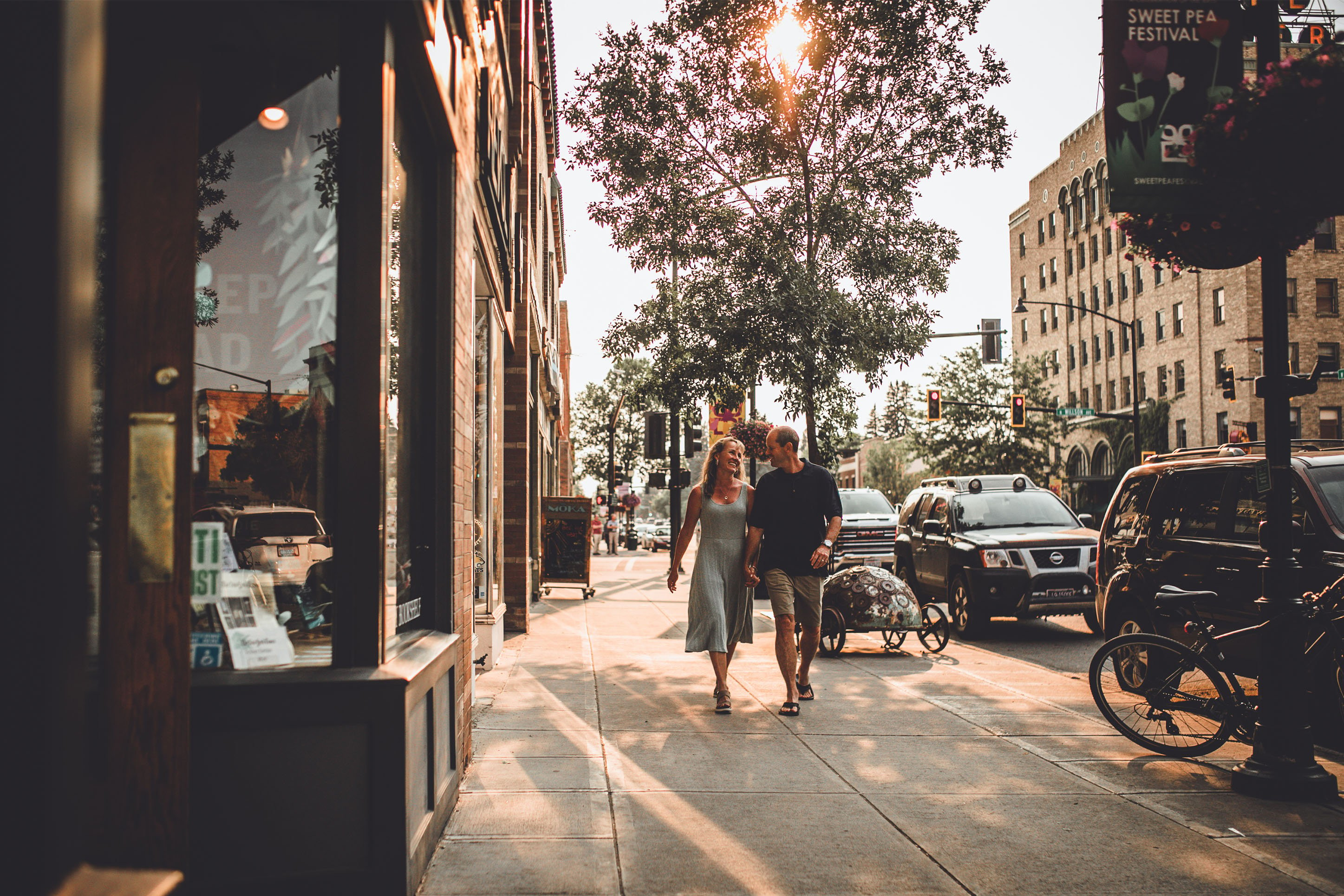 Exploration by Day, Entertainment at Night
Bozeman and the surrounding areas are known for their exceptional hiking, biking, and fishing, but many people don't realize it's also an excellent place for wildlife watching! You'll often find mountain goats at Sacajawea Peak in the Bridger Mountain Range, big horn sheep on the road to Big Sky, bison outside of West Yellowstone, and elk and deer scattered throughout the mountains. Often, large herds of elk can be found along the Madison range between Ennis and Hebgen Lake. (Which is also a gorgeous scenic drive.)
For history buffs, the museums in Bozeman are outstanding. Museum of the Rockies, a Smithsonian affiliate, has one of the largest collections of dinosaur fossils in the U.S., plus Explore Yellowstone, an interactive area for children up to age eight to explore the wonders of Yellowstone. Kids can pump up a geyser, climb a fire tower, fish from the fishing bridge, set up a camp, or enjoy a miniature version of the Old Faithful Inn. There's even an area for toddlers! The Gallatin History Museum, located in the former jail that still has the hanging gallows, illustrates Bozeman's rich history, including relics from homesteading days and a vast research library. Finally, the American Computer and Robotics Museum is one of a kind. This free museum is lauded as one of the best collections showcasing the evolution of the Information Age.
Downtown Bozeman is entertainment in and of itself. The mood is eclectic, and the food, shopping, and accommodations are plentiful. Watch for the summer Art Walks, Music on Main, and the Farmers Markets. You can also do a Self-Guided Walking Tour with downloaded maps.
The newly opened ELM is a state-of-the-art music venue bringing national headliners and regional favorites to the stage in Bozeman. The acoustics are excellent, the vibe always fun, and there's no bad seat in the house! Plus, you'll find multiple shows each week, so keep an eye on the schedule.
Scenic Drives and Interesting Day Trips
One of the best things about Bozeman is its proximity to so much. Head out any direction, and you'll find small towns with a lot to see and do, and the scenery is so grand getting there is half the fun!

West Yellowstone
Located at the West entrance, West Yellowstone will be the closest entrance to access Yellowstone. Roughly an hour and a half drive through the picturesque Gallatin Canyon, West Yellowstone is a bustling town with live theater, superb dining, and the Grizzly and Wolf Discovery Center, where you can view grizzlies, wolves, and even river otters up close. These animals are incapable of living in the wild and are now ambassadors for the public to learn more about their beautiful species.
Also reached through Gallatin Canyon, Big Sky is a great day trip for all ages. The hiking is incredible, and for those looking for more adventuresome activities, the resort offers lift-served downhill mountain biking, zip-lining, scenic chair rides, horseback riding, golf, and more!
These historic towns are just over an hour from Bozeman, where you can step back on the boardwalks of time and envision when these little towns were booming with thousands of miners digging for gold. There's live theater, music, tours, shopping, and great dining.
Livingston, Gardiner, Paradise Valley
Livingston, Gardiner, and the Paradise Valley are a trove of entertainment to the east. Home to a plethora of artists, writers, entrepreneurs, outfitters, musicians, and cowboys, Livingston is a welcome surprise. No longer a railroad town, it now showcases fantastic dining, shopping, art galleries, and music. Pine Creek Lodge, The Old Saloon, Music Ranch Montana, and The Attic bring in multiple musical performances. In addition, the Shane Lalani Center is hosting a free summer concert series. These areas were most impacted by the flood and the local businesses can use your support. At this time, you can't access the Park from the North entrance, but you can enjoy hiking, biking, whitewater rafting, fishing, hot springs and more!
Bozeman is fortunate to be located between four unique local hot springs. Bozeman Hot Springs, just 15 minutes from Downtown Bozeman, has 12 indoor and outdoor pools at varying temperatures, plus a cold plunge, wet and dry saunas, and a complete fitness center.
A 45-minute drive will take you to Norris Hot Springs, a quaint little hot spring with great poolside dining and local music.
In Paradise Valley, between Livingston and Gardiner, Yellowstone Hot Springs is the newest addition to the area. Enjoy two large pools of varying temperatures, plus a cold plunge, set on the banks of the Yellowstone River and nestled between two mountain ranges. From there, venture into Gardiner, Montana, for a bite to eat and peruse the shops. And while you can't enter the park from the North entrance right now, you can still see the iconic Roosevelt Arch!
The iconic Chico Hot Springs, also in Paradise Valley, has excellent pools and a delightful spa, horseback riding, mountain biking, disc golf, live music, and terrific food. (Their Sunday brunch is a must!)
As Yellowstone reopens, we welcome you to explore the region. But, as you do, please remember to be mindful of others and our natural resources, what we refer to as Outside Kind. Learn more at Outside Kind; Ride Kind, and Outside Kind; Hike Kind.
If you enjoyed this blog, take a look at some of our other related articles: